Syncros makes beautiful stuff. On my mind in particular is what Marshall, the Brand Manager, pointed out to us: an AM wheelset strong enough for Free Riding. Marshall specifically mentioned that some players in the 29er market are picking up these wheels for longer travel design 29ers that they haven't finished designing yet! 😉
Here it is in a super sweet white!

This indent helps to keep the bead from rolling around which would cause the tube's valve to get sheared off

Info card (I wasn't watching my aperture and the bottom came out blurry. My apologies.)
Syncros does have other new stuff to show off including their new custom image program that will incorporate images onto certain components like handlebars or seatposts.

Custom image on white handlebar

Seatposts, some with custom images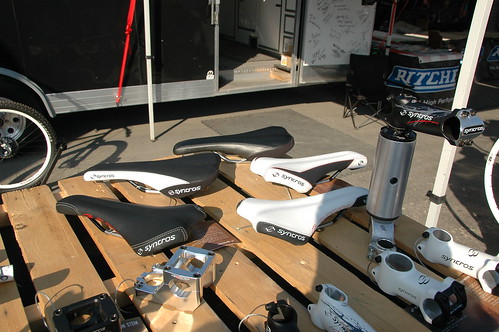 new saddles including xc style

Stems, white, with graphics too
For more info on Syncros, click here.