After years of seeing me struggle to wrench on my bike with a pathetic bike stand that simply lifts the rear of the bike a few inches off the ground, my better half surprised me with a new Workstand for our anniversary. With advise from our family friend and rider extraordinaire Jer, she bought me the Sette ST-7 Foldable Workstand. Man did I ever need this thing!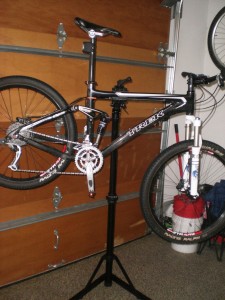 The stand came well packaged and without a blemish. It unfolded perfectly without a hitch and set up quickly. The first thing that stood out was its robust look and understated scheme. The locking jaw has a big rubber clamp so it will not scratch the frame and it rotates 360 degrees. The height is adjustable from 38-59 inches as mountain bikers come in all shapes and sizes. It is made of steel tubing for longevity and can hold your bike either by the seat post or the top tube. When it folds up it is very compact for sliding under your bed like the AB machine info-mercials.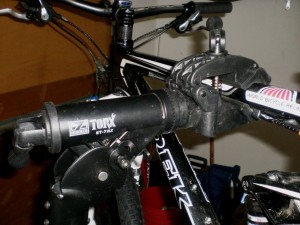 I actually enjoy wrenching on my bike and this stand has really helped me. I feel like a "real" bike mechanic while in the garage wrenching on the bike. The price is right at $100 and is certainly a great value. I would recommend this stand to anyone looking for a very functional stand at a good price point. For $15 more you can get the same stand with a tool tray and tote bag, this is the deal I would do right now if I were in the market for a workstand. The tool tray can be bought separately (which I plan on doing) and is definitely a must. I am tired of setting my tools on the ground or trying to balance them on the bike while mounted in the stand. In the end, if your an Mtb'r and you enjoy wrenching on your bike, you gotta "take a stand".