If you have heard of AGV helmets it would be in the motorcycle end of it for this is what they are known for. AGV first started out just after the Second World War making leather seats and bicycle saddles. But in 1947 Mr. Gino Amisano the founder entered into the motorcycle helmet world and the rest is history as they say. Along the way AGV has come up with many innovations and sponsored many of road racing's greatest legends , one of them you may have heard of today if you follow Motogp, AGV's Valentino Rossi.
INTRODUCING THE NEW AX-8 MX HELMET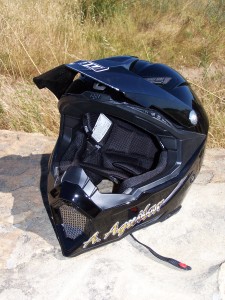 Now this is a DOT approved motorcycle helmet with what AGV calls SSL shell (Super Super Light) which is comprised of Kevlar,Carbon, and fiberglass shell.
This makes for a very, very light shell. As a matter of fact the whole helmet weighs only 2lbs., that's right "2lbs". This is the same weight as the DAINESE Raptor DH helmet that we tested.  Other features the AX-8 has is IVS (Integrated Ventilation System) which has channels formed directly in the outer shell to help in cooling the old melon, the fabric is breathable Dri-Lex with sanitizing treatment, also the top and cheek pads are removable for washing, and the retention system is the good old double d-ring strap. If you noticed the front chin bar it has in my opinion one of the biggest mouth vent ever, but in the end I like this it brings in a lot of air and it looks very Darth Vaderish. The top vents can be open or closed.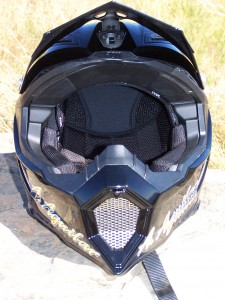 WHY USE A DOT HELMET
Now this is a good question and it may seem like overkill for DH or Freeriding and this would be more of a personal preference, but awhile back one top Australain World Cup DH racer had a severe head injury that put him in a coma for several weeks. This did raise the question of are DH helmets strong enough to handle what we do, after all Downhillers and Freeriders do hit moto speeds and the terrain we ride can be a lot worse.
Now if you ask me wearing a DOT helmet verues a CPCS helmet that is a DH helmet will protect you no matter what, a DOT just has a higher safety rating for motorcycle riding then a CPSC rated helmet.
Now how does she feel
The AX-8 feels great and has a great fit, but what would be the draw back to this helmet for DH racing and riding well it would be the venting and that's the way it has always been when choosing a DOT helmet, and weight.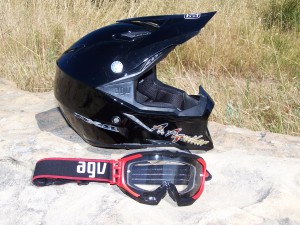 Your typical Bicycle DH helmets have nice big vents to allow air to flow through your head and they are light in weight, this is the one thing I love about this helmet is the weight and with the big eye port and chin vent this brings the air in.
When racing with it on I have no issues with it that I can come up with, it just feels great and I do feel better wearing a DOT helmet ( Peace of mind.).
This is my new race helmet, my helmet before this was the DAINESE Raptor DH helmet, and before that it was my (and I loved this helmet) Troy Lee D2 helmet.
DRESSING IT UP
OK it was time to dress it up to make it mine and seeing that I do test and write for Mtnbikeriders.com I just had to see my friend Mike at Signit to make me some decals.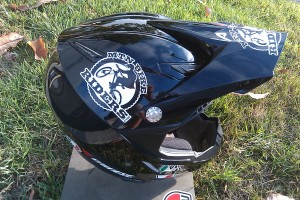 So I got my Mtnbikeriders.com decals done and had our bike sponsor AIRBORNE Bicycle's decal made, and if you noticed my name "Oh yes!!" Now I'm Joe pro.
THE DOWN AND DIRTY
As we  come to the end of it do you use a DOT helmet? Well, why not? This thing is 2lbs, it feels great and looks cool, besides the biggest thing it's good enough for Travis Pastrana!
AGV has some cool color to choose from besides black and white. They have a Rossi replica and a Pastrana Nitro Circus limited edition.
What is the cost on this bad boy, Solids go for $349.95,  Multi $379.95, the Rossi and the Pastrana $399.95.