ALWAYS THE LEADERS
It comes to no surprise that DAINESE  has always lead the way when it comes to  innovation of safety in such sports as motorcycle road racing. They were the first to come up with the back protector, Titanium/carbon fiber for elbows, knee, and shoulders in suits as well as on there top racing gloves, plus a host of other things.
OK, OK I know what does this have to do with mountain biking, well it has a lot to do with our sport, especially when it come to protection. It's the trickle down effect, and we owe quite a bit of our sport to the motorcycle industry for the innovations that have been past down.
You ask what, well OK let see, there's the suspension fork, rear shocks, and hydraulic brakes just to name a few things  for bikes. What about protection.
DAINESE brought to the sport of mountain biking  the first CE rated back protector, plastic elbow/knee guards (That were CE rated.), gloves with palm sliders and composite knuckles, plus the first fully padded downhill specific suit which incorporated back, shoulder, elbow, chest, tail bone, hip, femur, and knee/shin/ankle guards made with CE rated plastic protection, all this before the host of others you see out there.
There dedication has been to the protection of the racer as well as the casual riders out there.
NEW INNOVATION

This year DAINESE showed off some new gear at EuroBike and InterBike. The new OAK PRO knee and elbow guards and a new RHYOLITE vest with chest/rib, shoulder, and back protection.
The OAK Pro incorporates a BOA retaining ratchet system that will tighten on the Knee with a twist of a knob just like on a ski boot with the same system. It also has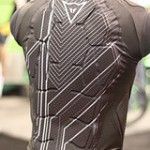 an aluminum knee slider on it just like there road racing suits, plus there will be a type of rubber impact material to absorb a hit to the knee.
The RHYOLITE vest that is coming out will incorporate the same rubber material as on the knee in the chest, and sides. The back will have their new memory foam that absorbs impact.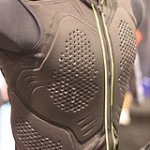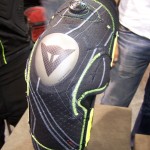 PRESS RELEASE WITH STYLE
I was at the 2012 DIANESE product press release where they went all out to show off their new motorcycle line. They do it up right with great food, great drink and a great show bringing out models to show off the new DAINESE line and AGV helmets.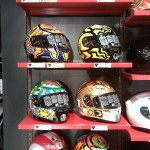 All the motorcycle media was there for a great presentation from the staff as well as two of their AMA sponsored racer's Blake Young and Steve Rapp.
ANOTHER FIRST FOR DAINESE
DAINESE does it again by bringing out the first fully functional air bag system for road racing safety, call the D-AIR racing suit. This suit has a air bag that deploys when it senses the rider is about to fall or impact the ground. All this is done in milliseconds of impact using sophisticated electronics, gyro scopes, and a charged canister linked to a GPS satellite. "Very impressive!"
The air bag is not unlike the air bag in a car, when it deploys the bag inflates around the neck and shoulders giving even more protection around the rider.
DAINESE has done there homework on this and I mean home work. It has been ten years in the making with extensive testing in the lab as well as on the MOTO GP circuit with the like of Marco Simoncelli, Valentino Rossi, and just last year the first D-AIR suit hit the U.S. AMA circuit with our racer Blake Young.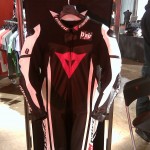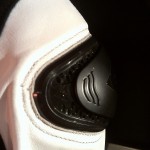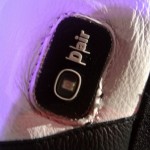 WHAT'S THIS MEAN FOR MOUNTAIN BIKING
Well it could mean the next step in safety for us. Think about this, forget the current crop of neck braces out there and put this in it's place. No hard stress on the shoulders or back where you have the vertical brace on your back and you won't feel it while racing.
This could be a good thing to come for us, so lets hope for it and start writing DAINESE to bring one out for us mountain biker's. "Oh and by the way sign me up for one when they come out."
Click here to see the D-Air in Action