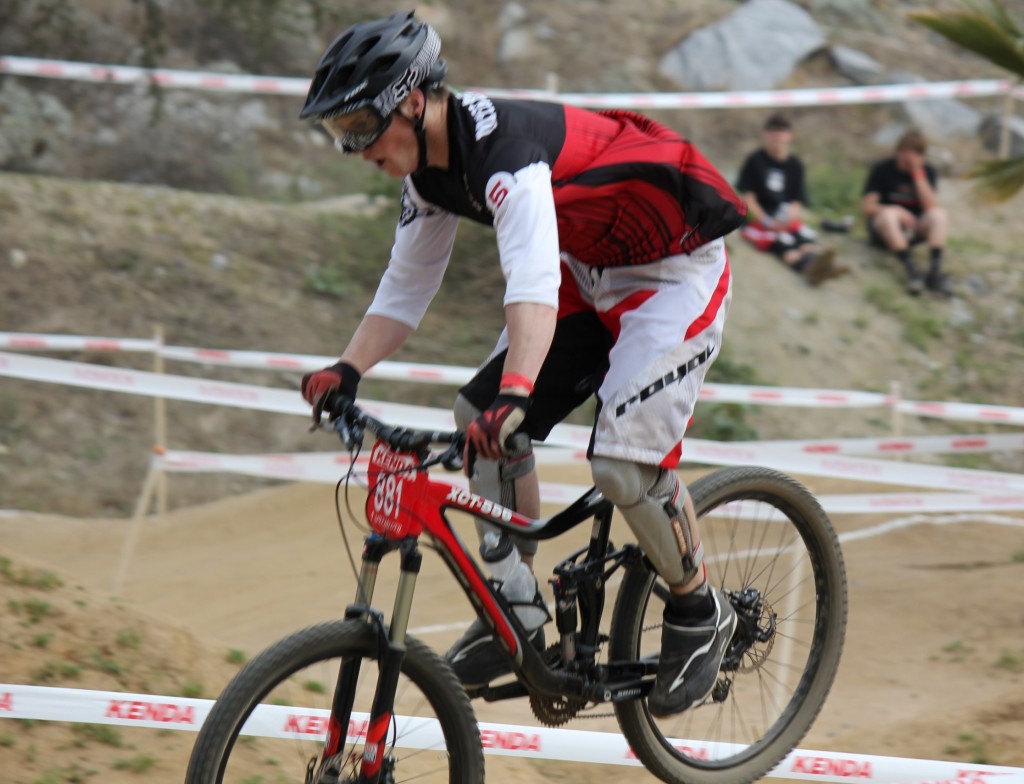 Team Big Bear rolled through Fontana on March 24 with their latest bag of endurance offerings and I was on board for the super d. For those of you who are unaware, super d is an awesome combination of downhill and cross country with a spirited amount of pain and suffering mixed in. The course designers at Fontana created a beautiful pair of courses which appeal strongly to gravity riders but will punish those who aren't fit. There is a short course which races in about 4-5 minutes and a long course which is about 6-8 minutes in length. Each of the two offered a good mix of climbing, technical descending and both ended on the four cross track pushing riders abilities there as well. This would be my second super d race and, having learned my lesson from the first one, I put a lot more effort into my preparation. My cardio was better adapted for races of this length, I knew the courses better, and I was much more used to the bike I had been using which was the KHS 556.
Obviously this point is subjective, but I feel the KHS is the perfect bike for a super d of this nature. The bike pedals extremely efficiently and even has lockout controls for the fork and shock. These lockouts are not remotely mounted which makes them a little funny to activate during a race but I found it possible and useful. The bike is very light considering it's hefting 5.5in of travel around everywhere it goes making it real easy to lift up and over obstacles. This is crucial because carrying speed is the ticket to doing well at the Southridge venue. Of course though, the most important thing is that the bike matches the new 5 Year duds.
I was caught off guard by Team Big Bear's skill classifications as there was no beginner, sport or expert division; instead there was only pro and open meaning the other three were all lumped together. This made my decision process a little easier considering I was torn between sport and expert, but this also intimidated me because it was a decent size group I was up against and there were a handful of talented experts in there. Not to make excuses here, but I felt that it would be difficult to be competitive in expert without a seat dropper especially with the added course length over the last time I raced. I calmed my nerves with a couple practice runs and was feeling ready.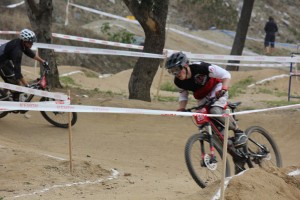 Off I went for the first race run on the longer course. This consisted of some minor rock gardens and an array of turns with a steady down hill slope.About a minute into the run the course became much less assisted by gravity and this was when I passed the first rider. He moved readily for me to get by and I chugged on to the next major juncture: the DH hecklers. The super d course briefly intersected a paved road which is the same road that shuttles the downhillers. This was one of the most exhausting sprints on the course and the DH guys were ready with their "motivational" banter to make me push hard through it. I cleaned all the technical parts of the course much like I was hoping and was just suffering through the final XC part of the course when I saw the next rider ahead. My heart rate at this point was well above 100% max and I was beat tired yet incredibly determined to pass the next rider. When we came to the final sprint before the 4X course I had to strike because I new it would be difficult to do on the 4X track and I knew he would hold me back if I stayed behind. He would not let this be an easy overtake because as I sprinted he did the same. I barely edged him out and finished out the race literally the most exhausted I had ever been in my life.
Needless to say, the long, steep push back to the top was as slow and scenic as I would be allowed, punctuated with many water breaks. I was fully gassed after the first run and I knew it, fortunately the second time through involved much less pedaling that the first. About half way down the second race run there was a good technical rock garden with a multitude of lines. Coming into this section I noticed a very hearty number of raging spectators who seemed to have the depreciated sobriety levels that any racer would feel blessed to preform for. I elected to take the "hero" line with a decent size (relative to these smaller bikes) huck off a boulder which really fired those guys up. I was shocked they were all there just to watch the super d. Is this niche of biking finally gaining momentum? Again, I passed one rider ahead and then took it shamefully easy on the final pedal to the finish.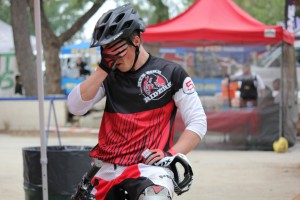 My goal was to place top five and stand on the elusive podium once again. They posted the results for the individual runs and I tried feverishly to do the mental math to determine my placement but there were too many variables for me to take in. Finally, the results were posted and my efforts reflected my ambitions as I got 5th out of 15 riders. Elated, I waited for the podium ceremony to start so I could represent my team up there but I nearly choked when I saw that Team Big Bear only ran the awards three riders deep. I guess I'll have to break top three next time I'm looking for recognition.
This discipline requires a more well rounded rider but is also generally easier on the body when compared to downhill which broadens the age range of riders that can be competitive. My speculation is that mountain biking is still a very new sport and with the early boomers now getting older they are seeking new ways to use their talents to compete. That could be one of the main reasons super d is growing but another is that this form is the closest to normal trail riding which is what the majority of mountain bikers partake in, thus making super d the least foreign to riders who are new to competition. Hopefully it continues to grow and fuel a new sect of super d specific products and marketing.