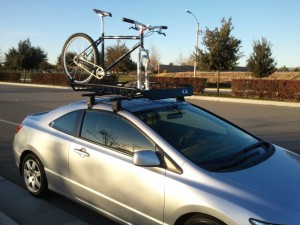 So in August I turned my little commuter soda can into an 80 mph shopping cart. That's a lot of beer fueled football games and rum soaked partying since then, so it is easy to forget the preview I posted.
It is aptly named the Vagabond. I quit loggging the miles this rack spent perched atop my car after 3000. I have removed it and remounted it half a dozen times since then. This do in part to its ease of installation. The Vagabond mounts to round or square crossbars via four clamps. These clamps are shaped in a way that allows them to accommodate nearly any crossbar spacing. This is a good thing since my Civic is a two door with very little rooftop real estate. I was concerned about the crossbar spacing prior to mounting the Vagabond. Kuat specifies that your crossbars be no less than 22″ apart. Whew! I just made it. The four clamps are secured via 2 castle nuts each. These help make installation a breeze but could also make theft just as easy. Said castle nuts also sit up a little high. Depending on what you are carrying in the cargo basket, these nuts may get in the way (yeah, yeah, I know, it sucks when your nuts get in the way. Especially when you sit on them.). The Vagabond relies on a standard quick release skewer to mount the bikes (not provided). I suggest you invest in a quality set like Shimano's QR skewers to keep with the rack. It quickly becomes a PITA to fully remove your front wheel's skewer to mount the bike. Then you'd have to remove it from the rack to reattach your wheel once at the trailhead. The Vagabond does comes with 2 burly nylon straps to secure the bikes' rear wheels.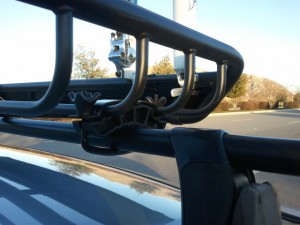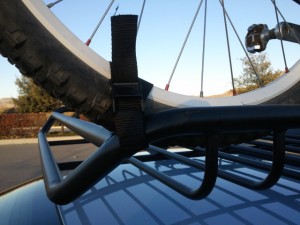 It has a wind fairing which does a good job of cutting the wind noise and allows you to plaster even more stickers to your car — making it look like the entrance of a Wahoo's Fish Tacos. As with any rack gas mileage is cut slightly but not so much to be a concern. I mounted mine first in line with the slope of the roof, then a little forward as evidenced in the pictures. The in-line position produced less wind noise but having it more forward made weight distribution more balanced. Remember, I have a small car. Any 4-door sedan, SUV, or wagon would not have such an issue. Despite the small footprint I have with the Vagabond, it has always remained secure.
Obviously, the Vagabond is great at carrying bikes. But you could do that a multitude of ways. What makes this so nice is its ability to carry anything you can fit in the basket. I was able to go the beach with 2 bikes, 2 beach chairs, and a skim board all loaded in the Vagabond. Now I can leave my truck at home and still carry what I need; while also fitting my car in compact parking spaces.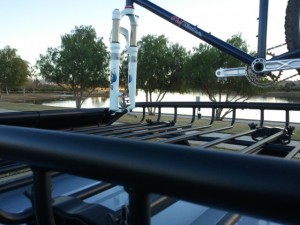 The list of features I don't like is short. One item short — lockability. To lock the bikes to the rack you would have to use a cable lock. To be extra secure, you would have to swap out the castle nuts for hex nuts. This change wouldn't make the basket theft-proof, but it would require tools and time to remove, thus making it a lot harder to steal/remove. Thankfully, like all smartly profitable companies, Kuat has addressed this issue with their upgraded Vagabond X. The Vagabond X has locking mounts and integrated bike locks for a retail of $489.
The bottom line — would I spend MY money on this rack? Dunno, maybe, but I am a cheap bastard. I really like the thing. Overall it is well made and is just the right size. What really sets this apart from similar products like Yakima's LoadWarrior are the two bike mounts. To accomplish the same task with the $279 LoadWarrior you would have to buy 2 of Yakima's bike tray racks at another $100 – $180 each. Not only would this double the price of the setup but it would severely limit the cargo carrying capacity if the basket.
I would be more inclined to buy it if I had an SUV or a wagon. But, it does greatly increase the cargo capacity of a little car like mine so. . . maybe I am the ideal candidate for a Vagbond. To be honest, had I not been given this rack to test, it would never be on my radar. It is one of those luxuries you never knew you wanted, and once you have it, you don't know how you'd go anywhere without it. My dad just bought a Subaru wagon and is jonesing for this rack. I'm going to mount it on his car and drive over the other half of God's green acres. I can't wait to borrow pop's car again, just like 20 years ago in high school.
Pros:
Ease of installation
Ability to carry 2 bikes plus cargo
Well constructed
Ability to fit nearly any crossbar configuration
Cons:
Lack of security
MSRP $295