So, Valentine weekend has now come to an end. Valentine's Day was this past Thursday. Some of you may have chosen to make a long weekend out of it. You obviously do not have kids, are not married, or, if you are sentenced to life, you have served less than 10 years of that marital sentence. You blew hundreds, maybe thousands of dollars on a created holiday to get you to do just that. You should have spent that money on something that will give you more pleasure — bike shit. Thankfully, my wife hates roses, hates 'em. I don't have to buy her chocolates either because she, like most women, wants to lose that last 5 pounds before beach weather hits. I got the kids to create a card out of construction paper, white glue, macaroni, rainbow flakes, pixie dust, phoenix feathers, kraken scales, and unicorn. . . corns. Voila! Valentine's Day handled. Unlike my friend, poor Captain Cranium, I get sexytime with the missus more than just my birthday and Christmas. So who needs this made-up holiday?
Let's celebrate Malentine's day. Malentine, the patron saint of pet peeves. Mal, from the Latin meaning bad, ill, or wrong. The following list of irritants are all bad, wrong, and make me ill:
1. Wearing bike clothes to the trailhead. Perhaps this came from my years of organized team sports. We would wear a shirt and tie, get on a bus, travel to the den of our opponent, then get dressed for battle. Now I'm not suggesting you wear your Sunday best prior to riding your bike, but for comfort's sake, don't wear your entire riding kit in the car. Nevermind looking like a dork-on-wheels (that's what you are) sitting at the 241 toll plaza with your neon sublimated cycling jersey on. You're then going to wear that sweat crusted, stinky, muddy, bloodied, Cytomax sticky, wet rag home. How hard is it to put on a clean t-shirt? Don't tell me you are afraid of forgetting something so you get dressed at home knowing you have everything. You are an adult aren't you? Why not just put on your helmet, gloves, and clipless shoes on at home too? I'll grant you a tiny bit of leeway and allow you to wear your cycling shorts. Afterall, I wouldn't want you fumbling next to your car with a towel around your waist, trying to pull down your tightie-whities, all the while terrified that said towel with catch a gust and expose your little cheeto.
2. Pre-ride bike repair. Now that you are dressed and ready to go, the rest of us begin to pedal off when you yell out to us, "Any of you guys have a pump, chain lube, Park T-handle wrench set, bearing press, or fitness I can borrow?" You knew you were riding today, right? Too busy last night catching up on this season's The Bachelor to make sure your bike was ready to go? So you had the forethought to bring your own pump, lube, and tool set with you so as not to ask us. Use that forethought to take care of any maintenance at home. Don't lube your chain right there before we set off either. You should know how I feel about that.
3. Dumping grounds. Okay, done dumping on you, let's ride. WTF! Great Odin's Raven (been watching Anchorman) look at all the trash strewn about. I hate those lazy mofos who use any bit of open land just off the road for their own dumping grounds. Sure, this looks like a great spot to dump all your shit that is too large or awkward to just leave at the curb. Even Jules and Vincent took their trash with them to dispose of properly. Or, the savages who, when on their "nature hike," just toss their Red Bull can or Starbucks cup into the sagebrush. The only positive I can find — on a recent exploratory ride I was unsure which way would lead me back to the main road. How did I find my way out? I saw a discarded mattress, sofa, 2 t.v.s, fridge, and decomposing body. I followed the trash. The piles grew bigger and bigger then bam, civilization. Even pot farmers and coke producers pick up after themselves.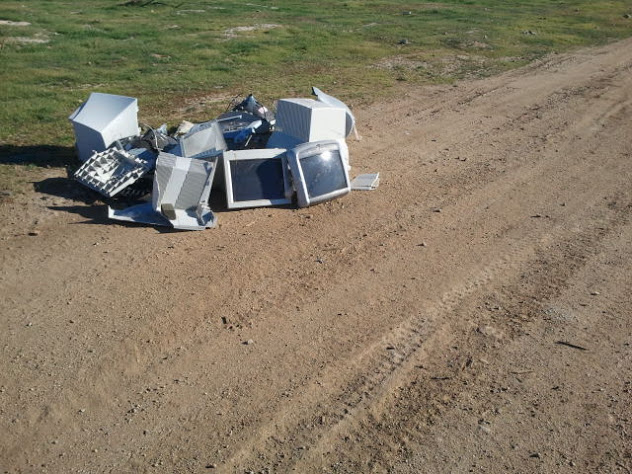 4. Mix and don't match. Pick a component, any component, and stick with it. Shimano begets Shimano, Sram begets Sram, Thomson begets Thomson, so on. Your bike is so bitchin with its Shimano cranks, Sram shifters and derailleurs, Thomson seatpost, FSA stem, Easton bars, etc. Buy your bike, ride the crap out of it. When you know better, spend more, and become enlightened, stick with a manufacturer.
5. Sitting backwards. So you're all high on yourself now because you just installed a Thomson seatpost and Thomson stem. One thing smartguy, your post is backwards. Is that why you don't change at the trailhead? Afraid when you put on your pants the fly will be in the back?
Don't worry, I'm not one to make fun of you behind your back. If you fit into any of the above bonehead categories I'll call you out to your face (then make fun of you behind your back). Happy Valentine's Day.