WHAT'S IT MEAN TO BE BEST IN SHOW

Well I thought hard about this, asked my editor and chief RL Policar, "should we do a best in show" and he said sure why not, this would require  tons of hours combing Sea Otter for a best in show bike and what would be the criteria, do we only count factory race bikes, one off bikes, bikes that use green materials, bikes ridden by that regular racer that put an edge on it to make it just a little cooler, and we can't forget that funny cool bike that we see and tell ourselves I want that, but really if we had it we probably never ride it.
Sea Otter has such a plethora ( just like that word) of bikes that you will find to choose from.
So the hunt started and while I looked at bikes, listened to people talk about the coolest bike they saw with my ear just over their shoulders,  trying to weasel my way into a team pit to take a pic of a super secret bike up close, or some prototype model.
I still had to ask what is going to be the criteria, how to do this, should it be part tech, style, useability, fun factor, what!
BEST CHOICE FOUND
After seeing a lot of bikes the whole week I was there it was a tough choice and you'll be surprised of my choice.
The bike if choice grabbed quite the attention by all or it could have been the rider on the bike that was receiving high praise.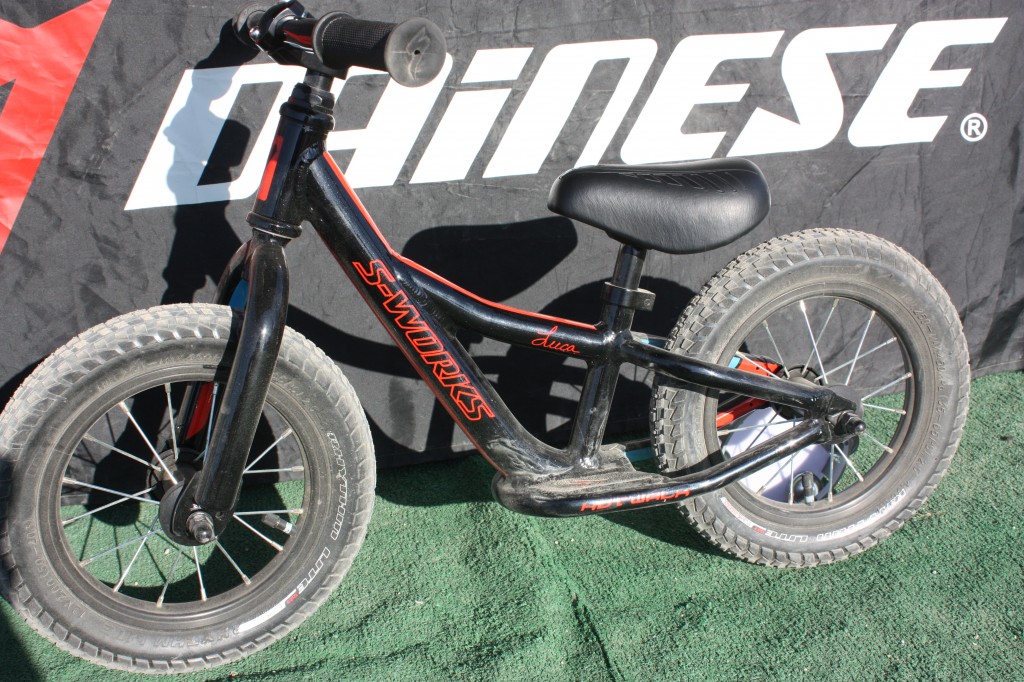 SMALLEST S-WORKS EVER
The Specialized S-WORKS Hot Walk is the choice for "Best in Show". This little bike caught all the attention as it's rider pushed along with his dad at Sea Otter. This had to be one of the smallest S-WORKS bikes I have ever seen. I talk to the little tikes dad and found out that he worked for Specialized and dad was at Sea Otter to road race, afterwards son Luca showed off his mad skills pushing along side dad while all the girls couldn't keep their eye off little Luca looking good. Could be this little future factory rider is on his way with this bike.
Seeing that dad worked for Specialized his bike has the same paint scheme as dad's road bike. I guess it pays to be in the know.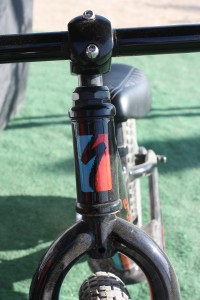 ABOUT THE BIKE
This little S-WORKS has a custom matching paint scheme with name custom painted on the bike just like the factory guys,  12″ A1 Premium Aluminum frame to stay lite for hours of fun, foot platforms to give sheer stability while hitting the big jumps, alloy blade fork helps keep the weight down, adjustable bar height, lightweight alloy rims for a curb-hopping blast of a time , Specialized Rhythm Lite Sport tires for traction on and off the dirt, and alloy flat bar that come equipped with soft Kraton grips.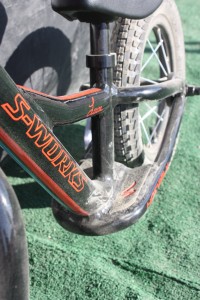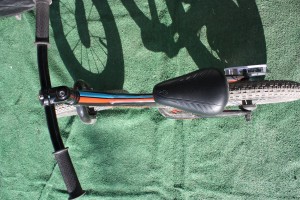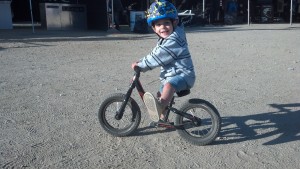 Well this was my Sea Otter "Best in Show". There were many choices and it was a hard pic, but I just had to give it up for this cool custom S-WORKS. Lets see what next year will bring.