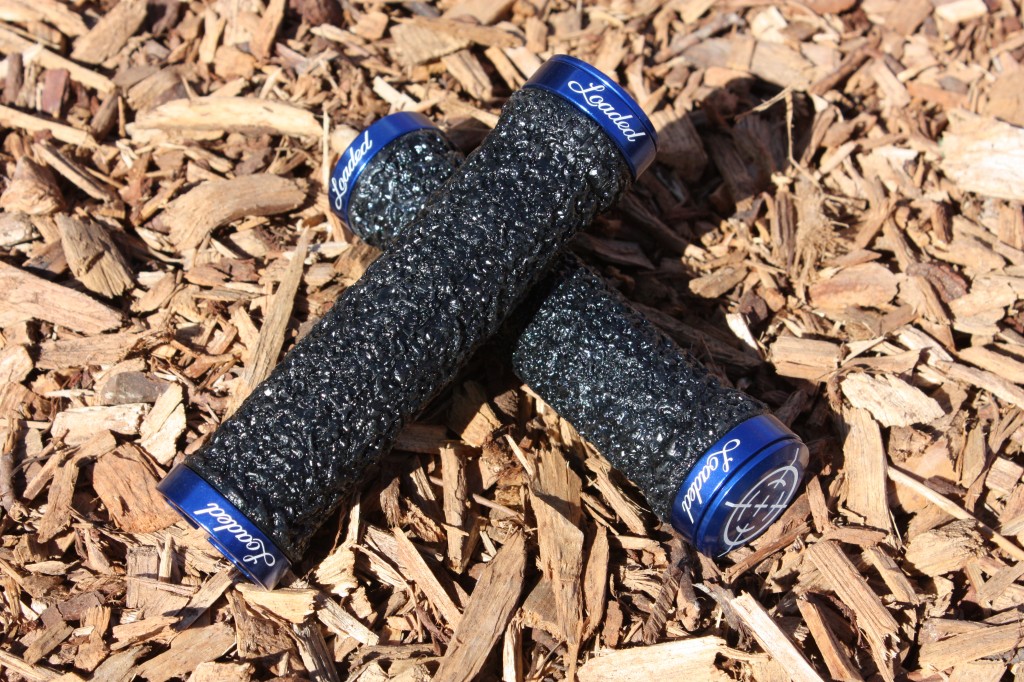 THE AMXC NO SLIP GRIPS

While at Sea Otter we ran into Loaded Precision Inc. If you have never heard of them they are a precision bicycle component manufacturing  company based out of San Diego California.
They make everything from handlebars, stems, headsets, seatpost, wheelsets, and hubs. This is a company that has a lot of really cool products. Their products stick out because of the beautiful anodizing and precision machining that is just a part of what and who they are and one of their products that caught my eye early on while at Interbike this last year was the AMXC grips No Slip Grips. It was this unique grip surface that was on them that made me stop and look at them. It looked like something that the military would use and I'm not just talking our ordinary military, but Special forces, namely our Navy Seals. Sure enough when talking with the guys at LOADED they did confirm this was a material used by them and in what way I can not say. The other part of the grips you have is the clean looking machining of their Lock-Rings & end caps.
GRIPS WITH GRIPSION
OK I made that word up and what does gripsion mean, simple "Ultimate Grip". I know looking at the LOADED grips one would think their just another pair of lock on grips, but I'm hear to tell you these things hook you up like a fly stuck on flypaper. LOADED was kind enough to give us a pair to test and seeing that I was racing the downhill at Sea Otter what better place to do a first test.
When you feel them for the first time bare handed you can tell off the bat that they do have a tacky surface on them, one I have never felt on a grip before. It almost feels gummy to the touch. With gloves on you get the same feel, so what is it with the surface that makes them unique. Well its the material of the grip, as I had mentioned earlier this grade of rubber is used by a part of our US military and what does the NoSlip Grip offer, no matter what the weather condition is, snow, rain, mud, dirt, or something like grease the LOADED  NoSlip grip ensures rider hand contact to the grip. This is as important to the rider as it is to a soldier gripping his weapon or vital item he is using in the field.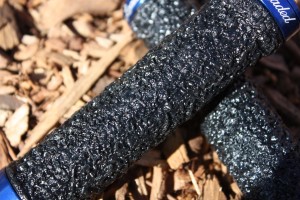 ON THE RACE RUN
Once I fit the grips on and tighten them they locked on like any other lock on, but they do have an extra ring that comes with the grips that give them better lock to the bars, end caps go in with no hassle. Now I'm use to a fatter grip, but I really didn't mind the feel of the LOADED NoSlip grips, yes they were slimmer, but they felt really good in the hand and with my gloves on you had no slipping at all.
Now I didn't have any practice to get a feel with the grips, so my race run was a cold one with these babies and the first thing I noticed out of the gate was my hands were stuck to the grip till I would release them. On my run moving the bike under me, pulling on the bars to jump or maneuver was like having clips on my hands. After my run I thought about it and I was truly impressed with these grips, they preformed as stated.  Now I really like to pick apart a product before I will say this is the best thing next to ice cream or tacos, but I may have to lean this way.
I did want to give them one test while I was at Sea Otter, so I poured water on the grips and sure enough the water beaded right off the grip and when I  poured the water over my hand and grip there was no slippage. again "Wow"! I'm sold and as time goes on I will be giving these grips an extreme mud, dirt, water (again), and grease (well maybe) test for a long term.
QUICK TECH
Here's the tech on the grips.
Material: NoSlip rubber / Clamp: CNC 6061 Alloy Lock-Rings & End Caps / Weight: 118g / Clamp Diameter: 29.5mm / Length: 130mm / Colors: Black, Blue, Red, Gold, Green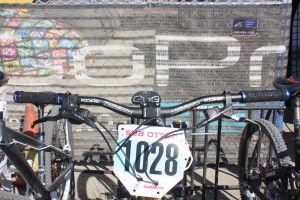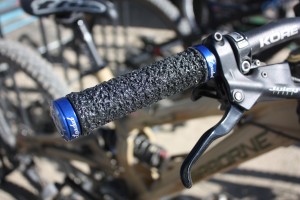 WHAT'S THE PRICE FOR GRIPSION
To have ultimate grip from LOADED and their AMXC NoSlip grips the msrp is $29.99.  Yes this may be a little on the high side for a set of grips, but well worth it if you ask me. They come in five colors, so I'm sure you can find a color to make you stead look cool.
You can go to the LOADED website to check out all their cool products at www.loadedusa.com.
We wish to thank LOADED PRECISION INC.