KTM IN THE U.S.
If your an avid dirt biker or just know motorcycles in general, you should know the KTM name, but what you may not know is that this Austrian company has been making bicycles for quite a long time, as a matter of fact they have been making bicycles since 1964.
Now that you can purchase the KTM brand in the US they have a full line of bikes ranging from Road, Commuter, E-Bikes, and Mountain bikes to choose from and if you want KTM accessories, you got it.
All there bikes look top notch for whatever your needs may be.
So if your into something different check out KTM soon.
KTM FULL LINE

27.5 LYCAN

KTM 29'er SCRAP

KTM ACCESSORIES

OK no DH bike for next year, but to give you that DH fix and let you know KTM can make an awesome DH bike here is a photo of KTM's RATCHET DH bike we saw this summer at the Snow Summit Park opening this season.
KTM RATCHET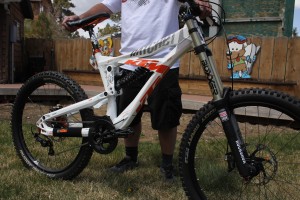 You can check out the KTM line by going to ktmbicyclesusa.com