This past rainy weekend was my turn to ride the Nashbar Bee's Knees I
have dubbed "Tweena".  If you don't get it, its because its "between a
26 and a 29″.  The frame is a and small at 5'9" and the Bee's Knees
felt like a BMX bike underneath me.  And as expected, the cockpit felt
a bit cramped as well so I had to adjust the bike fit me better.  I
raised the seatpost to almost at minimum insertion but without going
past the seattube-toptube junction.  I also replaced the stock saddle
to a spare WTB Pure V for comfort, changed the stem to an 80mm Easton
and added a 3mm spacer to raise the handlebars and to lengthen the
cockpit.  And finally I ditched the Shimano clipless pedals to an old
pair of Sun Ringle Octane flat pedals so I can immediately jump off in
case I stall during a climb.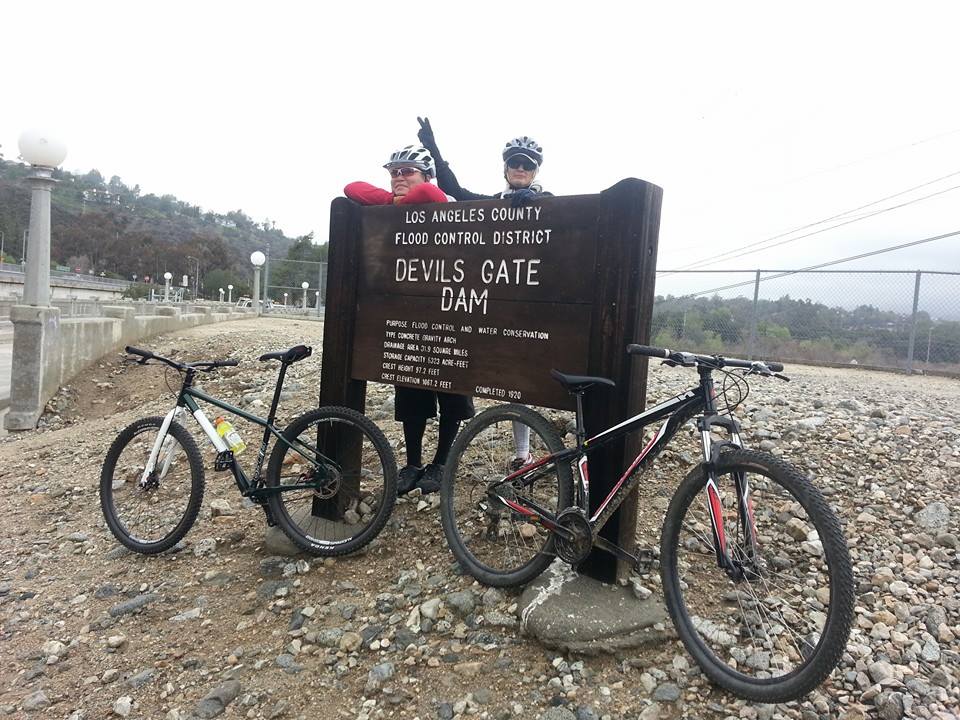 I have not been on a single speed for almost 4 years so I wanted to
ride in a 32×18 gearing friendly trail.  After a quick warm up lap
around the Rose Bowl here in Pasadena my friends and I headed to Lower
Brown Mountain trail near JPL.
The 650 felt like it accelerated easier than a 29er; almost like a 26″
wheel.  The Bee's Knees felt quick and responsive compared to my
personal 29er but then again, the frame is a small so I cant say for
sure. As for rolling over rocks and roots, it felt like a 26. I didn't
feel the same "I-eat-rocks-and-roots" rollover confidence of a 29er.
Pointing the Bee's Knees down hill forced me to really put my weight
over the back wheel  due to the small frame.  If I was riding a frame
that is suited to my height, I am sure I would not need to be as far
rearward.
Riding rigid I knew I had to pick a smoother line but I couldn't help
myself rolling over rocks and roots to see how it feels.  Iin the end
it beat me up like my old rigid, singlespeed 29er did.  Its really a
love-hate relationship.  I aired the tires to 30 PSI and wanted to go
lower but since we rode the surface streets to get to the trail, I
could not go any lower.  The OEM Kenda Nevegals rolled heavy on the
pavement and with the wet, sandy trails it grabbed like it had claws
and made pedalling effort higher.
Braking was drama-free with the Avid BB5 though there was too much
brake lever travel.  Perhaps the brake cables already needed some
adjustment.  I didn't get the brake warble complaint commonly found by
other riders' feed but but its probably due to the new G3 rotor but
its too early to tell.
I'll give the Bee's Knees another go around at other trails to get a
better feel for it.  So far I don't see myself giving up the 29er
wheel size but certainly see myself riding a full suspension 650b.
Provided of course its my size.