It's safe to say there aren't too many awful products for sale in the MTB industry. Quality varies from good to bad but different items cater to different needs and sometimes we just need the next cheap product to get us back on the trail. Everyone is constantly searching for that bargain product that stands out from the crowd and really shines in quality. Enter the Pryme Trailhands.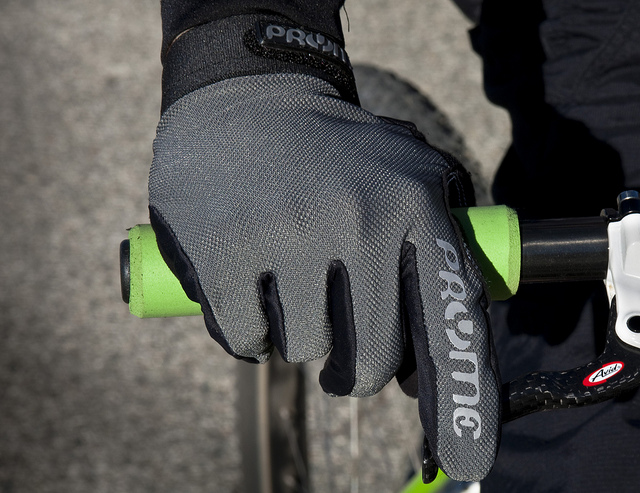 While these gloves look basic, I assure you that they were built this way specifically for function. The tops are a very plain gray, aerated, polyester with minimal branding or pannels. So they aren't as flash as a lot of contemporary gloves these days, but that's all subjective as some people really prefer the basic look. With only a thin layer on the top of the hand the glove maximizes the amount of airflow making these suitable for warm weather riding. There is also an even lighter, stretchy material that runs between the fingers of the glove which joins the top and bottom sections together.
The palm is a single piece of amara (synthetic leather) with a reinforcement pannel between the index finger and thumb for strength. The glove design is consistent between the top and bottom as they are striving for a minimalist product. The benefit is that you get a lightweight glove with a great feel for the bars while still retaining basic hand protection. And for the finishing touch, everything is held well in place by a velcro wrist closure.
I've ridden these gloves for miles and miles in a variety of conditions on my mountain bike as well as my dirtbike to see how they stand up. The gloves have a great, light feel when they are on, however the amara fabric is noticably stiffer than natural leather and other synthetics I've used. The feeling for the bars is still good and actually the amara fabric has proven to be extremely durable. Normally I'm very timid to adjust the pro-pedal knob on my Fox shock with flimsier gloves because the finger tips always fail first due to this. Try as I might, I've yet to see any undue strain on the Trailhands. The synthetic suede is very grippy by nature but I'm a big fan of gloves that provide some silicone for the braking fingers because, well, we are mountain bikers and less-than-perfect conditions are all too common.
I have yet to mention my absolute favorite thing about the gloves which is the thumb wipe. I don't know why more manufacturers aren't on board with this idea seeing that I require it every trail ride I go on. Have you ever gotten sweat on your goggles or glasses only to find that you are wearing all polyester from head to toe? It doesn't really give a chance to ever get the lense clean again.
Everyone's tolerances are different but my hands aren't too susceptible to heat when I ride. As a result, I didn't get to fully realize the breathability on the mesh fabric, however these were my every-day gloves all summer long without any troubles. I did enjoy the light material that runs between the fingers because I could completely feel the air rushing through as I rode. The whole breathable, minimalist aspect of these gloves is well acomplished.
So I had one goal in mind regarding these gloves, and that was to literally try to destroy them. I feel that many products are unfairly reviewed because when most people go to buy a product they want to know how it will hold up in the long run. Most reviewers miss this point because they simply don't have the means to give everything this treatment. I tend to be a little hard on my bike and gear but these gloves looked sturdy right out of the packaging so I made sure to put them through the ringer. I used these for a couple dig sessions at the local dirt jumps and got them covered in mud. They hosed clean without problems. I used these for multiple trail rides and DH runs. The showed no signs of stress. I used these on my dirtbike and made certain to do all field maintenence while still wearing the gloves. They didn't mind. I'd say that the only thing I never really did was crash in the Trailhands (surprising, right?).
After 6 months of extraordinary punishment these things look great. I can't speak enough abouth how highly I would recommend these to everybody as a summer glove. I can't really fault these gloves on anything because they are designed with a specific purpose. It would be entirely unfair for me to fault them for not being the best choice in winter, or for lacking burly impact protection. The Pryme Trailhands make perfect sense and with a price tag of about $20 this really is the stand-out bargain product.