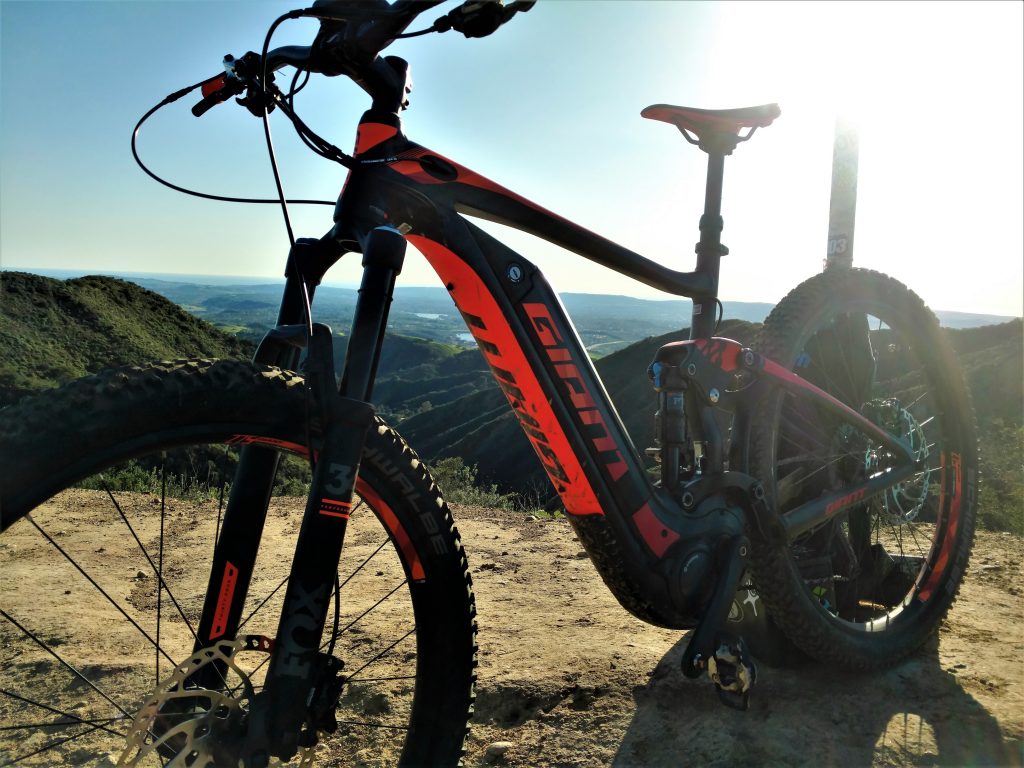 So, a few months back when we were having all this rain, yeah SoCal had "RAIN"!! Can you believe it…
With all this rain we had it was hard to get out for one good day? You have to hit it before the rain came.
I was able to do some CX riding (Cyclocross all) with the bros, which lead to a slight trail mishap (injury story soon).
Well one particular Sunday a few months back was the window of opportunity to finally try out something new. I got a call from a friend of mine to come out a demo a new GIANT mountain E-Bike. I jumped at the chance to try this new bike out. The tech of E-Bikes has come a long way, but we still don't understand the whole thing about E-Bikes. Throttle or pedal assist?
OPENING YOUR EYES TO NEW THINGS
We have never really crossed the gap of the mountain E-Bikes here at MtnBikeRiders.com and before I go into what the bike was like on the trail, I have to say a little something about this new market as well as what you will see in the future of MtnBikeRiders.com.
Not only will we do the standard stories of product reviews on mountain bikes and products, fun stories, and how to's, you will see us bridging the gap into new niches such as Gravel bikes and mountain E-Bikes, and Cyclocross. Maybe even some Adventure Biking.
If it's made for the dirt we want to bring it to you because playing on dirt is fun.
We also want you to know that we are not here to change your minds, only inform you as best as we can. Ultimately once you have done your homework, you will make the decision to what best fits your needs on the trail.
I know there are those out there that are fully against any kind of E-bike, no matter what it's meant for.
After posting some pics and doing a live vid on our Facebook fan page (MtnBikeRider.com Facebook fan page / Please go and like) of the ride on the new Giant Full-E +1, I was kind of taken a back at the comments.
"You're cheating!" "Its called a motorcycle!" "Really a motor?" "The motor does "ALL" the work and you just sit while it goes." I was like, " people relax!!"
That all being said, please keep an open mind and always go demo something new.
Remember, you never know till you try something new you might just end up liking it.
Hell I was never going to trade up my 26" bikes for that new-fangled 27.5 stuff or a 29'er (not for me, I'm height challenged). Now all my bikes are 27.5, see!!
THE BIKE!!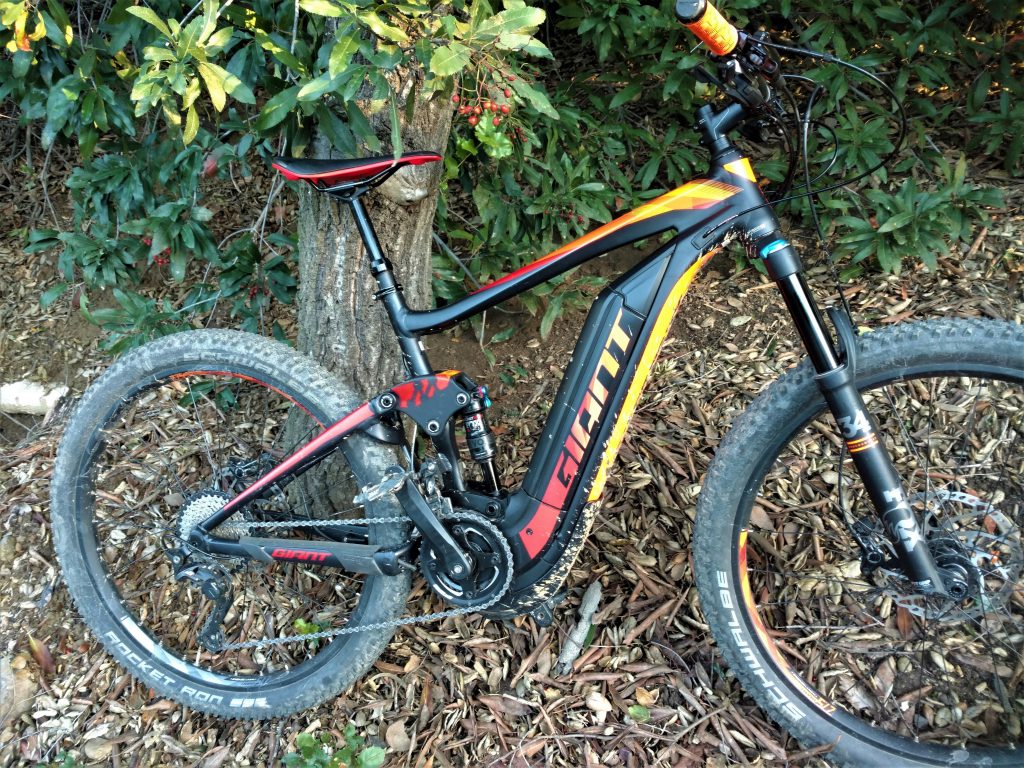 OK, so let's look into the 2017 Giant Full-E +1. For the most part, I say "MOST" because it is a mountain bike.
It has cranks, pedals, chain, shifters, gears, suspension, wheels, you get the picture.
The Full-E +1 is equipped with top of the line parts you would expect from any high-end bike for trail riding at this price range. Big names like, Shimano, Fox, Schwalbe, and Giant's own parts to round it all out.
What's the exception to this bike, well that would be the Giant SyncDrive Sport , 80Nm, 500Watt motor powered by Yamaha.
You could say this is the only thing that would be associated with a motorcycle is the name of the company that made the electric motor.
This as I said is a bicycle, you have to pedal it up hills, on straights, and wherever you would pedal any other bicycle. There is no throttle on it like some E-Bikes. The Giant Full-E +1 is a pedal assist motor. In order to get the benefits of the pedal assist you HAVE TO PEDAL!!! Yes pedal, so if you're a lazy person wanting to sit and hit a throttle you're out of luck.
Now the Full-E +1 frame is made with Giant's ALUXX SL grade aluminum to give it a stiff ride, 140mm rear Maestro suspension with a FOX Float Performance DPS, Trunnion mount shock, front suspension is handled by a FOX 34 Float Performance, 15mm thru-axle, OverDrive fork that is 140mm. Sizes range from Small to XL.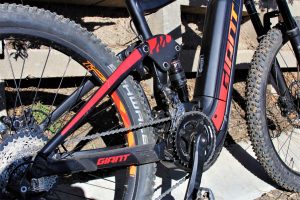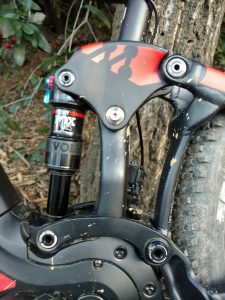 The cockpit is setup with Giant's own GIANT CONNECT handlebars, stem, seat, and Contact SL Switch Trail dropper seat post.
Wheels are again Giant's own hoops and hub systems, with Schwalbe putting the rubber on the ground for you. Drivetrain and brakes are all Shimano XT, SLX, and M615 brakes.
Let's talk about the heart of the dive system, I mean pedal assist system.
Giant as always does their homework and when they decide to bring out a new product, Giant makes sure it works the first time. This system works quite well, now I will admit I don't have a lot saddle time on E-Bikes and coming from a moto background I do know power. This pedal assist motor feels really great when you're pedaling your heart out up the hills.
The Full-E +1 is equipped with;
• Motor – Giant SyncDrive Sport, 80Nm, 500w, system powered by Yamaha.
• Sensors – Giant PedalPlus 4-sensor technology
• Display – Giant RideControl EVO, grip launch control with walk assist, mini USB charger
• Battery – Giant EnergyPak500, 36V 13.8Ah rechargeable Lithium-ion
Now what is cool about this system is that you have three modes for the system on the display.
When you turn it on the display has ECO, NORMAL, and POWER. Each mode gives a different feel when you pedal. ECO mode has more resistance when in use, but when using ECO you save battery life.
NORMAL mode has better assistance and will of course use more battery. Hit that POWER mode and pedal the cranks you really feel the Full-E +1 go. This will use the most battery life of course.
One other great feature with the Full-E +1 is the button for the grip launch control with walk assist on the handle bar. This allows you to get off the bike and when you press the button the bike will go at a slow pace to assist you when say you have to go up a very steep hill (perfect when you have to "Hike-A-Bike").
The Display also has a built-in rider computer to help track your miles and ride info. You also have a USB charge port for your lights, pretty nifty I'd say.
All in all this bike is laid out like any other, but with the pedal assist.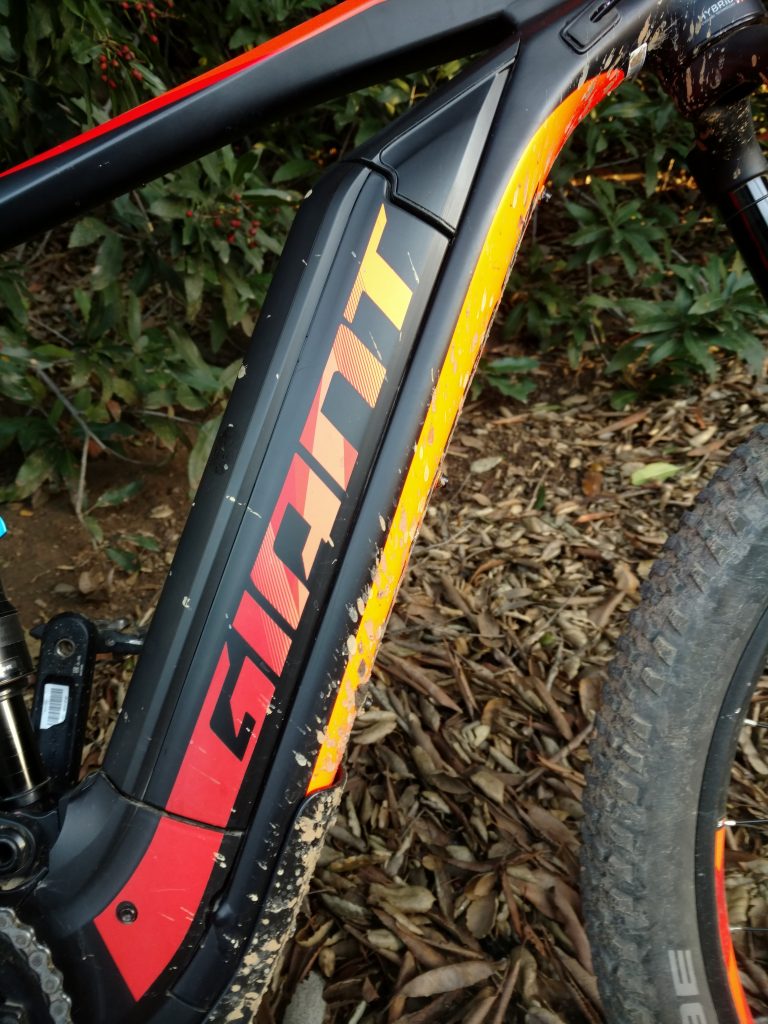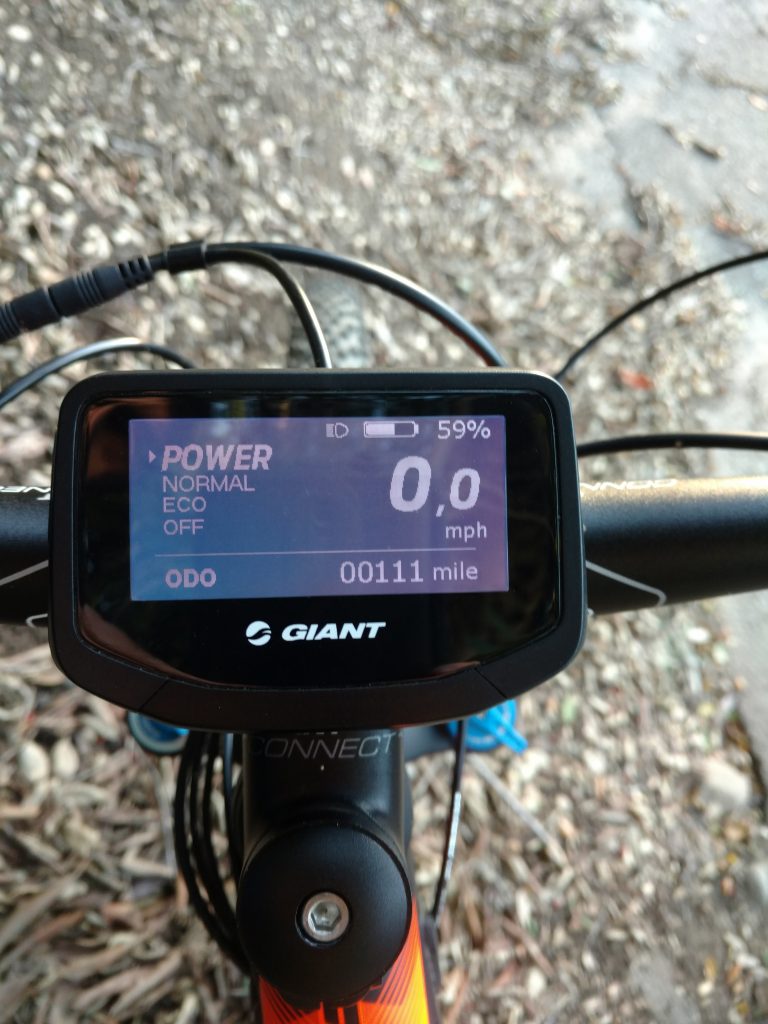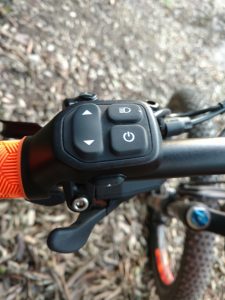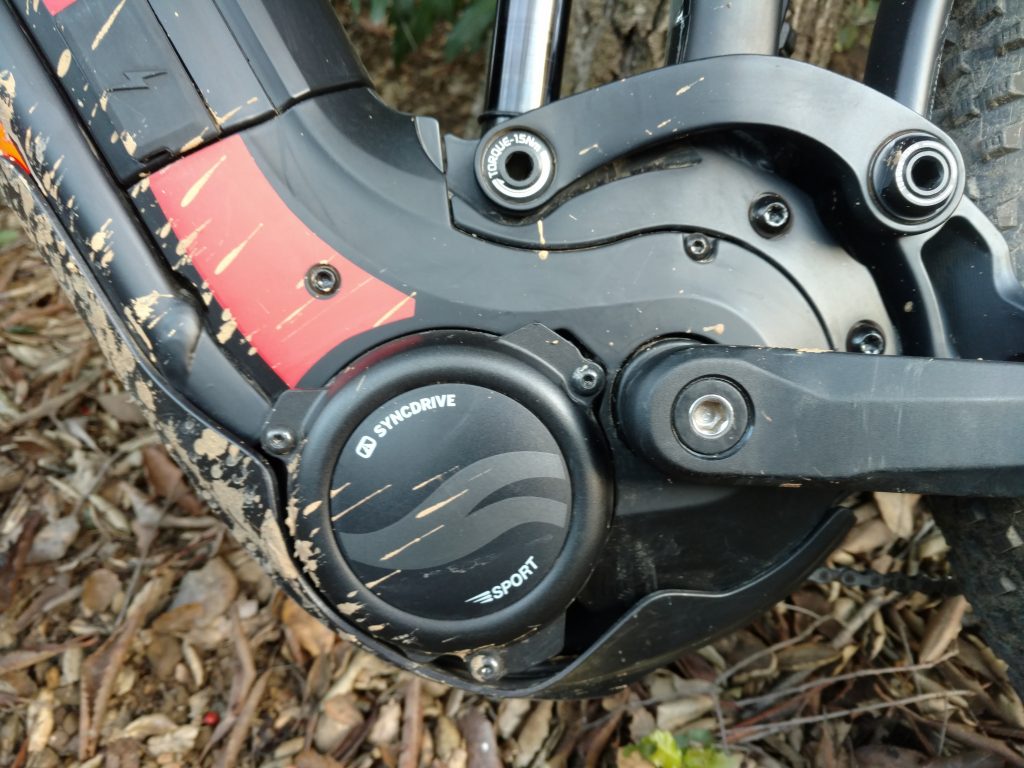 THE RIDE
CLIMBING
I wanted to go to a place where I could really use the pedal assist motor. I wanted to see if this was really all worth it or not
I was told by the Giant rep to meet out at "The Luge". Now I hate riding there and if anyone in SoCal has ridden there you would understand. It's one big fire road climb up, up, and UP some more. Not my cup of tea at all, but what better way to see how Giant's Full-E +1 works.
Now this is the first time MtnBikeRiders.com has tested a mountain E-Bike on our site and the first time I have ridden a mountain E-Bike, so I really didn't know what to expect.
After a quick going over the controls with Giant rep Mark Helms, it was really quite simple to operate the three modes, so off we go to start the climb on the paved road to the entrance of the fire road, climbing of course.
The first thing I noticed was how the pedal assist motor really helps on the climb. Mark Helms encouraged me to play with the power modes, Power Mode being the best and most fun and I'm here to say it was. You really got going in a climb.
Normal mode was not to bad either, you could feel the slight resistance in comparison to the Power Mode and it worked great on the climb.
ECO mode was a lot slower in the get up and go department, however pedaling in this mode would save the greatest amount of battery and you feel the burn (man I'm getting a workout here).
OK, "I LIKE THE POWER MODE" … The bike feels fast in helping you climb up the hill and I hate climbing PERIOD!!! The pedal assist motor made climbing fun and as we were able to pass some people riding up the trail I couldn't help but feel a sense of resentment, or maybe that was guilt on my part. The funny thing I noticed was, when we would stop these riders would catch up to us within a couple of minutes (these were riders that were in obvious shape) and pass us by as we were resting.
We hit some steep hills a couple of times, again fun, fun, fun!! As Giant Rep Mark Helms put it, "Riding uphill on the Full-E +1 is like descending a fun signal track." You are moving at a rate of speed that's actually making climbing fun with all the benefits of getting in shape, this is exciting and makes me want one just for that fact.
Bottom line is, I liked climbing on this bike!!
DESCENDING
Going downhill on the Giant Full-E +1 is no different than any other mountain bike, of course it may weigh a bit more than your average Enduro bike, maybe more like a Downhill bike and going downhill at speed was a blast. You really don't feel the weight at all.
The Full-E +1 has great handling skills. You can carve the turns with ease, it handles the jumps great.
Giant put together a great bike with geometry that feels like a cross between their Trance and Reign, add the full active Maestro suspension with its Trunnion mount and you have one stable bike on the descend. 140mm of travel front and rear make for one plush ride.
The Shimano XT drivetrain worked perfect as always and the Shimano M165 hydraulic brakes took care of business in the stopping department. The Schwalbe tires did a great job of holding you on the ground and Giant's cockpit made the ride solid with their own Connect stem and bars, Contact seat, and Contact SL Switch Trail dropping seat post.
THE WRAP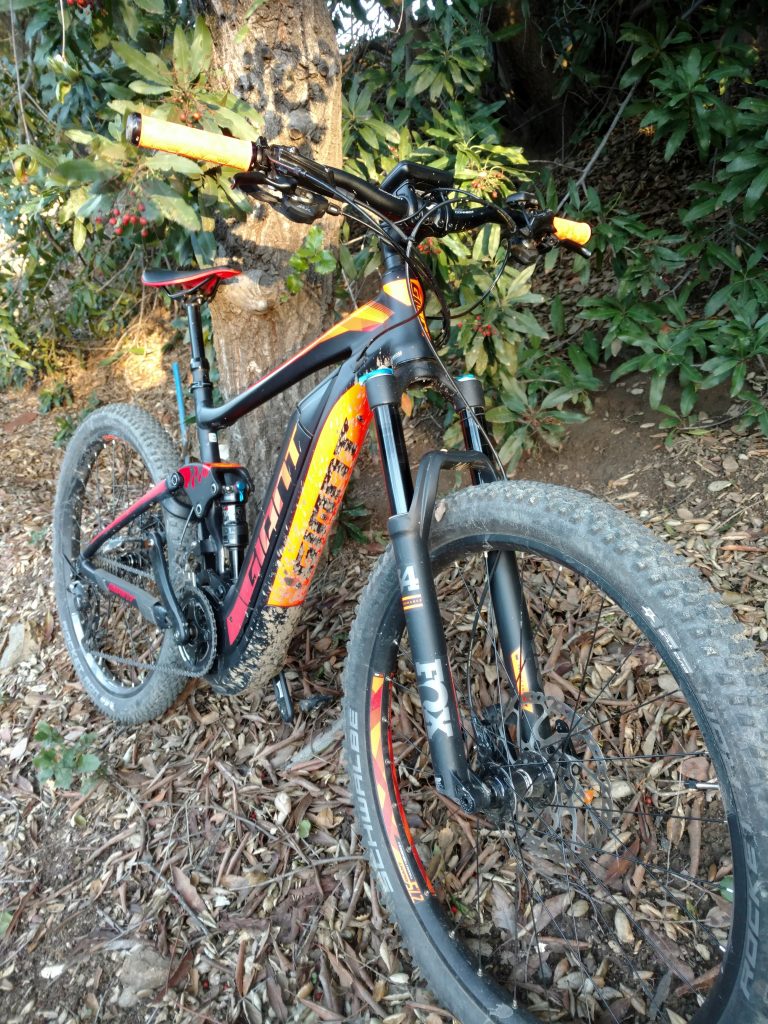 OK, so I finally got to try out a top of the line mountain E-Bike and I have to say I'm very impressed with the overall ride, feel of handling, and performance of the system.
Now this was only a two-hour test ride and not a full "run it through the ringer" test review that we would normally do, I just had to see what it was like and see if its worth all the hoopla. We at MtnBikeRiders.com have not bridged the gap of the mountain E-Bike and with the advent of more E-Bikes being made and the prices coming down we want to keep you the readers up to speed on the newest anything made for the dirt.
So, what is my assessment of Giant's Full-E +1. "FUN!!!" This is a bike plain and simple, you have to pedal it where ever you are going. The pedal assist helps to make the climb easier, but not really.
OK I may sound as if I am contradicting myself a little by saying an E-Mountain bike makes things easier. "SEE I knew it!!" Well no, it helps to climb faster, yes, go quicker on the flat trail, yes, however you are doing this by having to "PEDAL" and I mean "PEDAL" everywhere. So what's the advantage of all this, well You're now training or riding harder.
I found myself overlooking the speed and started seeing the benefit of an E-Mountain bike.
I got one hell of a workout just at the point of going anaerobic, yet was able to continue on. If we hadn't stated our ride late I would have gone on longer to till I ran the battery out.
When asked how long the battery last, Giant Rep Mark Helms made mention with a full charge on his FULL-E, he took it out on a full days ride with a combination of a 6000 feet of elevation gain in total with a 37 mile ride with no problem. So depending on your mode your in you can have a great day of riding.
The next question is, do I need an E-Bike or can I do without. Let's face the truth, when you're ready to spend your hard-earned clams on a new ride and you're looking at about the same price as you would spend on any high-end mountain bike without pedal assist, with bells and whistles ($5,300), you want to make sure this is what you want.
I can say from my short ride on the Giant FULL-E +1, I would for sure add this to my quiver of bikes.
If you are going to be purchasing your first bike and not sure what you may want go and try one out, you might just be surprised that you may like it.
Giant has two models, the FULL-E 0 SX ($7,700) and the FULL-E +1. ($5,300). Again as I said, these are priced at the same level as any high end mountain bike today and you are getting a lot for it in my opinion.
Thank you, GIANT BICYCLES and Mark Helms, for the great time on letting MtnBikeRiders.com see what your E-Mountain bike was all about.
MtnBikeRider.com readers, if you are interested in trying one of Giant Bicycles New E-Mountain bikes out, you can visit your local Giant dealer to find out if they have a demo on hand or go to GIANT Bicycles website at
giant-bicycles.com to see when they have a demo day come near you.