Not sure if you've caught on, but we love doing bike projects. In previous years we'd take on extravagant builds where we source parts from various brands. But times have changed and companies are a bit more strict now when it comes to sending out promotional products. So what we've devised in our recent projects is to re-purpose old bikes. Take this for example, a Trek 6500 with 27speed drivetrain, Manitou fork, v-brakes and grime. I'm not really sure on the year on this bike, but some Googling has led me to believe that this bike might be around 2006…so about 10 years old. The condition of the bike was relatively rough when I got it it. It had a bent saddle, blown out fork, gunked up drive train and dry-rotted tires. The wheelset was decent, a set of lightweight Mavics, but they're not disc ready…boo! But the frame is!
The bike shop where I purchased this bike from had this in their used-lot for quite some time. Someone traded it in for store credit towards a new bike. My cost would be $75+Tax. Not bad in my opinion. I took it home that afternoon and started improving the bike with parts I had laying around.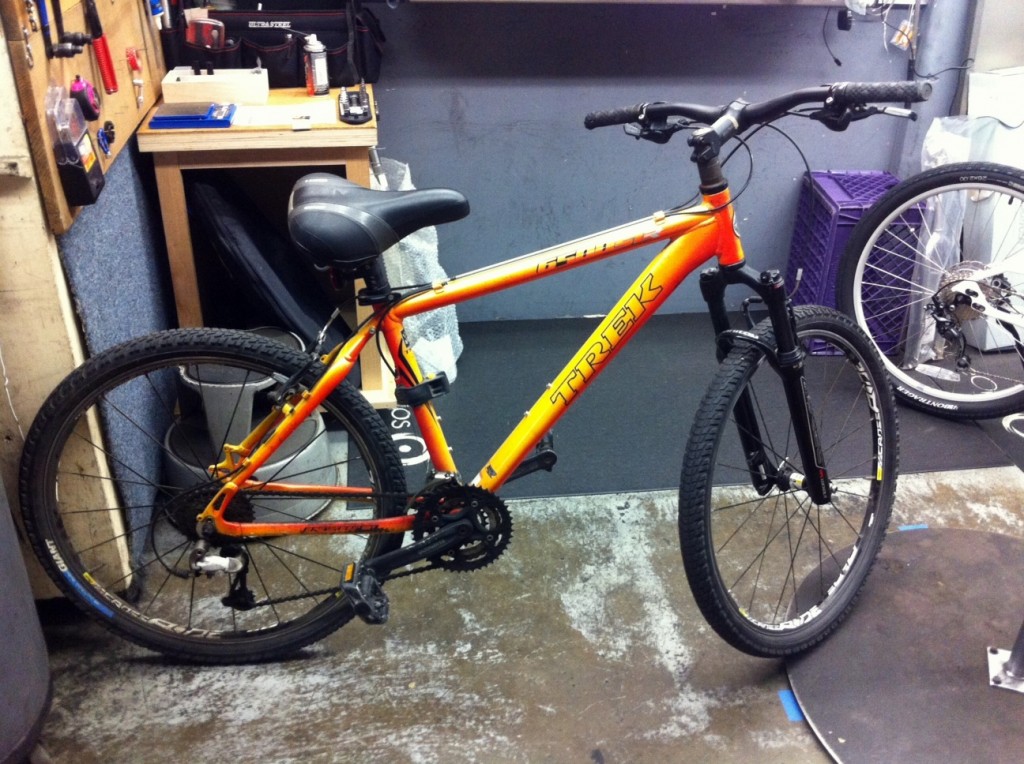 The first thing I addressed would be the blown out Manitou fork. I had no use for it so I swapped it out for a Fox F100RL and I also had a Synergy disc front wheel that I added. I threw on a rotor, some crappy Tektro caliper, replaced the stock bar with a 680mm (still too short for me) WTB bar, replaced the 100mm stem with a 35mm, put a WTB saddle on, replaced the shifter cables/housing, lubed up the rear brake cables, cleaned/tuned the drivetrain, installed lock-on grips and installed some new tires on.
Here's a picture below, a huge improvement from the stock form. I took it out on a ride at the world famous Fullerton Loop, It did great! It's a wonderful climber and thanks to the Fox F100RL fork, it descends like a boss.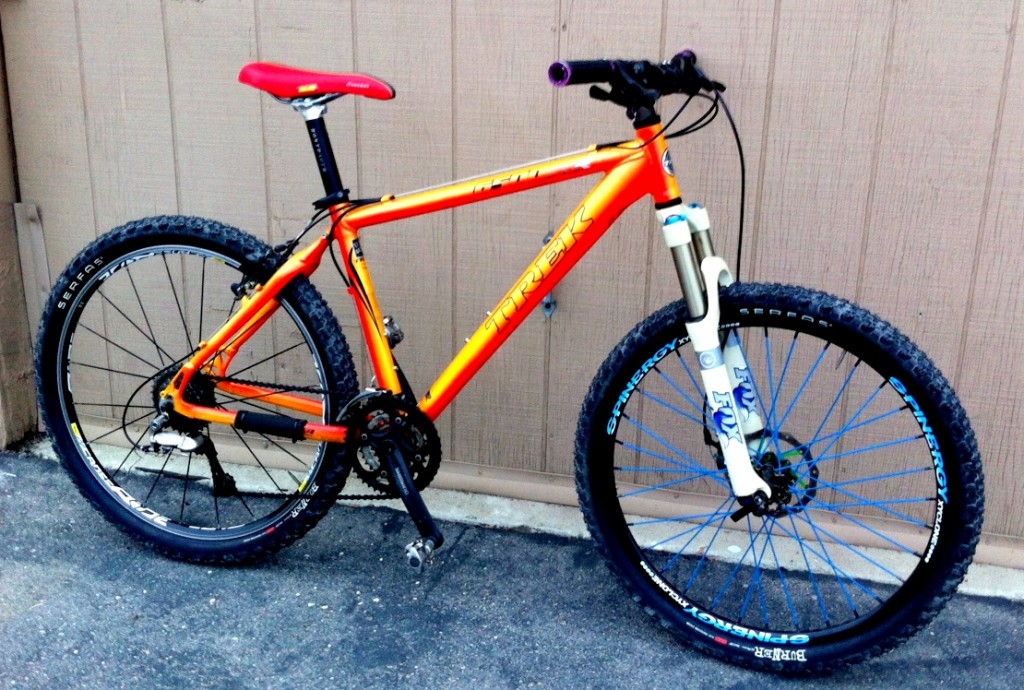 There's actually a few more things I want to do to this bike. I'm weird about having things match…well at least the wheels need to match. I wanted to search for a used Synergy rear wheel, but that's almost impossible. So I'm settling for some lightweight/budget friendly wheels. Since we're on the subject of budget, rather than spending money on some hydraulic brakes, I'm going with some period-correct Avid BB5s that I have laying around. The drivetrain is actually in decent condition. Rings and cassette aren't too worn, about 50% life in them, the chain was checked with gauge and we are still at 50%.
The plan for this bike is to help me get in some sort of shape other than round. I've always been a big fan of hard tail XC bikes and in the last few years, all I've really done is XC riding. So I figured I might as well have a rig that will match the riding I do. Besides, my investment on this bike so far is $75, all the other parts I've had laying around. This is probably the only time in my life where being a bike hoarder paid off!