The following is one mans journey to reduce the weight of his riding experience. Why, you might ask do I want to reduce the weight? Well there are actually more reasons than you might think to do so. First I am a family man with 3 future mountain bikers and a beautiful wife that takes up allot of my free time that would be spent by the single crowd to exercise (admittedly mountain biking is just about the only form of exercise I get). Secondly reducing the weight of my bike helps it to accelerate faster. Thirdly, the lighter my bike the further I can climb with all things be equal. Lastly, its just fun!
So where did I start and what are my goals? I started with a 2008 Trek Fuel Ex 9.0. I previously demo'd a Fuel Ex 9.5 in 2007, wrote a review about it here and fell in love with it. Without the necessary means to buy the top dog, I purchased the second in command at the beginning of 2008. My goals were to drop 2 pounds off the bike from its delivered weight. This bike started out at 26 pounds and currently weighs 24.11 pounds. Doesn't seem like allot but I can definitely tell a difference. The way the bike sits right now, it does everything better! It accelerates faster, climbs better and rolls more efficiently.
So what parts did I swap and why? I must mention is that I didn't just go out and dump a bunch of money into name brand parts and the latest and greatest wiz bang parts. I read allot on-line, started threads and submitted questions to the web weight weenie crowd, I also called manufactures and others for advice.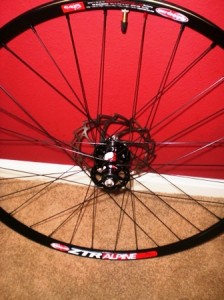 The first parts I started with were the wheels and tires. As I had read previously, wheels and tires make the biggest difference and I certainly found this to be true. I dropped almost a full pound off the bike by going from the stock Bonty Race X Lite wheels (this bike came with these upgraded wheels, they were not specked from the manufacture) to a new set of Stans Alpine rims laced with DT Revolution spokes, AM hub in the front and ZTR in the rear. I also took the time to swap the stock XT rotors for 6 bolt Alligator rotors mounted with aluminum bolts. I had discovreed that the stock XT centerlock rotors weighed 130 grams a piece in the 140mm size, the Alligators were 65 grams a piece. My local bike shop had a Holiday special where every new wheel set purchase came with 2 free tires of your choice. Taking advantage of this I ordered 1 Schwalbe Racing Ralph 2.25 and 1 2.1. These tires alone made a huge improvement in the performance of the bike. They roll allot faster and hook up very well in the loose over hard pack conditions of my local riding spot. Some of this can be attributed to the fact that they are set up tubeless which I am now sold on.
Secondly I went to the crank set. The bike came with a full XT setup which is definitely a well performing and reliable group. The XT crank set is a standard triple ring set up with an external BB. This crank set weighs about 880 grams stock. I decided I wanted to go to a 2×9 set up with a 26 tooth granny ring and a 40 tooth big ring (run in the middle position). After researching the multiple crank set options available and their relatively high price, I settled on an old Race Face next LP crank set sourced from E-Bay. I scored a yellow (ugly) isis drive crank set and a Crank Brothers Ti isis BB for $80, man I was happy with this deal! I immediately stripped the paint off, polished it up and purchased my chain rings. This crank set with BB came out to 660 grams and it looks totally custom! I must note that the chain rings I bought have no shift pins or shift ramps and they shift perfectly.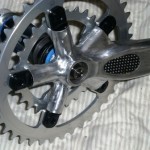 Lastly I replaced the handle bar with an Easton Monkey Lite XC low rise 31.8 and the cables with Alligator I-Links. Now I replaced the bar as I wanted something wider but didn't want to gain any weight and I replaced the cables because the Alligators are fully sealed which is something I wanted as my local stomping grounds has allot of water crossings. The bar gives me more leverage and the cables shift very well and I suppose they did drop a little weight as well.
In conclusion, I must say that the biggest performance difference was noticed when I went with the lighter wheels and lower rolling resistance tires. In the works is a Dura Ace front derailleur with an adapter to run it on a MTB. I have the derailleur and adapter and I am just waiting for my braze on adapter, stay tuned!