This past Sunday I entered the first annual Mongoose Hillbilly Bike Bash held in Vail Lake, CA.  This event was put together by no other than the legend Eric Carter and company.  This was a two-day event – Super D (Saturday) and DH (Sunday) however I only entered DH.
Like all other races that I have entered, the night before I was restless and anxious for what the next day has to offer.  Technically this would be my third DH race.  The first two are from the Keyesville Classic and Sea Otter earlier this year.  This would also be my first race on my Intense SOCOM.  I bought this bike back in July of this year and had very MINIMAL time on it.  Other than this weekend, the only time I rode it was on a weekend ride at Fontana in August.   I was anxious to get to the event early so I can have as many practice runs as possible.  We left the house a little after 7am.  There was light drizzle when we reached Temecula and the temperature was in the low 50s… brrr!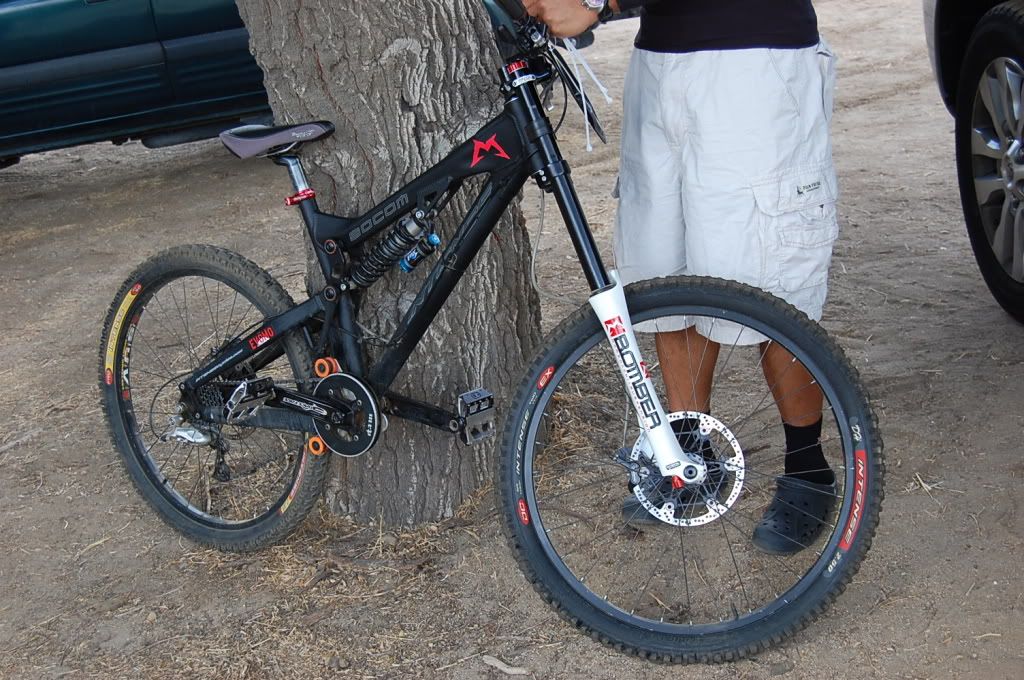 Intense SOCOM, 8″travel w/Marzocchi 888 Bomber fork.  Photo by DownHillPhil
The Practice: After suiting up, I took the shuttle up to the starting point. Now I have to mention that the ride up was literally more jarring than our actual ride down (with our bikes).  Though the hard work of the drivers are appreciated, they just need to slow down a bit.  I had a total of three practice runs.  On the first ride up, the driver hi-sides the hill and the kid standing in front of me literally gets tossed up in the air like three feet… Crazy!  On the second trip up, the driver takes a corner and the truck drifts… not a good feeling when you are seeing the hillside…yikes! On my last trip up for practice, the wooden gates (panels) used to keep the riders in, became loose.  First the left side pops off and hangs from the end of the truck; we stopped and he fixes it.  Then up the road he hits another bump and the right sides flies off.  Fortunately no one was injured.  Memorable indeed…
The Course: It winds down to many turns and a few steep rollers.  There is a wallride before you reach the two ladder bridges towards the end and a double (jumps) by the Finish Line.  Conditions – fairly packed in the morning however quickly turned into sand in many corners as riders practiced.  There were several ruts that were significant in size.
On my first practice run, I did several re-dos of the first section and a steep roller.  I did this by walking my bike up the hill.  Not that easy pushing up a 40+ lbs bike.  Unfamiliar with course I took precautionary steps before riding through.  On my last two runs, I rode through the course with out any stops.  I did put my foot down on several turns, but I was fairly confident that I can handle it.  After a practice ended there was a brief lunch break for the drivers then onto shuttling the Pros for the start of the race at 12:30 PM.
Race Time:  My class wasn't scheduled to start until 2:17 PM.  However at staging while I was chatting with Eric Carter's mom, they told the racers to better catch the shuttle now; that's over an hour ahead of my race time.  Not wanting to miss it, I took the shuttle up.  Here is where you test your patience of being last on the list.  As a Beginner, we were set to go last as they start with the Pros, Semi-Pros, Expert, Sport, then… the Beginners.  One good thing about this is all the fast guys are ahead of you, so there is NO pressure of someone passing you. 
Through out the start of the race there were many names that were called out and were no shows (DNS).  Many riders said that the names were there for practice but were not at line-up… maybe they missed the shuttle or maybe they changed their minds.  Finally when our class was called, several names in my class were DNS which left us with only three guys.  My run to the bottom went without a hitch.  On several corners I got semi-stuck in the sand but managed to power through them.  A racer in my class (behind me) caught up and blew past me towards the end of the course.
                                      Photo by Sharky
                                                                      Photo by Christopher Wood
The Podium: Eric Carter started the awards with Pros, Semi-Pros, on down… As they were calling out the top 5 in the Experts, they discovered that the timing results were wrong which caused them to stop the awards.  By now it was approx 4:45 pm and getting dark.  He was embarrassed and disappointed as this was his inaugural event.  He asked for everyone to return in about 45 minutes or mail-out the trophies which I thought was great.  For me, with only three racers in my class, and one passing me, I took the liberty of conceding to third place.  I had my family in the car and have been out all day, so we were anxious to get home.  Eric gave me my 3rd place trophy and if by any chance I got 2nd, we'll swap the trophies.  Cool guy!
I had a great weekend and looking forward to Fontana in two weeks.  Below is a short video of my race. It's mainly pictures with short video clips as the course was a little difficult for my fiance to hike-up.