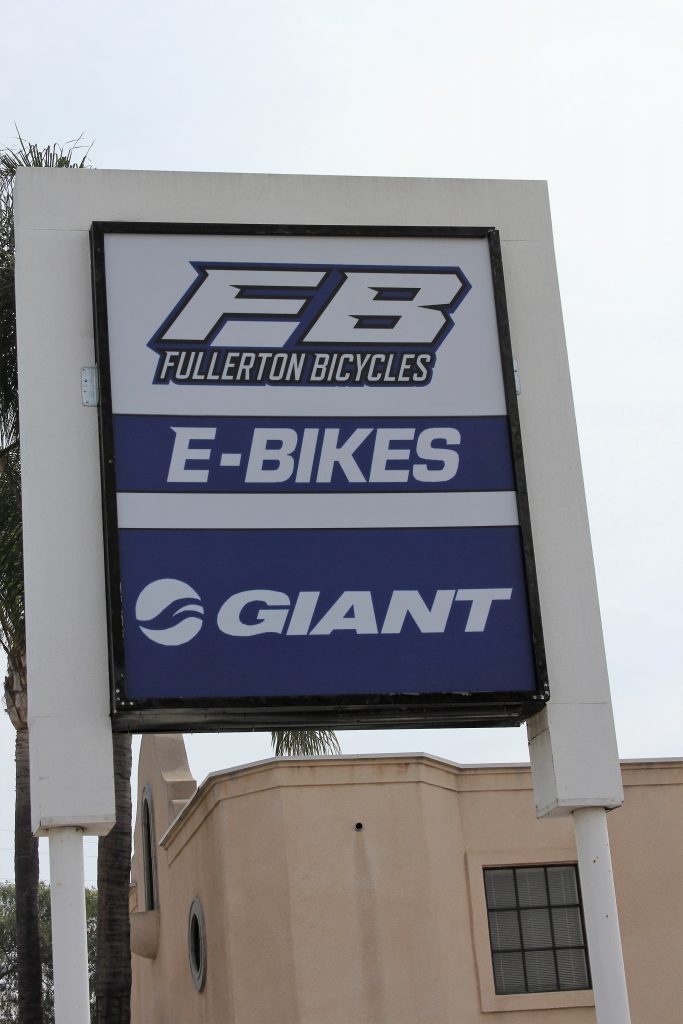 TIME FOR CELEBRATION
March 31st was full of milestones, new looks, and great business relationships made stronger.
Mike Franze owner of Fullerton Bicycle was celebrating his 15-year anniversary of ownership. Mike purchased the store back in 2003 then shortly after he purchased Buena Park Bicycle in 2005. Family owned, Mike treats his customers just like family. Something that is unique with retail stores, but so needed in today's E-Commerce environment where brick and mortar is going the way side.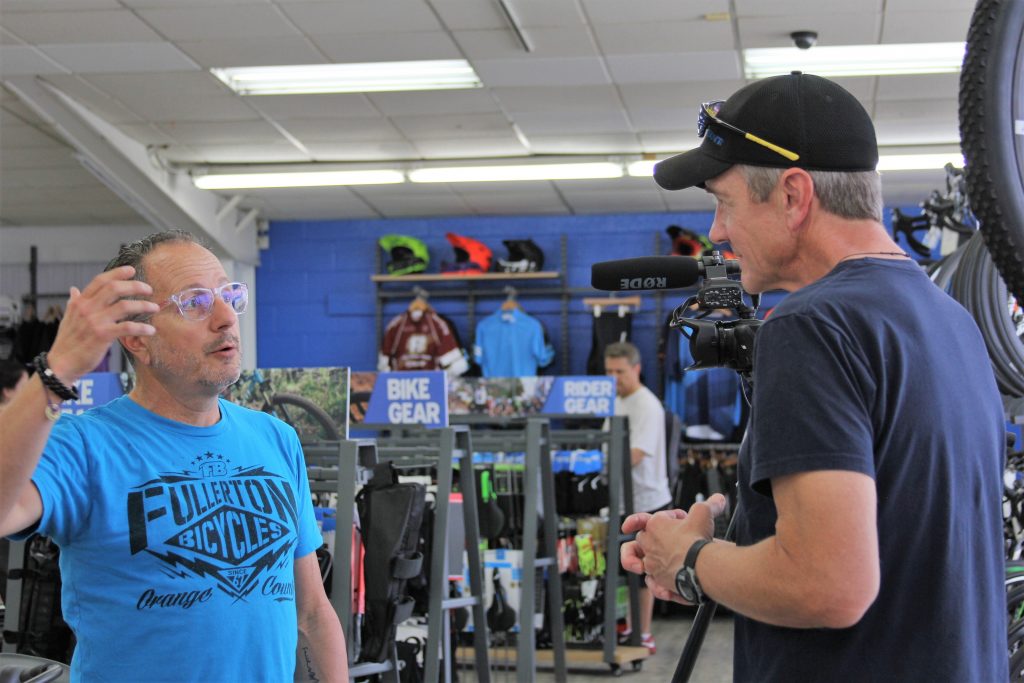 Just to give you little history about Fullerton Bicycle, they first opened their doors back in 1967 and have been a big part of the community since. Always providing the absolute best service, in the best environment. This is a store where the staff is not only friendly, but knowledgeable at what they do.
These guys don't just sell bikes and fix them, they are pure cycling enthusiast through an through, even Mike is an avid rider himself and this is what makes a customer come back to a place like this. They know that a shop that rides is a shop that cares.
FACELIFT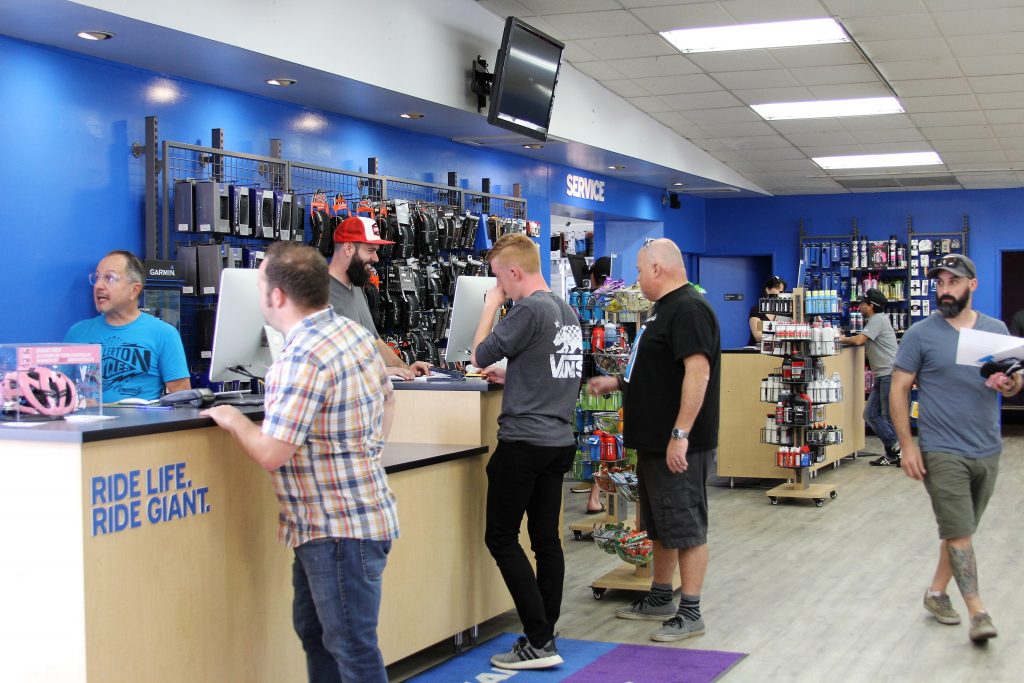 After 6 weeks of remodeling both stores, it was time for the celebration of 15 great years hard work.
The minute I walked into Fullerton Bicycle I was blown away by the changes. This was a whole new store with a whole new feel of space. Giant Bicycle gave a helping hand to the remodel and they did an awesome job of it. New paint (my favorite color, Giant Team blue), brighter lighting, new flooring, well-marked Giant kiosk for accessories and gear, plus beautiful counter tops for the sales and service areas.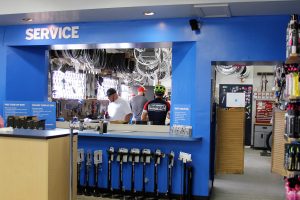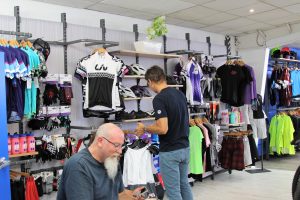 This was truly a remarkable change. When you walk in it feels warm and inviting, a kind of Feng Shui feel to it all.
You could feel the pride in all the staff members as well as Mike Franze himself.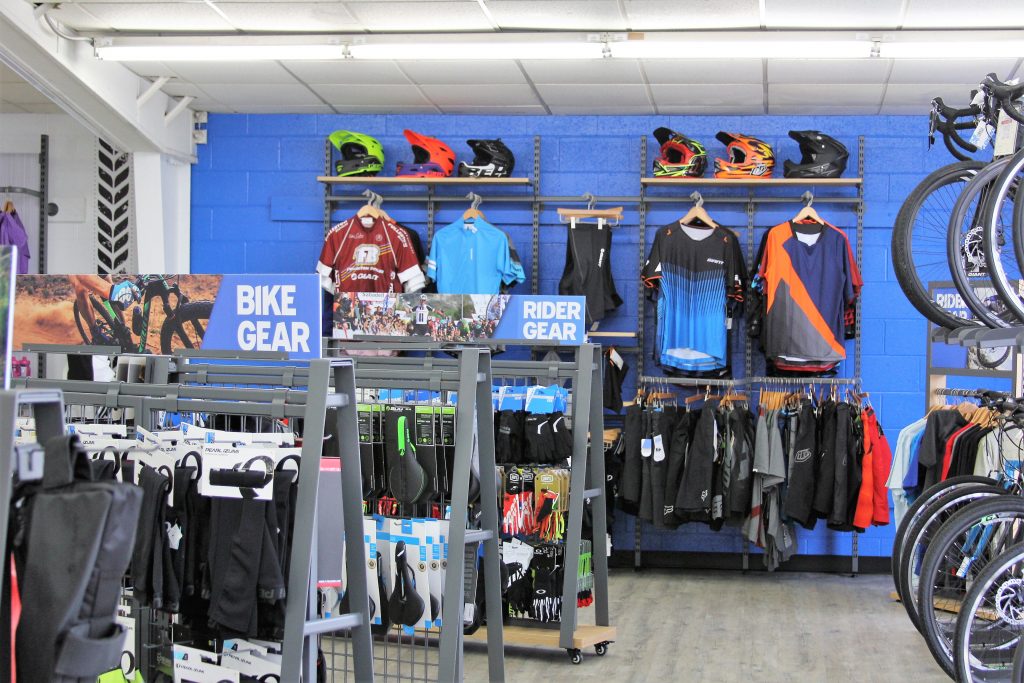 LET'S GET THIS PARTY STARTED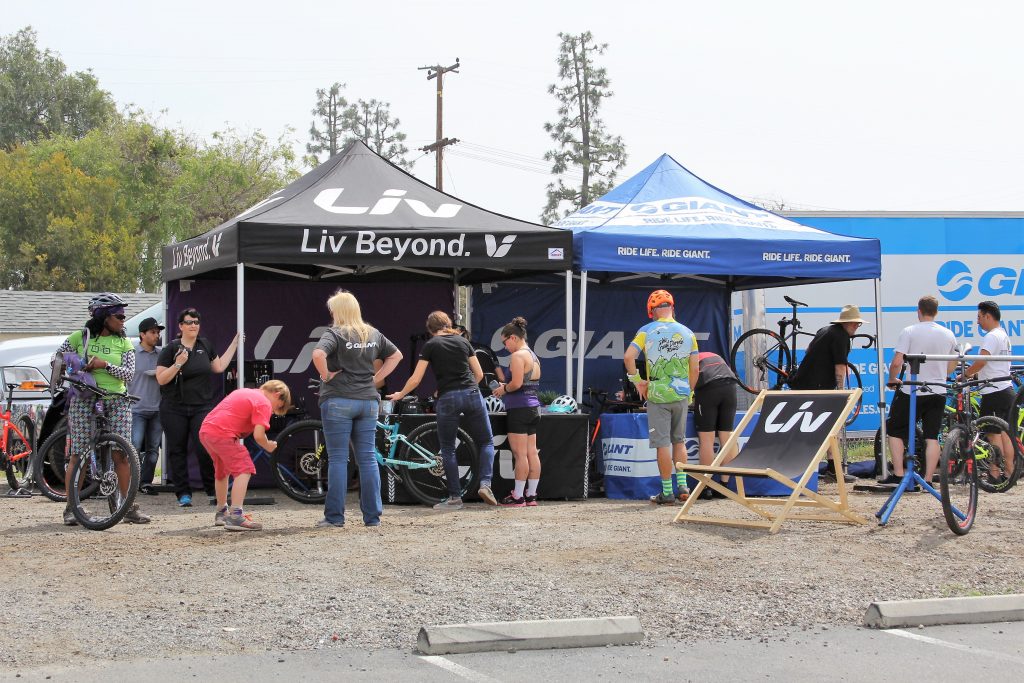 So how do you do a Grand Reopening party / Anniversary party? I'll tell you how, you get Giant Bicycle bring out their Demo rigs for Giant and LIV bikes, but you don't stop there. How about kicking off a morning group ride around the Fullerton Loop with all the customer's.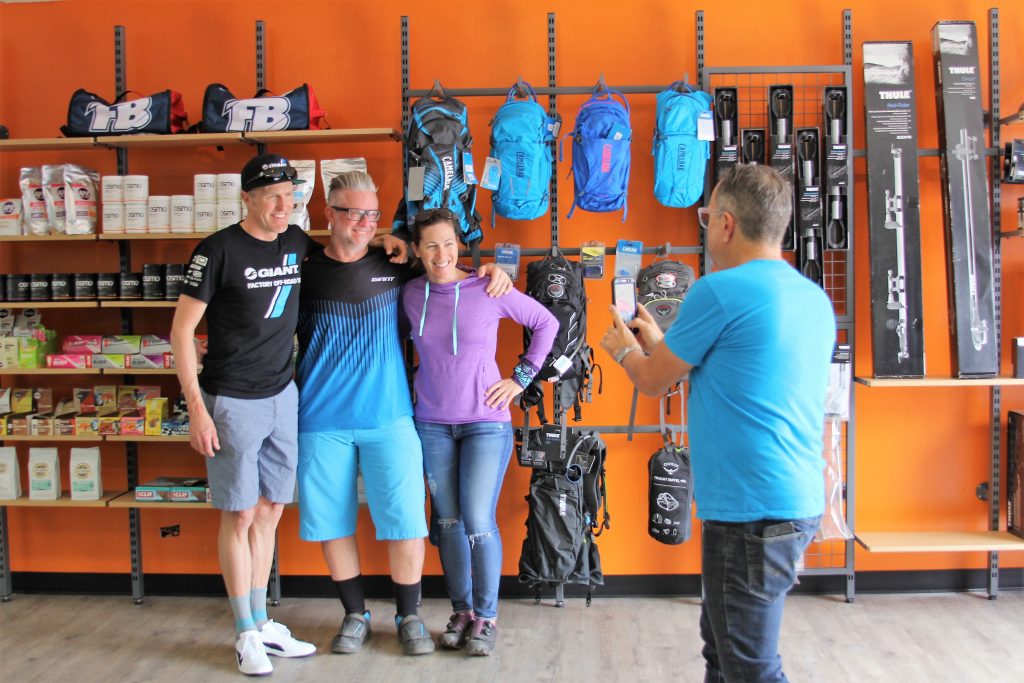 Then you lead that ride out with none other than Giant Factory Off-road Team Rider, Carl Decker and LIV Pro Ambassador Leigh Donovan, two legends of mountain biking. Now that's an awesome start to a long day of fun.
Let's not forget having some food to go with that ride after you get back. Tacos with all the trimmings, rice, beans, salsa, and soft drinks to wash it all down. "Mmmmmm gooood."

Throw in some great raffles for the customers, a great big sale, plus have a booth to get your drivetrain all nice and spiffy after that morning ride. Boy was this guy ever busy all day too.
The Giant demo crew was busy all day as well with demos going and coming, and the store was busy none stop helping customer with all their needs too boot.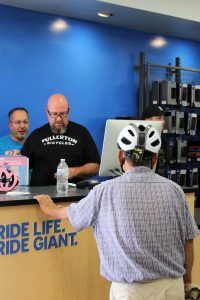 It was nice to see happy customers leaving with their newly purchased Giant bikes. From a dad with his young son and his first Giant PRE, to a young teen getting his new Trance, and a father and son both getting new Trance bikes to rip it up together.
Carl Decker and Leigh Donovan were busy chatting and posing for pics with customers also.
This turned out to be quite a day of smiles everywhere.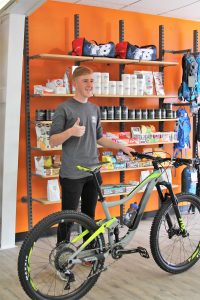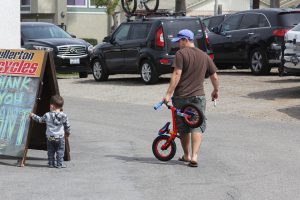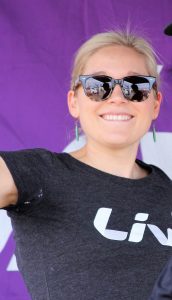 You can tell the staff and Mike Franze are very well liked. I spent the better part of all day here and it was evident just how much the customers care for Fullerton Bicycle. To the customers, this is just as much their store too and the well wishes were flowing to all the staff and Mike.
All this because of a philosophy and business practice Mike Franze believes in and shares. He Cares about his customer's and his community.
PARTNERS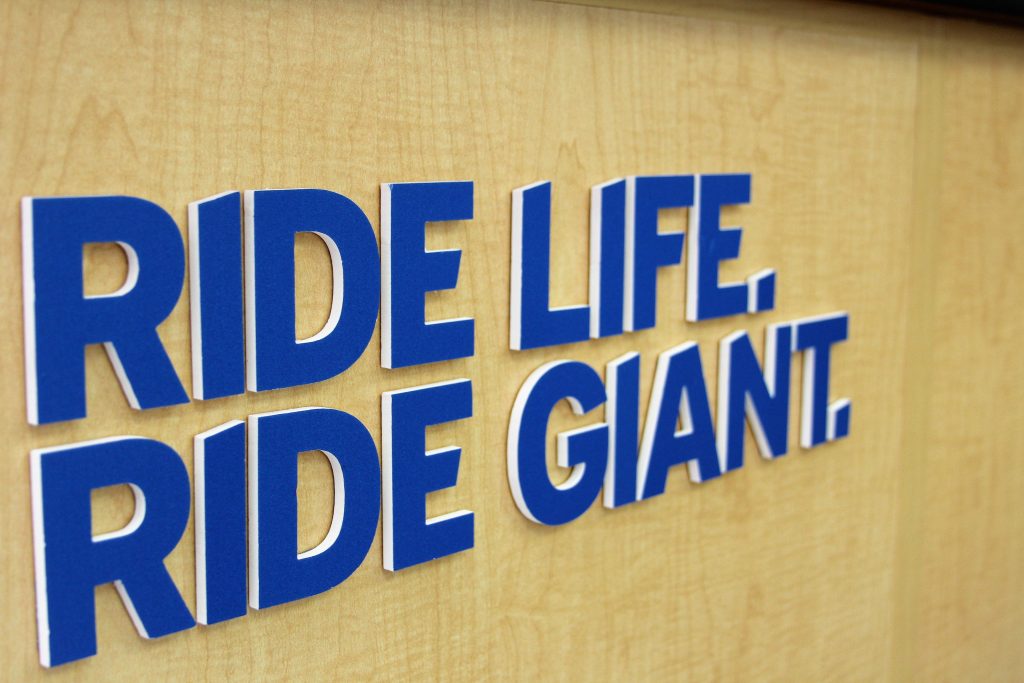 It was great to see all the Giant members that were there to help celebrate the Grand Reopening and Anniversary with Mike, showing their support. You could tell this wasn't just shaking hands and saying thanks then goodbye. This was a long-time relationship that has been built into friendships. Something you may not see to often from a company. This shows the importance of partnerships between dealer and company.
Giant Bicycle recognizes this philosophy, Mike Franze has been a Giant dealer for as long time and he is clearly a dedicated and passionate person to cycling.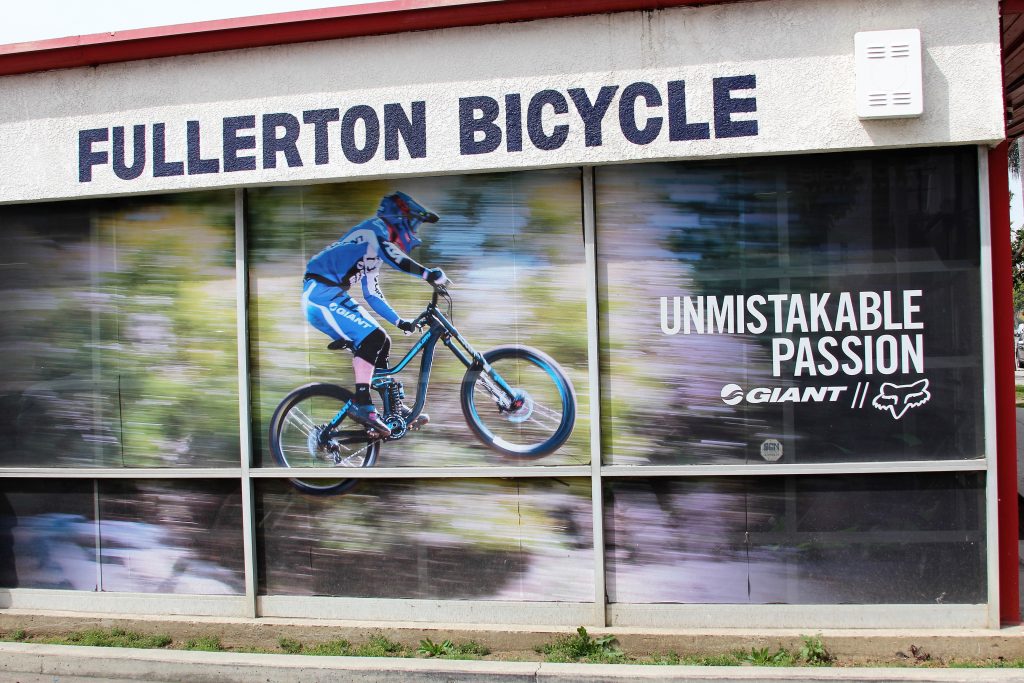 Mike was none stop all day, I don't think I saw him take a break at any moment I was there, true hard work pays off and for Mike Franze it does.
The highlight of the day came when they got him to stop long enough for all the Giant crew and customers to gathered briefly for Giant Bicycle General Manager John Thompson and Regional Manager Eric Woods to present Mike with a plaque certifying Fullerton Bicycle as a new Giant Retail Partner.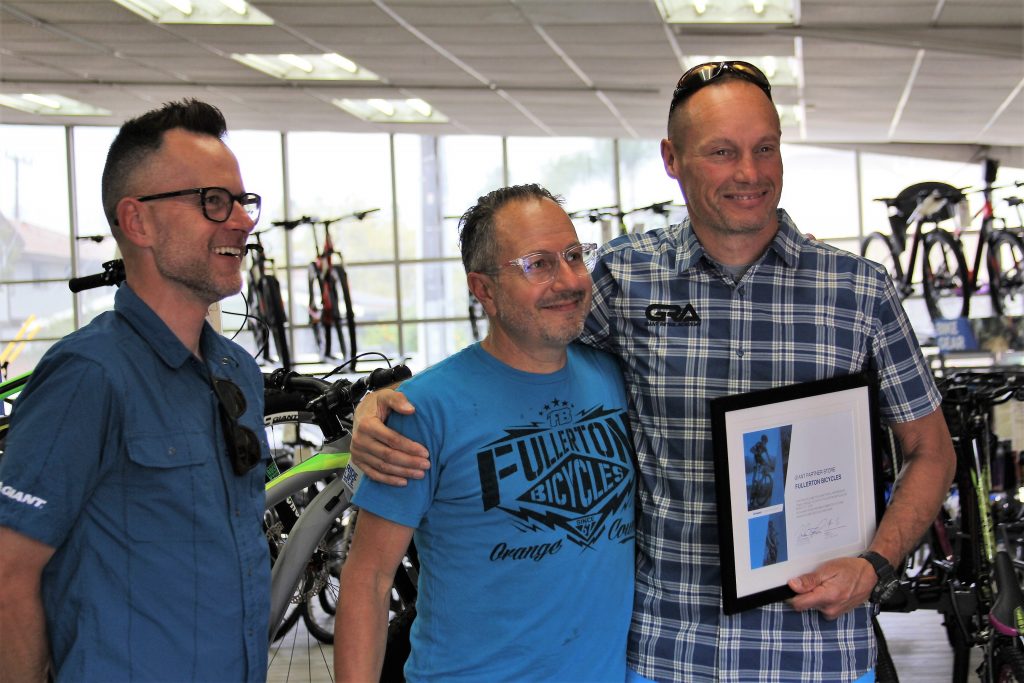 This is a big thing to have happen for any store and I'm glad to see it happen to a store that I may not be close to, but have always considered it as my local bike shop.
So that was the first plaque, a second was also given to Mike and as this was pulled out and presented to Mike you could tell he was taken by surprise.
It was a photograph with a personal message from Tony Lo the chief executive of Giant (just retired) with Mike in the photo.
Partnerships have been built, but friendships have come out of this. The massage from Tony Lo was just that.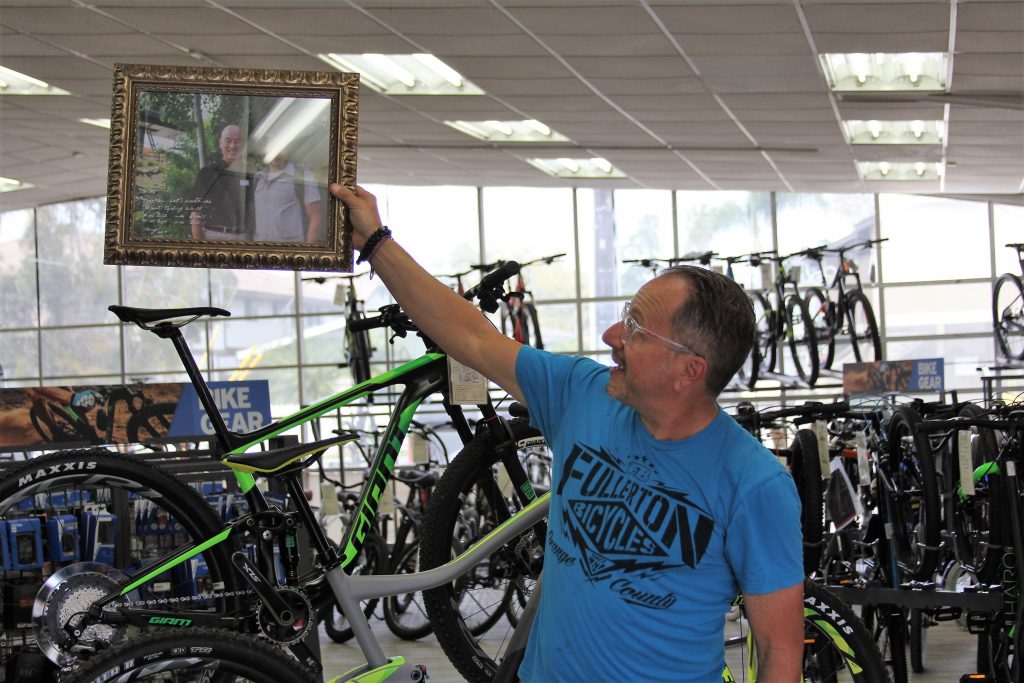 Yep, Mike Franze has not only built a business relationship with Giant, but a true friendship and it's worth saying over and over because you don't see this to often and I like this.
Mike gave a grateful many thanks to Giant for all the support and love throughout the years and mentioned how blessed he was for it all and that he is.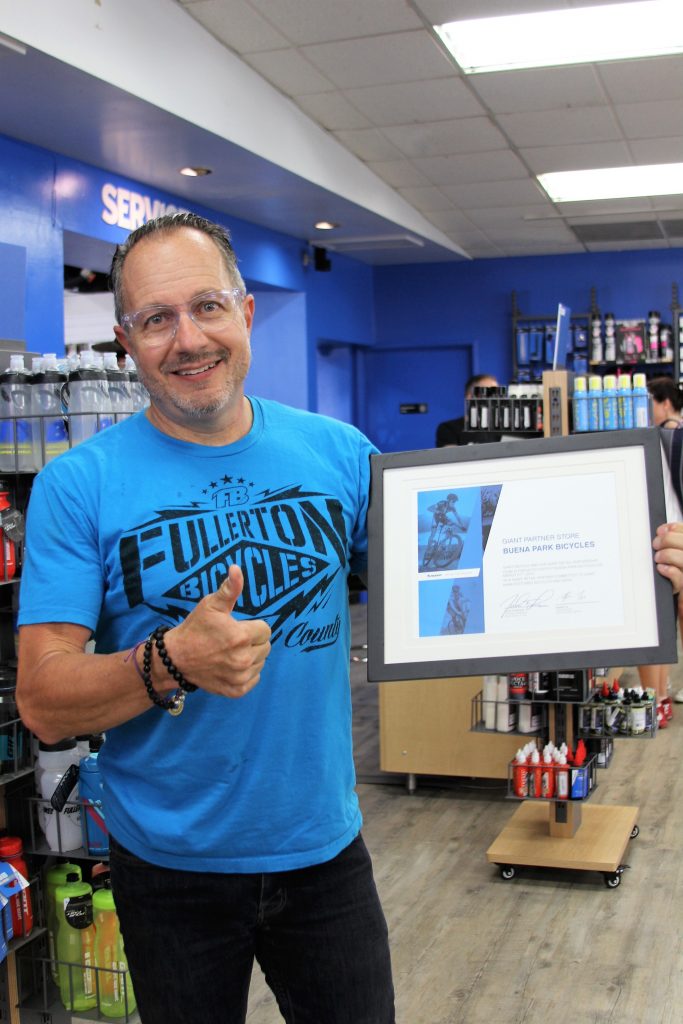 SAYING THANKS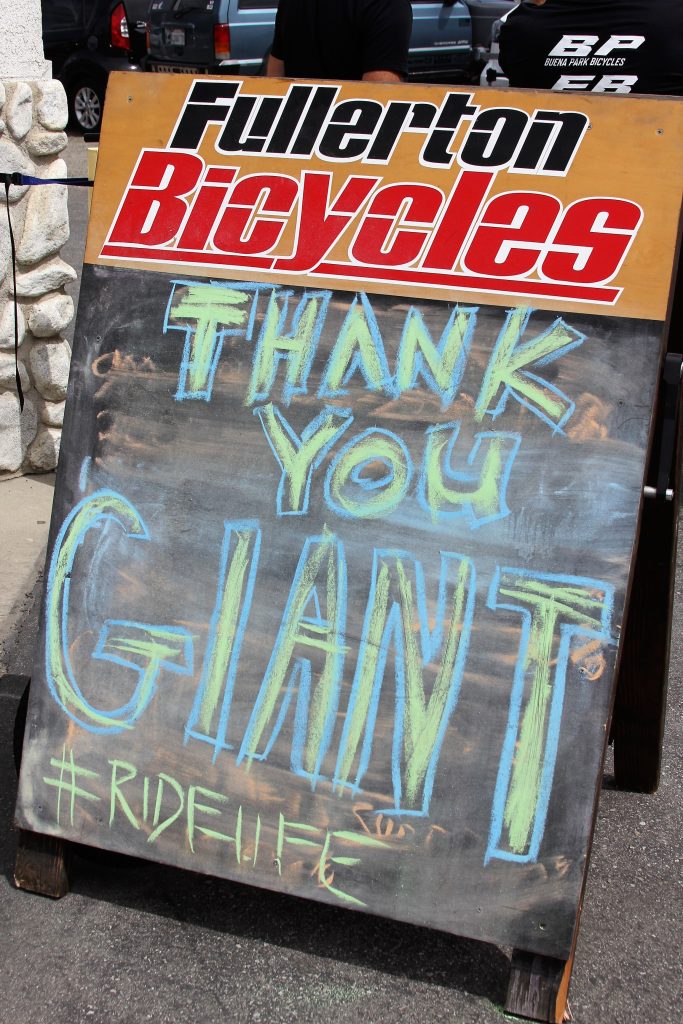 Mike, Happy Anniversary and congratulations for 15 years of outstanding service and dedication to our cycling community.
Congratulations becoming the newest Giant Retail Partner. You and all your staff are professional, courteous, and there for the needs of your customer's. With a Customer First attitude that shines through.
We at MtnBikeRiders.com thank you for being there and wish you many years to come.