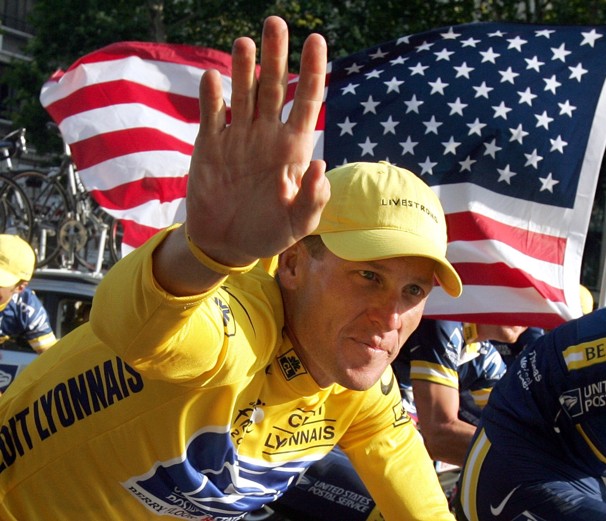 A GREAT RACER
OK so we all know that the truth of the evidence has come out about the Lance Armstrong doping allegations and Lance Armstrong was released by Nike and he stepped down as chairman of his LIVESTRONG foundation. Something I believe he should not have done seeing that his cancer recovery had nothing to do with his cycling, but rather his ability to fight against all the odds is the true strength of what makes Lance who he is and why so many have fought against illness's they have. He has given strength to so many that were ready to give up. Believe in his strength, this is just one of the things that helped him to win his Tour titles.
THE SPORT
Lets take a look at this sport of road cycling. I have often heard it said just about all the riders dope. "Hmm". Let me think about that, these are the top one percent of the best racers in the world doing the impossible over weeks of riding.
He didn't win these titles all by himself and not by leaps and bounds. He won it with teamwork with a dedicated team of racer that all had a job. This is what got him 7 Tour titles.
So you want to look at the Tour racers, lets do that, Were the racers not all hanging in their with Lance and at times even beating him, yes they were. A lot of my friends and people I know in this industry as well as myself always had an idea that the doping went on, but we kind of turned a blind eye and watched as we cheered them all on, so are we just as guilty for watching and thinking that some were doping and we pushed that thought aside to say cheating is okay just as long as they don't get caught and hoping our favorite rider wins.
The Tour De France is one of the toughest races on a bicycle to do. You don't just go there and race you get invited, so if all the teams that go are more or less doping I guess its pretty safe to say the racers are on an even keel right.
THE LAST WORDS
Okay doping is not the right thing to do in any sport. It's cheating plain and simple. We at MtnBikeRiders.com do not condone drug use in any sport, as well as cheating.
Lance was the most sought after competitor in the world to prove that he cheated. Why I just don't know, did others gain from it, maybe.
I said from the start that we can't convict someone based on hearsay, I want to see the evidence, the smoking gun. What happen when George Hincapie went behind closed doors and spoke to the USADA, was their a deal struck between them or was Hincapie just plain tired of it all. We may never know. What about the others that came forward, what evidence was given by them, was it all the countless blood test Lance has given. "I know, I know", I'm trying to give it some kind of justification that one of cycling's greatest racers is not a cheater. Am I somehow let down now and I think he is the wost guy in the world of cycling and he made the sport of cycling bad and cycling will never recover from it, no it will go on and so will Lance, and so will I.
In the end we all have to remember, when we were all out there praising Lance Armstrong for every win at every Tour we put him on that podium of greatness and in doing so we forgot one fundamental thing he is only human and humans make mistakes.
I will always think of Lance as a great racer that won 7 Tour de France races not all by himself, but with a team that got him there and they were all winners to. He's apart of a foundation that he started that has given hope to countless people and I don't think they would look down on him one bit. Sure his cycling celebrity has helped LIVESTRONG, but that's not the driving force behind it.
So,It's time to put this one to bed, It's come to an end and some of us can now have closure.
LIVESTRONG, be strong, and ride strong.