Well its been a few months since I first received the Sette Reken from PricePoint.com. I'd like to thank Magally Gomez and Brian Cleveland for sending us this frame to test and review. So let's get down to the nitty gritty.
Sette Reken Frame


Price: $99.00, not bad if you ask me!
Specs:
Model Reken Hardtail
Material Full 6061 Alloy, Double Butted Main Triangle
Welding Tig Welded
Wheel Size 26″
Headset 1-1/8″ Standard
Front Derailleur Size/Mount /Type 31.8mm, Clamp, Top Pull/Top Swing
Bottom Bracket 68, English
Seatpost Size 27.2
Seat Clamp Size 32.0
Disc Mount 51mm IS
Max Tire Clearance 2.3″
Available Sizes 14″, 16″, 18″, 20″
Color Black
Weight 4.5 lbs/ 2041g (18″)
Warranty 5 Year Manufacturer's Warranty

Size 14″ 16″ 18″ 20″
Headtube Length 117mm 117mm 130mm 145mm
Top Tube Length (actual) 54.5cm 55.2cm 56.9cm 59.2cm
Top Tube Length (effective) 56cm 57.4cm 59.4cm 61.5cm
Seat Tube Length (C-to-T) 14in 16in 18in 20in
Chain Stay Length 424mm 424mm 424mm 424mm
Headtube Angle 70.5 70.5 70.5 70.5
Seat Tube Angle 73.5 73.5 73 73
If you scour the internet for product reviews of the Sette Reken, you'll have a tough time finding it. For some odd reason people are either scared or skeptical of a mail order brand frame or bike. People like to stick to the well known brands thinking that they are of superior quality. But in reality, the same factory that made those chic brands was probably the same factory the Sette Reken came from, besides the frame has a 5 year warranty!
The Sette Reken started off as a single speed project back in Winter. I had talked to Magally Gomez about wanting to build an affordable single speed mountain bike. After a few words, she agreed to send me the Reken frame for our project along with their single speed conversion kit and tensioner.

The Reken would be my second single speed to build up. I came off another single speed full suspension project I had started around Christmas time. But by January, the Sette Reken was on the trail.
A couple things I noticed about the Sette Reken that made me immediately fall in love with it. First was the geometry. It had a slack 70.5 degree head tube angle that made it more comfortable to ride. I ran a 90mm stem on it because I have short arms, the frame was a 16″, stout, and flickable.
Single speed riding causes quite a bit of stress on any bike. The Reken held up nicely throughout the months of abuse that I gave it. I've taken that bike on some of the hardest climbs I can handle to the technical trails such as Rockit, and Lynx at Aliso Woods.
One of my favorite aspects of the Reken is the color, flat black. It's unassuming, very humble and low key. It's what you would call a sleeper bike. But once you put some power to those pedals, this thing responds. The Reken doesn't have a lazy bike feel. It was light enough (25lbs), so that mean I could get up to speed really quick and since it weighed like an anorexic teenage girl, the bike was easy to handle.
Then at one point I had this idea of converting the Reken into a 69er. The frame did well, and there was some concern that the head tube angle was too slack to accept a 29er wheel. But during that time, the bike never felt like a chopper and rode just fine. However, that didn't last too long since it wasn't my cup of tea to ride a rigid 69er.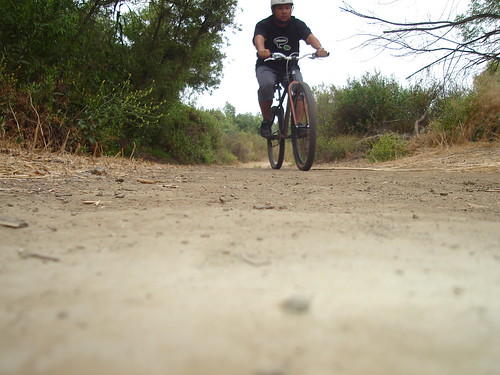 Now at a cross roads where I am considering turning the Sette Reken into a geared bike, perhaps a 1×9. This actually brings me to the summary of this review.
The Sette Reken by far has surpassed my expectations of this frame. I honestly thought that the frame would be OK to use on a build and possibly do well in the review. But after months and months of hard single speed riding, the frame has performed way better than I and anyone else thought. This is a frame that I could literally do just about everything with. Not only does it make a great single speed, but its disc brake ready, gears ready, has an awesome paint job(never chipped during review) and its totally versatile! This frame has seen more projects and tests done on it than any other bike we've tested.
So to say that I highly approve of the Sette Reken is an understatement. This frame ROCKS and as the Co-Founder of MtnBikeRiders.com, I am authorizing and approving that this frame gets the Stamp of Approval from MtnBikeRiders.com. Um…that's a big deal! That means this bike has done its job and a bag of chips! I cannot say enough about how much I absolutely love this frame. Besides the $99 price tag makes it easy on your budget