Last night I spent some time piecing together a 69er bike. I've always wanted to try one out but riding one in the parking lot of an LBS doesn't really count. So for the longest time I've wanted to build a 69er project bike. I'm a big skeptic when it comes to the whole 29er thing, just not my cup of tea. So with a 69er, I figured it was right in between what I love, 26er and what I wasn't sure of, 29er.

I took the Single Speed Sette Reken and used it as the test bed. Moe let me borrow his fork from his KHS Solo One, Jeremy let me use his old Maxxis Ignitor tire. I then used a 700c wheel I had in the garage, an Alex G600 wheel and since I didn't have a 29er tube, I made a 26″ tube work.

Then this morning I got up extra early to see how this thing would ride. I admit I was only on the trail for a bit, total of 3 miles…what…I had to get ready for work!


I did weigh the bike after I converted it, the bike is only 1lb lighter. The handling wasn't affected much since I was running a 100mm Marzzochi fork to begin with. The rigid KHS fork made for great climbing, no bob.
I'm looking forward in taking the bike through some berms and switch backs since everyone seems to think 29ers can corner well. The bike is quick, thanks to the 26er in the rear, but the Kenda Smallblock eight tires are also a big reason why I was rolling like gangsta'.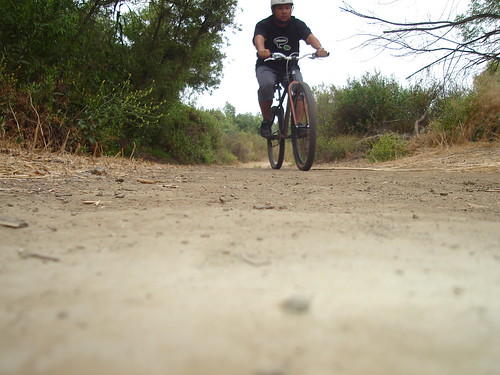 I'll be testing this "theory" out and see if its even legit or worth buying a better fork and an actual 29er wheel, but for now, my garage-built 69er should be fine.