DON'T THROW OUT THAT TREE STUMP YET!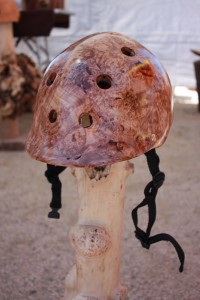 As I was walking by I noticed these shiny helmets, but what caught my eye was the fact that they were made of wood, that's right "WOOD".
The person behind this beautiful creations is Dan Coyle of Coyle Designs. What Dan does is he gets your measurements then a chunk of wood that he machines to your size, he puts large vent hole for cooling, he then fits the helmet with cork to absorb the impact followed with a set of pads for comfort. There are a few other steps but I won't bore you with it.
Now what I know about helmet safety and EPS liners, shell material I have to think there is no way to do this with safety in mind, but all is thrown out the window when I saw these, Dan assured me that wood is a great material with very strong properties. I asked Dan, okay what happens when you hit hard and you say crack the shell ( these works of art don't come cheap), well not a problem, if you do have a crack he can repair the helmet and fill the crack. It's not only the hard shell but also the resin that gives it more strength. This is truly a ECO green helmet that can be refurbished, just change out the cork and pads. "OK Dan can you make say a full face motorcycle helmet or a DH helmet?"  Dan: "I have been asked." And when he says this I think he can do it.
THE COST OF A WORK OF ART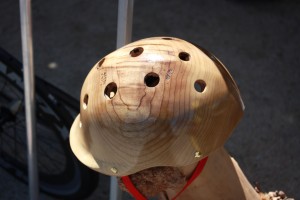 I like using my name when I can okay. What's the cost for these beauty's, well they go anywhere from about $300 and up. Is it worth it well if you are a ECO geek that is Mr. or Mrs. Green friendly or you are the kind of person that wants something that will most likely out last you then for sure why not.
They are very beautiful helmets and looking at them ( these photos don't do the helmet justice) makes me want one.
Go to coyledesignandbuild.com to check them out.