While At Sea Otter I ran across the Atlas Brace Technologies booth and legendary motocross, mountain bike racer Sue Fish and she was kind enough to go over the full range of neck braces from Atlas.
All four in the cycling line are all CE rated for safety. Atlas has a carbon fiber brace, high-strength hi impact PBT/PC or PP construction ( type of plastic ) brace. The adult brace sizes come in small to large while the teen/Sm women comes in one size as well as the kids size. All sizes are based on chest size and you can go to Atlasbrace.com to find your size.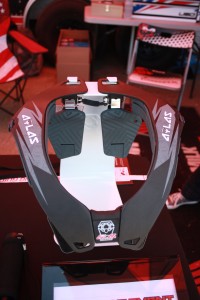 A NECKBRACE THAT'S NOT THE SAME AS THE OTHERS

Atlas did their homework when they made their cycling line of neck brace's for the market and some of these changes don't conform to the designs that others do. Key features of the Atlas neck brace's are dual pivoting chest and back supports that self adjust to body and fold for storage.
Easy on easy off, a flexible leaf spring design, adjustable shoulder pads, and an Emergency Release System (aka ERS).
The Atlas neck brace line looks very nice and I like the fact that they make a kids and teen specific brace, more then anything I feel companies should invest in protection for kids, after all they are the future of our sport and we want them all around for a long time.
Thanks to Sue and her time explaining the ATLAS line of braces.