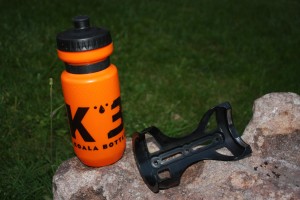 KOALA BOTTLE & CAGE
I know why test a water bottle, its just a water bottle. Well you may say its just another water bottle, but that's just a little far from the truth here. This is a whole new twist when it comes to a water bottle and its not so much the bottle, its also the cage.
You see this is a team, a combo. You can't have one without the other, a team that goes hand in hand like cake and ice cream, Dean Martin & Jerry Lewis, The Three stooges, or Batman & Robin, The list goes on. The water bottle and cage have been together since the dawn of cycling time.
When we go to events its quite easy to miss things as well as not miss things and I must have walked by the Koala Bottle booth several times while at Sea Otter, but when one of the guys called me over to their booth, why not I'll hear the spiel.
After I was explained how it works I was impressed with this product and just had to get our hands on one to test for MtnBikeRiders.com and our sister site BikeCommuters.com.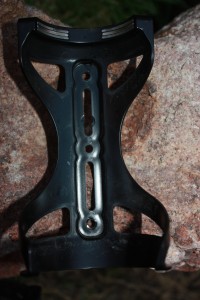 CHANGING THE WHEEL
Well I thought you really couldn't do any thing different to a bottle/cage combo, but the guys at Koala Bottle did.
If you look at the cage ( photo to the left) it has no arms around the cage to hold the bottle in and to look at it one would think it should just fall out, you ask why doesn't it. Well I'm glad you asked. What makes this cage and bottle unique is the cage, the top of it is equipped with two strong earth magnets that are molded into the top of the cage and the bottle comes with a metal ring that once installed around the bottle's neck will engage the magnets as you place the bottle close to them.
With a loud snap you will know that the bottle is locked in and will not come off. These magnets are very strong. The bottle has such a positive hold it almost feels like it won't come off, but rest assured with a tug on the bottle it will snap off with no problem.
Another thing to tell you about in the cage design and it's ability for mounting, if you look at the photo of it (on the left) you will notice the slots as well as the hole positions which is great  for a many number of frames, also on the mounting slot or rib area there are slots molded into it so you can use zip ties to mount the cage to a frame that may not have cage screws. I mounted the cage and bottle to my Giant Reign frame (see pics) to show you how it works. With four zip ties on the top tube it made for a very solid mount and on my trail ride the bottle and cage didn't budge, even with a ride down eight flights of stairs.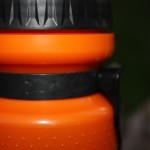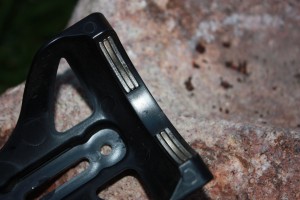 FIT TO FRAME
Now depending on you frame this could be a problem. I have a small Giant Trance and the cage mounts are in a tight area. I could only use a 21oz bottle in this area and using a standard bottle and cage makes it very difficult to pull out. I do have to take my eyes off the trail at times to pull the bottle out or put it back into the cage due to how tight it is.
A blessing in disguise with the Koala Bottle. The fit was still tight, but that has nothing to do with the Koala Bottle and more with the frame lay out. This is what makes this set up great if you have a small frame like me. It's just a side pull out and whoopy it's out.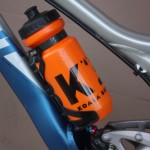 TRAIL TEST TIME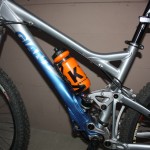 Now is the moment of truth, where we go and hit the trail and give the product the test of a life time. At MtnBikeRiders.com we take a product and test it to make sure it will stand up to guys and gals like you. We jump, ride, go over the roughest trails, smack, and trash to the best of our ability, because we know this is what you do when your on a trail
My first test was the mellow test on my Cross bike to see how it feels to use the bottle while pulling it on and off multiple times.
I found that after getting a feel for pulling it on and off I didn't have to look down to see what I was doing. At first you will feel like its to hard of a pull, but it really isn't and its a lot easier to use then the standard cage design.
If you have ever ridden a cross bike it can be quite bumpy, enough to rattle your teeth loose and to no avail the Koala Bottle stuck like a fly to fly paper. Test one complete. Test two was on the Trance doing XC riding and with the bottle in the upright  position as you see in the pics the Koala Bottle preformed great ( just like on the Reign) with know problems, test two was know complete, but the ultimate test, my go to trail to kill just about any product with multiple runs or just one, "ROCKIT".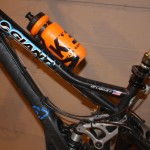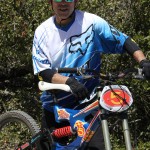 I pulled out the Mach 5 for this one ( my old DH rig ) a Giant Faith freeride bike. This frame is equipped with water bottle cage screws and the location is on the down tube facing the ground, which would serve as the perfect test to see if it would come off with ease. Most bikes will come with two bottle screw set ups, one on the down tube facing the inside of the triangle and one set on the down tube facing the ground.
The Mach 5 has it's cage screws facing the ground and with 8″ of travel and one of the roughest trails in OC lets see what will happen.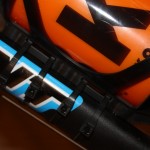 RL and I set up on the rough sections of the trail, RL took up the camera and me on the bike. I set out to see if I could shake the Koala bottle off. On the first pass I went for the most bumps I could find starting off with a small jump, then pointing my tires for the roughest spots I could find. When I finished the first pass the Koala bottle was with me. My thought "AWESOME!" I couldn't believe it was still on after that first pass.  I do have to say this test would be far beyond what most riders would most likely take this bottle and cage through, but just to see how much force it would take to make it come off we had to know.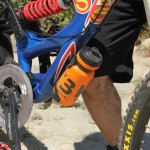 The second pass again no problem. The third pass though was the breaker. I hit a set of deep ruts and popped up and landed so hard it was enough to wake me up. The bottle hit the floor and survived with a few scratches. The ring on the neck did snap loose from the joint, it is loose on the bottle, but seems not to be a problem.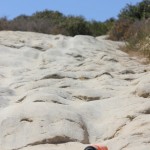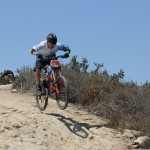 THE FINAL THOUGHTS
After taking the Koala Bottle and cage on several test rides ranging from cross, XC, and DH (which is a test beyond what most would do) it proved to be worthy indeed. Great mounting ability, easy to get in and out of the cage is what this is all about.
True the water bottle and cage have not changed much, but if you could improve on one of the oldest cycling combos around and make it better the guys at Koala Bottle have done it.
The bottle and cage combo come in two set-ups, one in a 21oz. bottle and cage for $27.99 and one in a 24oz. for $29.99. Now this may sound like a lot, but when you consider a price for a high end cage or insulated water bottle, then the Koala Bottle and cage is a not a bad deal.
Please watch the Koala Bottle Test HERE
You can contact Koala Bottle at koalabottle.com
Our FTC Disclaimer