At the 2006 Interbike, I sat down with Andy Corson of Surly Bikes and we talked about fixed gear bikes. I mentioned to him that I have a Redline 925 that I use for my daily errands. Then he mentions to me that he's got a FIXED GEAR MOUNTAIN BIKE. I repeated what he said and he basically said…"yah, a fixed gear mountain bike." After I made a few more comments that sounded like, "You're friggin crazy!" I then started to ask him more about it. Intrigued by his idea, I decided to find out more on this suicidal way of riding dirt.
So I turned to Sheldon Brown's site and sure enough there was something about fixed gear mountain bikes.
Here's a Surly Fixed Gear.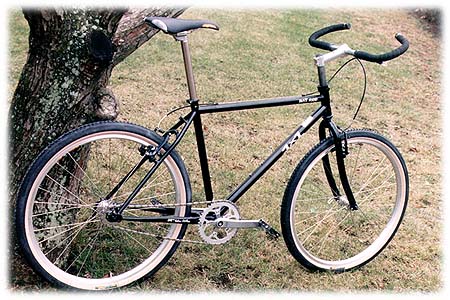 Having been a fixed gear rider for quite some time, I don't think I'm ready to jump on the trails with a fixed mountain bike.
Just in case you didn't know what fixed gear bikes are…
The oldest and simplest type of bicycle is the "fixed-gear" bicycle. This is a single-speed bike without a freewheel; that is, whenever the bike is in motion, the pedals will go around. You cannot coast on a fixed-gear machine.
What about you, would you do it?