Since most of our crew was working their tails off at Interbike I felt like I should be "working" too. So I headed down to Fullerton to check out the Bicycle Festival Weekend at the local Muckenthaler Museum. The museum supposedly had some cyclocross art and movies inside but I couldn't go indoors as I didn't have a bike lock handy and didn't want to leave the poor little KHS Flite 300 all by her lonesome. She's needy that way. Anyway it was recommended on the flier that you ride your bike to the event so I did just that. The weather was a brutal 75 degrees with a cool breeze. Rough, but I made it.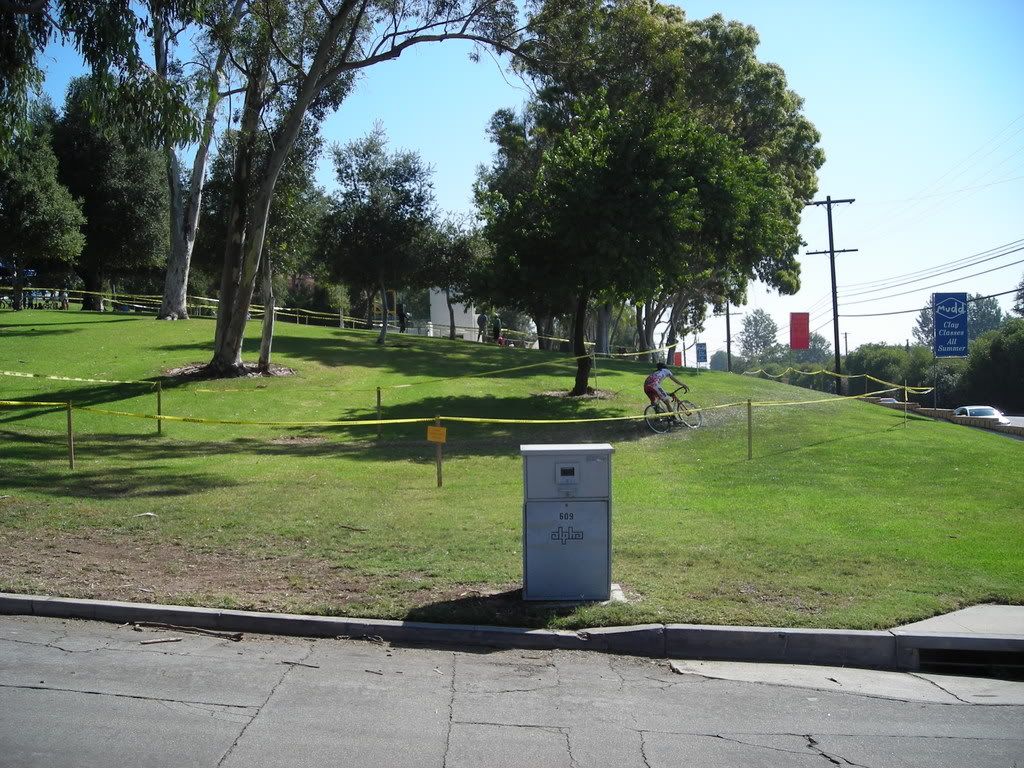 When I arrived the cyclocross racing was in full swing. The entire course looped back and forth across the museum lawn. I have to say it was strange watching a full blown cycling race, literally feet away from main streets. There were booths scattered in the middle of the course, mostly for local cycling organizations. I stopped here and there to check out the cyclocross bikes on display. One of them was the mythical Calfee bamboo cyclocross. I don't know what nutbar would risk scratching that work of art but it was all decked out and ready to roll. I almost grabbed it and ran but there were too many speedy riders to make it out alive.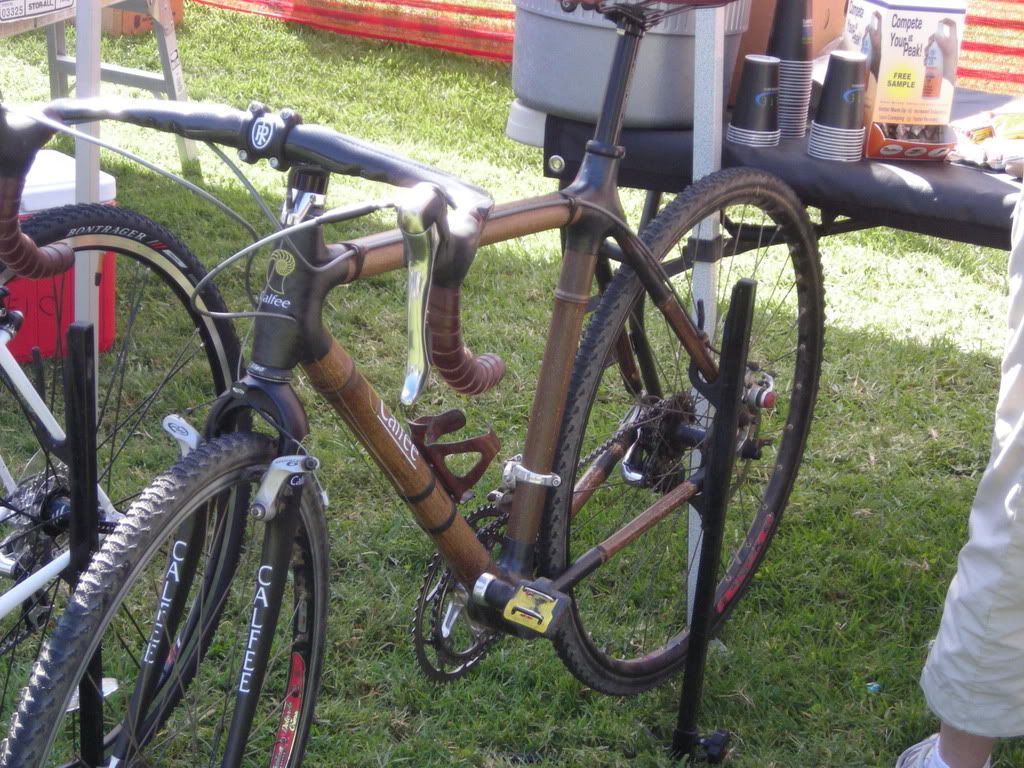 Redline Conquest sighting.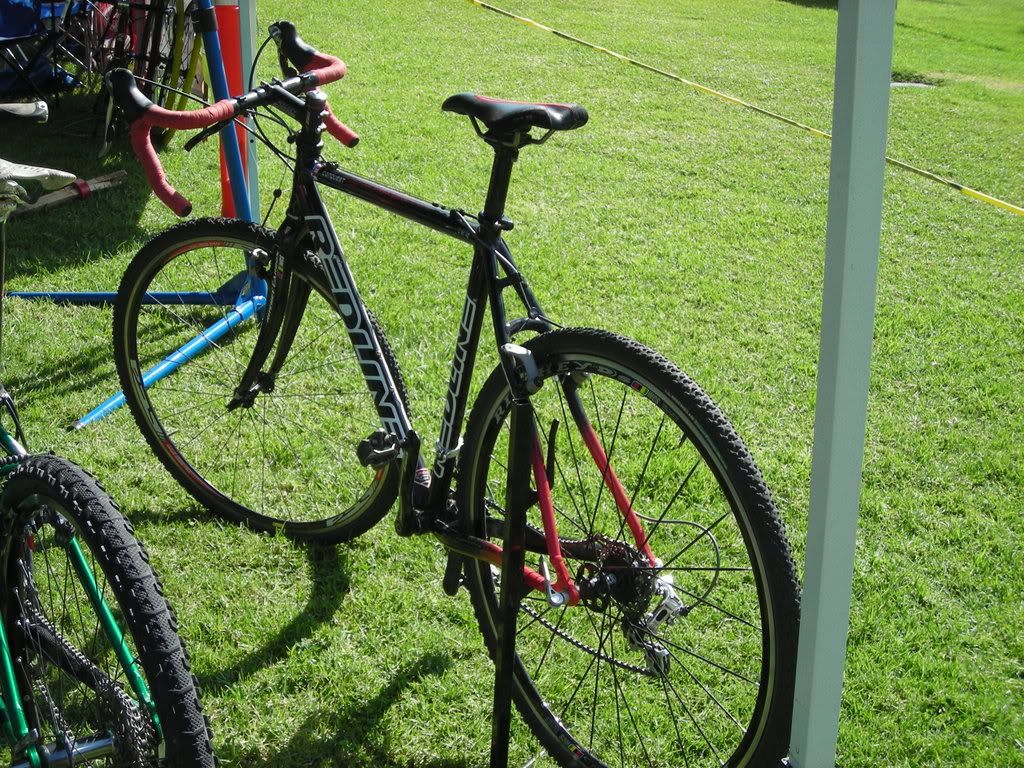 Cyclocross is a niche sport in between road riding and mountain biking. Basically you ride a road bike with treaded road tires. I chatted up one of the riders that was already finished and he said the race was 45 minutes long and riders go as many laps as they can in the given time. Sounds easy huh? You have to remember these guys were rolling uphill, at times, in thick grass. Try not to bonk riding in that! I had a blast watching these guys take this turn. One of the more fatigued riders lost his traction and…WOOP! Rider down.
Also I heard the announcer tell one of the riders to "please exit the course". Apparently, if you get lapped by the leader you're disqualified! Cyclocross is a strange little sport but looks like a major test of endurance. These guys had to work for every inch.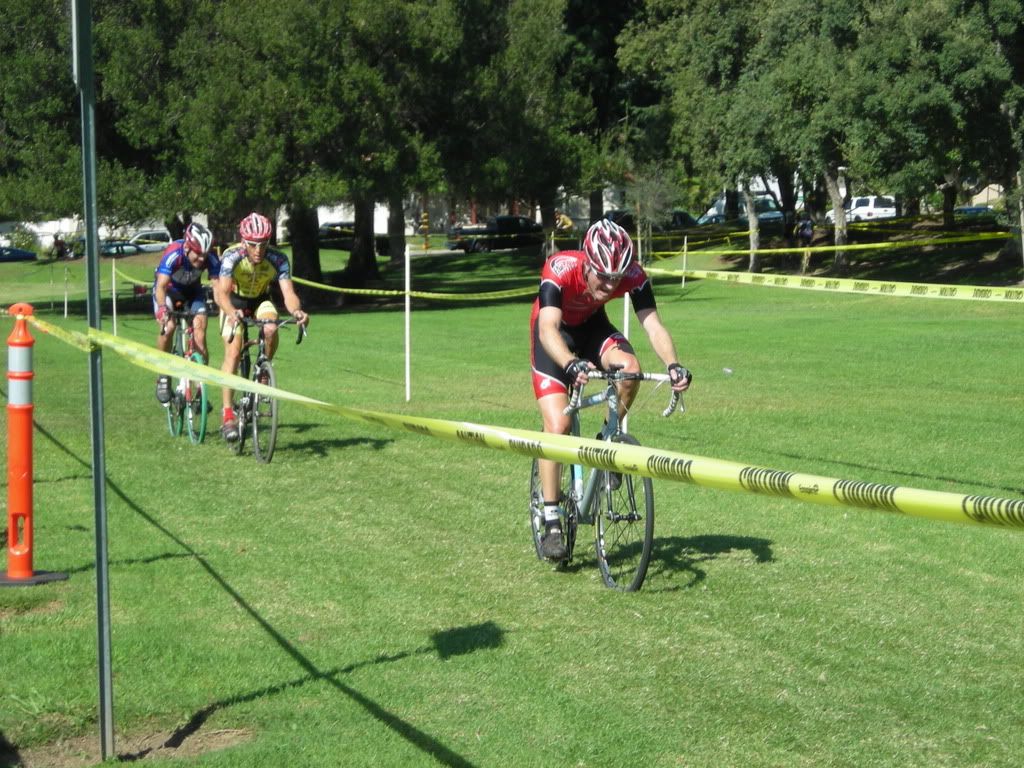 I had a great time just sitting and watching the riders grit the miles out. The feel of the race was great too. Very family oriented. Several times I saw riders' kids running along side them to hand hand-off a water bottle. Some guy's son actually winged a bottle at his dad's head, causing him to swerve and almost crash. Funny for me, but his mom tore him a new one for that great idea.
If you get the opportunity, I highly recommend checking out a cyclocross race, or any biking event for that matter. There are always people there giving out free stuff and it's just a fun, relaxed time for everyone. There were even a couple soon-to-be cyclocross racers checking out the action. It's always great to see the youngsters getting excited about cycling. Except for the fact they'll be passing us on the race course in the near future.