Well, this weekend was not The Moe's weekend. The weather played a major factor on my decisions on what to wear. For SuperD, I didn't think it was going to be cold so I raced with just my Limited Edition Team MtnBikeRiders.com jersey, boy was I freezing before my name was called! I also goofed on my selection of lenses for my Serfas Sike Out sunglasses, I went up the hill with the dark lenses since it was sunny when we left for the top, unfortunately, the weather changed and the sky became cloudy and it started pouring.

Photo by Jeremy Yang
I had to race without any eye protection and that made it very difficult for me to see. I didn't push it hard and I rode very conservatively. My effort, or lack of thereof showed and I came in 7th place, which was basically last place.

Photo By The Mini-mal (mini-animal)
Downhill was a different story, I had my first recognizance run on Saturday and the course was relatively in good shape. Even though Donny changes the course quite a bit, there are some sections that we've ridden before so I knew what to expect. Saturday's run was good, I stopped at the upper garden to visualize my line and went for it, no problems at all.
Sunday's practice run involved riding in the rain once again, this time I was sort of prepared and I layered up. I had a good practice run, I have RL to thank for showing me a better line on the upper garden, I totally aced it.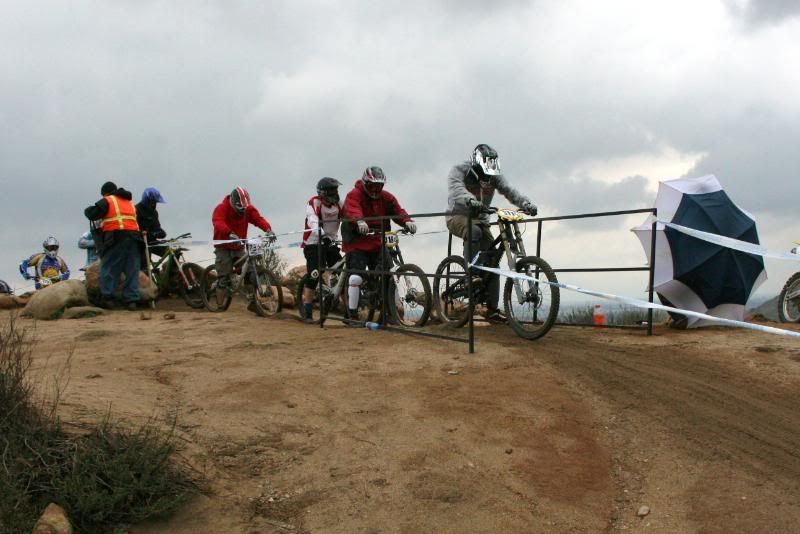 Photo by Sharky
It was my turn to head down the hill, I was running the course through my head. I hit the first right hander that had given me problems in practice, and once again, I faltered and had to bail out. No biggie, got up and kept on pedaling.

Photo by the Mini-mal
As I was slipping and sliding down the course, my hand came off the handlebar and I ended up bailing out once again, got up and kept on going.
I was not so lucky the next time, my front tire went under me and this time I left an imprint of my face on the trail:

Photo courtesy of TKA
I got up, got my bearings straight and headed down the hill, my confidence was shaken but I was able to make it through the lower garden with no issues. As my number was called, 5 seconds later I heard "319", which happened to be Joe's number. Even though I had a rough run, I believe that I'm improving as I go, being 25 seconds from 5th place with 3 crashes was not bad. Even though this weekend was not as fun as previous ones, I really learned a lot and my confidence has grown tremendously. If I'm able to have a decent run when is wet and sloppy, I believe that my runs will greatly improve on better conditions.
Big thanks to KHS Bicycles, the DH200 is quite an amazing bike! (don't worry Vince, the bike is OK), HossMTB, the knickers were perfect for my SuperD race, Evomo for the super warm hoodie, Serfas for the excellent tires and sunglasses, Ergon for their superb grips and Pricepoint.com for the goggles and elbow pads.