Sea Otter Twenty Ten presented Jer and I with a world of carbon framed bikes. One striking design was the Titus Racer X Carbon with its "X" shaped frame and its modified four bar suspension design. Designed as a pure XC race bike designed for those racers not looking to get beat up by the common Scandium framed hard tail and still looking for a stiff, efficient frame that can take the edge off the rough stuff. Titus was represented in a big way with lots of demo bikes available to the public and media to ride on the buff trails of Monterey.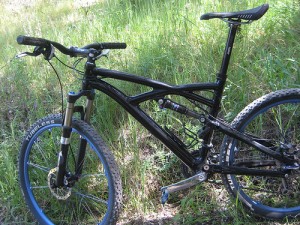 I demo'd the Carbon "X" with a mid level build kit. As with any bike, set up is quite a personalized thing. The cockpit was certainly not set up for me and the tire choice did not suit me at all. The demo bike came set up with a negative rise stem and a riser bar, weird. Tire choice on the demo were Continental Mountain King, I've ridden these tires before and do not like them. These are all personalized items and I will focus just on the frame and its qualities.
The bike was extremely light, no official figures were available but if I had to guess I would say it was around 24-25 lbs. First thing I noticed was how it accelerated. The bike would move forward with no hesitation with each pedal stroke. Climbing was easily accomplished with the rear suspension maintaining traction at all times even with the very worn Mountain Kings. While climbing I did notice the front wheel was very light and would easily lose contact with the ground. Could be the frame was slightly to small for me or just the overall set up. Descending scared me with the cockpit setup, negative rise stem and riser bar; I was too far over the front wheel. One section we took was a very sandy descent with many stair steps; Ya I took it slow.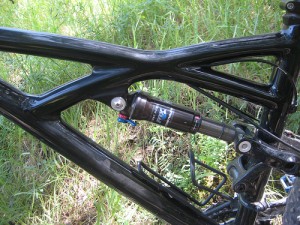 Overall the bike was very stiff, light and efficient with very little bobing but it was there. The trails around Sea Otter are pretty smooth with very little rocks; unlike what I am use to with our very rocky San Gabriel / So Cal trails. I really need to get a long term demo and set it up for me and my riding preferences. I wouldn't recommend running out and buying this bike w/o first demoing it and having it set up for you. This bike is race specific and shouldn't be the only bike you own unless you are a racer only and have no need for a trail bike. In my opinion, there are bikes out there can hang with the "X" on the race course and be allot more versatile on the trails with your buddies.