You might be saying to yourself that I don't need no Funky clothing, I need to go fast. Well what if I told you that you could be Funky and fast at the same time?…that would be a match made in Heaven. Let me introduce you to Funkier, a bike apparel company based out of the Holy Land, Israel.
This company came as a referral to me from a good friend at church, not sure how he came across them. I have been in need of a long sleeve zip up for the changing weather we are experiencing here in So Cal. Cruising their website, I found exactly what I needed. I send an e-mail to customer service and they agree to send a few items for us to test. What I will be testing is their long sleeve zip up jacket and their padded boxers. We also received a jersey that the Train will be testing.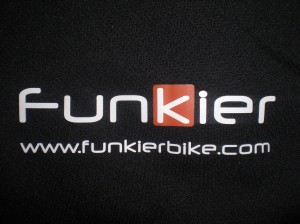 Here is a little about the company:
Funkier Bike is synonymous with design and manufacture of innovative, high-quality biking apparel for men and women. The professional experience and knowledge of the Funkier fashion chain, established in 1990, are translated directly into the biking apparel manufactured by its subsidiary, Funkier Bike. The advantages of a company that specializes in biking and is nourished by a fashion manufacturer are reflected in the result: a new generation of biking apparel ג€" the trendiest and most comfortable biking clothes around.

Among Funkier Bike customers are leading global bicycle and biking gear companies. Furthermore, it has an ongoing discourse with internationally renowned professional biking teams whose bikers wear Funkier Bike. Their advice and feedback assist the company in designing and manufacturing its optimal biking apparel.ֲ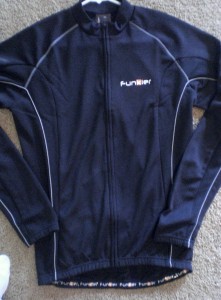 I have not had an opportunity to ride with the gear yet but, I did get a jog in the other night with the jacket. With a t-shirt underneath and the Funkier jacket, I was plenty warm even with temps in the 50's and a slight breeze. The jacket performed flawlessly and only a long term test will reveal any defects in design. A couple of items stood out that I think would make the jacket just a little more useful. An mp3 player is such a common accessory that a small pocket on the inside and a port near the collar would be nice. The other feature I think would be nice is a dual zipper that allows you to un-zip from the bottom and not just the top. With this feature, would be able to access your jersey pockets a little easier while riding.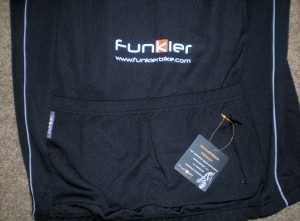 The other item I received was the Men's Boxer Short. It has a built in pad and is a fine mesh material for breathability. The pad is antibacterial and the shorts feature Silicon Gripper to keep them in place. Recently I have been riding with a road short under a shell so I am stoked to test these out!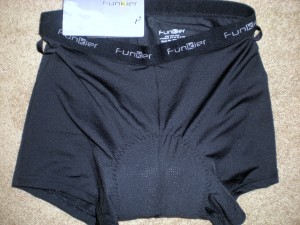 Stay tuned for a long term report. For now all I can add is that the quality, fit and finish are all top notch!!! I really hope they expand their product line soon although they do have all the basics covered.