While at  last year's Interbike one thing that I noticed was the plethora (I have always like that word.) of new riding lights coming out, but it was not just the lights, its the technology behind them. All the companies out there are always consistently finding better technology for lighting in all industries where lighting is concerned.
As someone that has dealt with lighting in the world of electrical for industrial, retail, and residential LED lights are now being use on city, house hold, and in movie making applications as well as bicycle commuter lights and off-road lights. Now in the last few years the cycling industry has pushed the envelope with high output  300 to 1000 lumen and I thought my little 5w-10w was bright.
OK time to throw those old lights away and move over cool new stuff.
GOOD ENOUGH FOR THE BADDEST BOUNTY HUNTER IN THE UNIVERSE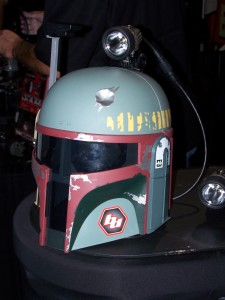 OK at the time of Interbike last year the Baja Design's both was toting Boba Fett's helmet equipped with the STRYKR and you know if Fett uses it I'm sure as heck going to check this light out, and besides they were offering a cool Interbike deal at the time.
They were sporting three lighting systems, the STRYKR (700 lumen), StrykrPRO ( 700 lumen), and the smallest of the three the ATOM ( 350 lumen). This one may not be out seeing that it is not listed on there website.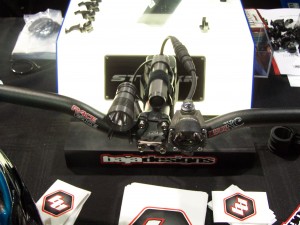 TIME TO OWN THE NIGHT
After seeing all these lighting systems out there ranging from 300 to 1000 lumen ( That's right 1000, talk about lighting up your surroundings.) I was literately blown away on the range they have now.
OK before I get started on how the light works and discuss the tech on the light you may wonder exactly what is a lumen, and it's not a Las Vegas act, or a bunch of guys running around with light bulbs on their heads doing funny dances at Burning Man. A lumen is a measure of the amount of light passing through a given area per second. Now this is the short of it that I want to give you without loosing you .
Now once I got home I took the box and opened up my new toy. The light comes equipped with charger, light, Li-Ion battery, three different bar mounts ( two size zip tie mounts,and one quick mount), and two diffusers (One flood and one spot), as well as a carrying bag. The only thing you have to purchase extra is the helmet mount.
A couple of things you notice off the bat is the  STRYKR's light is a lot bigger than most out there and the second thing is that this thing looks very mil spec, which tells you this thing is very bullet proof.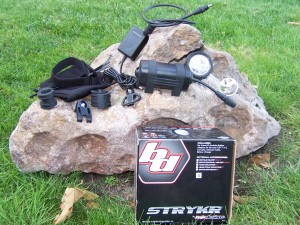 OK charging time which only took 2.5 hours ( Yes fast charge and ready to ride.) I mounted the quick release O-ring bar mount and left the spot diffuser on the light. Now on my first ride test I did notice that on some big to medium hits the light did move downward and I was forced to stop my ride and pull it up a little. This can be a pain when you are really moving along.
The spot was really awesome and I loved how it put the light out there and the flood lens does just as well putting the light out as well, but in a wider area. I later mounted the better solid zip tie bar mount and this was by far better of course ( this comes in two sizes for the correct handle bars.), I also pick up the helmet mount kit which in a discussion with my college it was said that it would be to heavy, bulky, and just to big on your head. Well I'm here to tell you once I started riding I didn't notice any light on my head really, and if you have ever mounted your light on the helmet this is the way to go. Point the STRYKR and see the trail. It was great to see "EVERYTHING", even the monsters that are out lurking at night. I could swear I spotted a Bigfoot and a Chupacabra.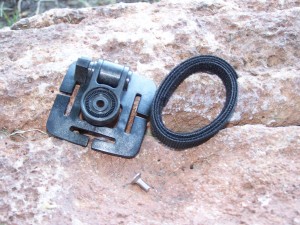 Now I did encounter one other small problem and that was after one of my rides was over as always I take my lights off and store them away till my next ride, like we all do right.
The next time I went out and I mounted  my light I noticed that it would not get tight on the mount and it took me a few minutes to figure out what it was, I noticed that the small toothed washer was missing. This helps to position the light the way you want it. After checking my other mount  and I saw that it comes out it must have fallen out when I took off my light, now this amazed me that this little washer almost killed my night ride. Keep an eye out for this little part.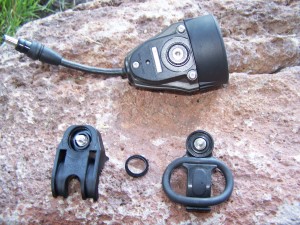 THE TECH OF IT
The STRYKR's switch has four light modes ( High, med, low and strobe.), battery level indicator witch shows green, yellow, then red. The batteries run time is up to 12 hours depending on the mode your in. The light and battery are waterproof up to 33 feet, weight of the unit is 520 grams.
The STRYKR is run off a high tech closed loop microprocessor.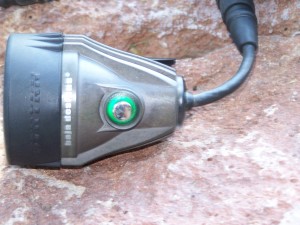 LIGHTING UP THE NIGHT RIDE
With the two minor little problems being the quick O-ring bar mount (Which to me isn't a huge thing just irritating when riding.) and the little washer ( which could hinder your ride before it even got started.) I found that the BAJA DESIGNS STRYKR light rocked. I loved the performance it offered, both optic lenses lit up the trail so much it just killed my old light on lighting up the trail. The battery life was great and while using it the medium and low mode settings this was more then enough to light any trail and save on battery life.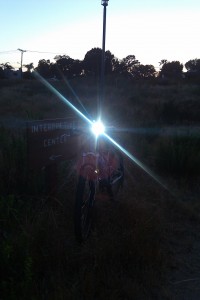 This is a company that designs lights for baja racing and it shows in the construction of the STRYKR, also think about this BOBA FETT uses it.
OK so what is this baby going to set you back, well like any good lighting system out there they don't come cheap and their are some that cost a lot more than this one.
The STRYKR goes for $ 298.95. You can contact Baja Designs by calling at (800)422-5292 or going to their website www.bajadesigns.com .
Is it worth it, well I would say yes it's worth the investment to light up the night and find some Chupacabra's and I give it the "ART SEAL of APPROVAL".
Please click here to read our review disclaimer as required by the Federal Trade Commission.