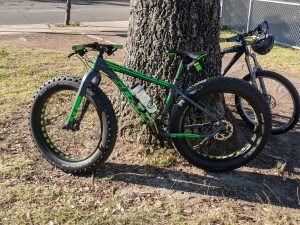 Yes, we are a little late to jump on the fat tire bike wagon but here we are. I recently purchased a Scott Big Jon fat tire bike for shits and giggles since there is no snow nor sand where I live; but there is the world famous Fullerton Loop.
In case you are new here, The Fullerton Loop is a beginner loop in the heart of Fullerton that is composed of dirt trails, sidewalks, horse trails and hiking trails. I love riding this loop because it happens to be 3 miles away from my house.
Let's begin by answering some questions that I had and some of you who'd never ridden a fat bike may have:
Is it heavy? Well, yes but I was surprised to see that my Big Jon tipped the scales at about 32.38 lbs.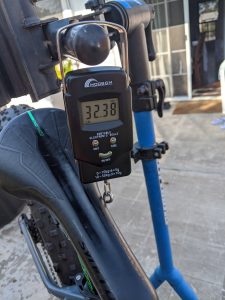 How does it climb? Like a freaking goat. Traction was excellent and the low gearing enabled me to spin to the top of the uphills.
Is it hard to turn? I sort of equate this to riding a Harley Davidson; they are slow to turn when you are riding slow but the steering lightens once you get up to speed.
Is it slow? Well, yes but this ain't a cross country racing bike.
How does it descend? Hang on to your panties!!! Let's say riding this bike downhill put a grin on my face.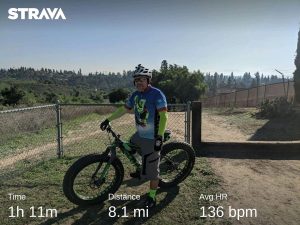 Well, enough of the FAQ and let's move on to what I've done to the bike so far:
I added ESI Grips GBK02 Chunky MTB Grips
. I love these grips and I have them on most of my bikes.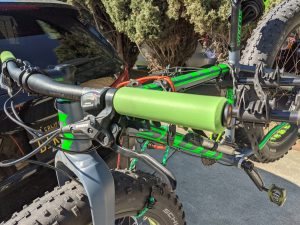 I needed a tube just in case I got flat and I was happy to see that I found them at a reasonable price in Amazon. I got the Panaracer inner tubes
, man, these things are BIG!.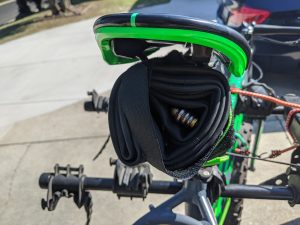 So to carry these big ass tubes around I decided to try the Granite Rockband Carrier Strap
The tubes and tools stayed put pretty much on the entire ride but I did have a malfunction with them towards the end of the ride; I will report on how this hold up on the near future.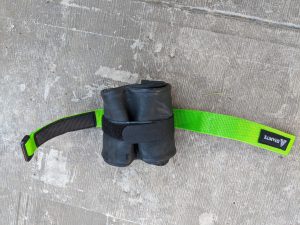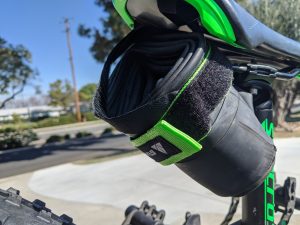 What about tire inflation? Good question! I asked a buddy of mine who rides a fat tire bike and he recommended about 10 psi for the terrain that I was going to be riding. I used my tire pump's gauge to inflate the tires up to 15 psi and then I used the Accu-Gage Low Pressure Bicycle Gauge
to go down to 10 psi. I still need to work on dialing in the tire pressures; I found the ride to be a little bouncy and not as supple for my taste.
Riding this bike was super fun and yes, I got a lot of stares but I was riding the Fullerton Loop after all.