I've always been an admirer of Lezyne (rhymes with "design") products and was especially impressed when I saw their display during my first trip to Sea Otter a few years back. They design and manufacture bike accessories that can be used across all bicycle disciplines. They feature everything from mini pumps and hand pumps, racks and bags, hydration packs, multi-tools and even co2 cartridges. Their slogan is "Engineered Design" implying there is more substance to their products than just mere looks. Recently we received a few of their items to review and we are very excited to say the least. This will be an initial review of a Lezyne hydration bag highlighting its features with a trail-tested review forth coming.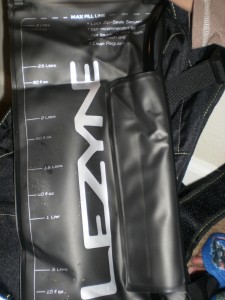 I was given the Lezyne Svelte Hydration Pak to test. This test could not have come at a better time as I just purchased a new Vaude for my personal use and the direct comparison will be useful. Lezyne makes four different hydration paks depending on the intended use. The line up starts with the Fire Break and ends with the Great Divide. The Svelte is second from the bottom in terms of carrying capacity just below the Adroit and above the Fire Break. The Svelte carrying capacity stands at 10L of total volume and includes a 3L high-flow bladder. The Fire Break has a total volume of 2.5L with a 2L bladder and the Adroit has 19L of total volume with a 3L bladder.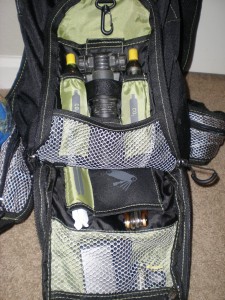 The Svelte is considered a XC/Trail pak while the Adroit is an all-mountain pak and the Fire Break is a "lightweight, hydration pak". The Svelte certainly has enough storage space for an all day trip which is as long as my outings ever get (I have yet to do an over-niter but would love to do so). There are designated storage spots dubbed "trail-side tool organization" for your multi-tool, pump, tire irons and co2 cartridges. On the outside the pak can hold either a xc helmet or a full-face helmet. There are 2 vented mesh pockets on the waist belt that is a convenient place for a cell phone or the like. As a side note the waist belt is completely removable which I will be testing in the future, I have never seen this on a hydration pak before. There are 3 main storage compartments which allows for enough storage room for the average ride. An additional pocket on the very bottom of the bag is almost hidden but would be great spot for soft goods.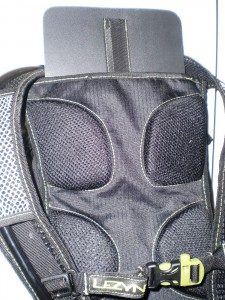 To address the need for personal fitment, Lezyne has invented a "custom adjustable aluminum spine". This seems like a great solution to that reality that all types of backs could be wearing this pak. The pak did not come with any directions on how to properly adjust the spine so I will just take a stab at it with help from my wife. The pak is designed with a breathable back by means of several large pads that rest against your back rather than the entire bag itself.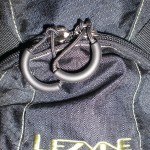 Some of the most notable details I found are:
• Pull loops for all zippers which makes the need to take off your gloves a thing of the past
• Adjustable aluminum spine
• Clearly marked bladder so you know exactly how much fluid you added
• Removable waist belt
• Mesh everywhere!
• Double zip-lock closure on the bladder
• 90 degree shut off valve
• Hose routing flap on the bladder
• Compression straps to hold your armor