Rivendell Bicycle Works is a small Bicycle Manufacture located in Walnut Creek CA. I came across this company while doing some research on Bike Packing. We here at MTNBikeRiders are planning a little overnight Bike-N-Camp trip. This will be our first inaugural outing but hopefully not our last. Rivendell has allot of good information on Bike Packing as they have doing this for along time now; they even import hard to find lightweight camping equipment and supplies.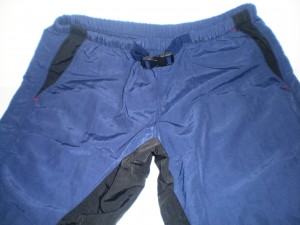 Their website is a refreshing change from the ordinary on-line bike shop. They divide the site in half with between "Shop" and "read". Going to the Shop side gets you to everything from bags and racks to wheels, hubs and so on. On the read side, it is simply amazing. You can read just about anything bike related, it's great. If you wanna learn more about frame materials, lugs, graphics, frame sizing etc., this is a one stop shop of knowledge.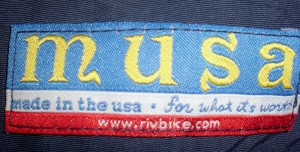 Rivendell also has their own line of clothing designed by them and produced right here in the USA. I have been looking for a shell to wear with my Funkier Bike Boxers when I happened across the MUSA shorts by Rivendell. MUSA means "Made in the USA", for what it's worth (on the tag).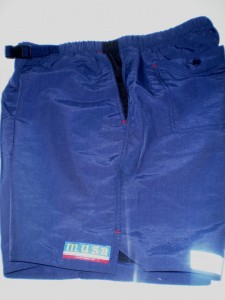 I received the shorts just in time for our trip to SART, a perfect testing ground. The shorts are very well designed, reinforced in all the right places, deep pockets and made of a quick drying material, "taslan nylon". This came in handy as our SART ride started out rainy.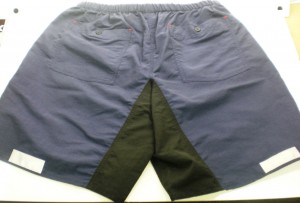 Here is a little about there shorts:
MUSA (Made in the USA) shorts are Rolls Royce/Cadillac/Red Wiggler of all-purpose shorts. As good on the bike as off. Made of taslan nylon, a textured fab, they weigh zero ounces and dry in one second, or so it seems. Notably for cycling shorts–and thank heaven for this–they lack the usual sewn-in diaper pad that generally identifies shorts as For Cyclists.

These are regular, so you wear separate undies with them, just as you do for your normal pants. That way, you can wash undies and shorts separately.

They are seamless in the crotch. The stress points are bar-tacked in cheery ruby. The pockets are large and suspended (that's the tech term for "not made like Carhart pockets").

Two rear pockets securely hold your wallet or something flat until the blue buttons–which match the blue pocket and crotch trim, by the way–fall off. There's no way to stich buttons on securely, so if you care about your buttons, hand-sew them with strong, beeswaxed thread, and tie if off good.

On the back of the legs are two patches of 3M Scotchlite. Hardly noticeable in daytime, but handy to have there at night. A little movement and flash, not bad.

The waist belt has a double-slider buckle and is not stitched in. It's better that way
The shorts worked out well and did everything I expected them to. They dried very quickly in the rain which was nice. The only complaint I have is that they are just a little to short for my style, just 2″ longer and they'd be perfect!