So I've had some Funkier items for a few months now on a long term test. You can find their website here. The guys at Funkier were kind enough to send a few items our way; here is what I've been testing:
* Funkier Men's Winter Jacket
* Funkier Men's Boxer Shorts
* Funkier Men's Sort Sleeve Jersey
The Jacket has come in really handy the past couple of months as the temp has dropped here in So Cal more than a few times. It was really put to the test when a few of us went to Big Bear to ride SART on a cold and rainy Saturday. You can read about our ride here. The day started out very cold and wet which required at least 3 layers with the Funkier Jacket taking the brunt of the elements. The jacket performed flawlessly and the lined and sealed rear pocket was perfect to hold my cell phone and keys, the rain never penetrated the pockets nor my valuables. The jacket is finished at the bottom with a silicon gripper to keep the jacket in place at all times, it works. A couple of observations: the jacket is very warm and the sizes seem to run a little small, other than that, the jacket was the perfect necessity on more than a few occasions.

Midway through our SART ride the sun broke out!…..enjoying some coffee before the long ride back to the car

Here I am after a tough Single Speed ride on a nice cool day…Warm and toasty in my Funkier Jacket
The Men's Boxer Short was something I've been wanting to try out for a long time. I've had this idea to wear some road cycling shorts under a board short or baggy instead of a dedicated MTB short/liner. When we received the Boxer Short, I was very excited. The Boxer Short is perfect to wear under a loose top layer of your choice. It is definitely lighter than a dedicated road short so it breathes allot easier but is still amply padded. I have really loved wearing the boxers under various shells such as: board shorts, Dickies shorts and old gym pants. I found the Shorts perfect in every way except: They need the silicon gripper at the bottom of each leg, they had a tendancy to ride up a little during my rides. I'm not gonna take a picture of me wearing the shorts (this is a family friendly site) just know that they are under the layers in all these pics.

The mesh of the boxer shorts keeps you cool while under your shell….
The Funkier Jersey performs as advertised. Wicks sweat, zipper worked flawlessly, pockets for your stuff and my favorite feature….the sealed waterproof pocket! It is made of a Quick Dry Polyester and effectively kept me cool during my heated rides.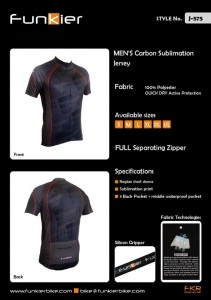 On the way back to Angeles Oaks….
In conclusion, Funkier is a solid player and definitely and well thought out brand that will compete with the well established brands. I would suggest just a few alterations as noted above and then this reviewer would quickly assign all 5 stars. Funkier has won awards for some of their designs and I can definitely see why. If you are looking to stand out from the crowd but not look like "Ricky racer", then you should certainly consider Funkier for their understated but highly effective and functional style.

From head to toe: Sidi shoes, SWOBO wool socks, LG Leg Warmers, FUNKIER Boxer Shorts, Rivendell MUSA shorts, Funkier Jersey, Funkier jacket, SWOBO Wool Hat
FTC Disclaimer HERE.