Well, I completed my SS build just after Thanksgiving and have managed to log a over a hundred miles on it already. The frame is a Niner SIR9 with a Fox 32 F29 fork and Industry Nine XC 29er wheels. Niner touts this frame as demonstrating that "Steel Is Real" and thereby the frame got its name. While I do jest with a bit about the weight of the frame, steel does tend to be a heavier than its aluminum counterparts. The build came out to just over 25 lbs for the size large frame, not that this was a weight-weenie build by any stretch.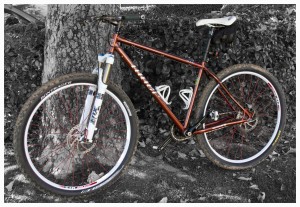 I got my first taste of mountain SS'ing this summer when I borrowed one of the Animal's SS's. It definitely a good introduction in that it left me wanting more. Let me tell you the smoothness of the Renyolds 853 steel is most definitely real. I have been more than impressed so far with this bike in that I have taken it on rides and trails that I would have thought reserved for bikes with rear travel, and not only has it held its own, but excelled. Now I'm not advocating this for your next DH session, but I've been pleasantly surprised on rough XC trails with moderate drops and rock gardens. To describe the Industry 9 wheels succinctly is fairly easy, stiff! I feel the tires flexing under me when I stand, but definitely not the wheels. This stiffness is very evident when returning to the ground after a jump or drop. They just keep rolling forward. At this point I have to mention that I am coming from 26″in. wheels to the 29″in. platform. I've never been accused of being a weight-weenie, so any added weight from the bigger wheel does not make a big difference to me; however, I have felt the advantages of the larger wheel with added momentum and better traction which is from what I understand a larger contact patch from the tire to the ground. I have both tires set-up tubeless, although only one of them was designed for it.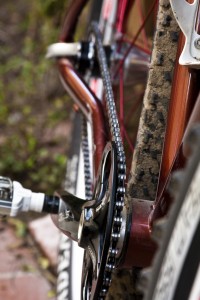 For those of you who like model numbers and spec's, here is the build in detail:
Frame: Niner SIR9 Large -Rootbeer
Fork: Fox F29 RLC 100mm -White
Headset: Cane Creek S8 -Black
Wheels: Industry Nine 29'er XC Silver w/ Red Spokes & Stans Arch Rims -White
Cranks: Truvativ Stylo 1.1 32t -Black
Cog: Niner Cogalicious 32t -Black
Bars: Niner Flattop 9 -Black
Post: Truvativ Stylo -Black
Saddle: SDG FXR -White
Brakes: Hayes Stroker Trail 180mm F/R -Gray
Grips: Ergon GX -Gray
Tires: F: Bontrager FR3 2.35, R: Maxxis Ardent 2.25
Pedals: Crank Brothers Candy -White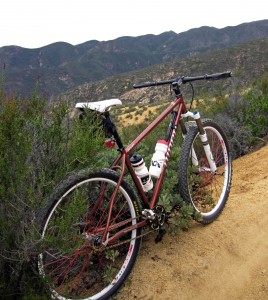 From long high elevation changing fire road climbs to short weeknight rides, this bike is quickly and unequivocally becoming my favorite steed. I never thought I would return again to a hard-tail frame, but in the short month worth of riding I already feel at home on this bike, and hopefully am ready for my rapidly approaching first SS race this weekend. Stay tuned for those results.