WHO IS BIONICON?
OK if you've never heard of BIONICON Bicycles they make quite a unique kind of mountain bike that is the only bike that I know of that has on the fly suspension adjustment front and rear. Their bikes are good for XC to Freeride  with adjustment from 80 mm to 180 mm depending on the bike you want.
Now I have seen these bike before, but never had the chance to test ride one ( Hint, hint, wink, wink Paul.) and I gotta say on the fly travel adjustment is pretty cool and talk about the one bike that does it all, but I'm not here to talk about the bikes right now, but rather their unique little chain guide they make for two and three ring systems. This is their second generation guide and BIONICON has improved over the first.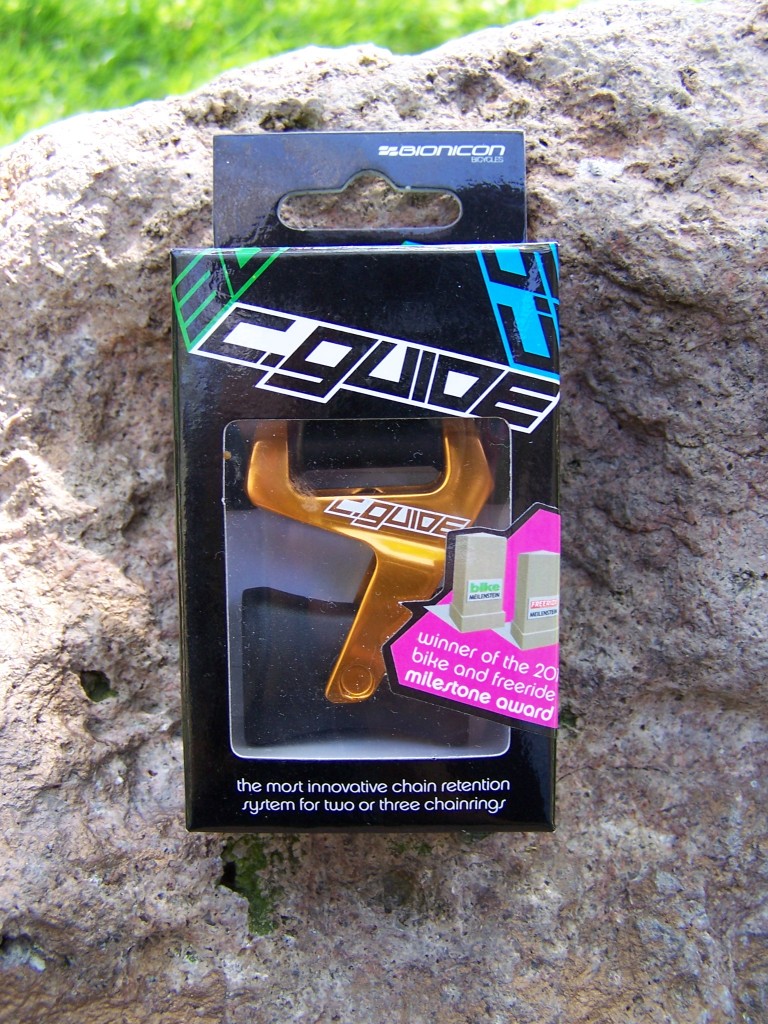 C.GUIDE V.02 FROM BIONICON BICYCLES
OK if you caught the little teaser pic I put up on our Facebook page a few weeks ago a few of you were interested in how this little baby worked, well I'm here to say this thing is awesome ! OK, OK wait I'm getting ahead of myself here, but it's cool.
Basically what it's designed for is a two or three ring chain system for XC bikes or All Mountain bikes, it  keeps tension on the chain to keep it from coming off and as we all know it really sucks to have this happen while riding.
Now as you see from the title of this story it has V.02, this is the second generation of this guide and BIONICON really improved on a great idea.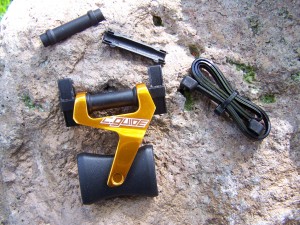 THE BREAK DOWN
BIONICON's C.GUIDE is claimed to weigh less then 20 grams and has a host of improvements over the 1st gen. What you get is two mounting setups (Universal & cable), two zip ties, chain guide with pivot tube.
It consist of a split design to allow it to fit over the cable and chain with no dis-assembly of either. I used the universal mount on my bike. This can be mounted to any bike with a normal chainstay or if your cable runs low on the chainstay you would use the over the cable mount.
The pivot tube is new and it now follows the chain path as you shift the front and rear derailleurs whether its a 2 ring or 3 ring up front. BIONICON also claims it will reduce chain noise and with the new pivot tube there is lower wear on the newer tube due to the pivot design.
OK LETS MOUNT THIS SUCKER
The one thing that was great about this was putting it on, it took me all of about 10 minutes. BIONICON provides great instruction and the only tools you will need is a small metric Allen and some wire cutters to cut off the extra zip tie for the job.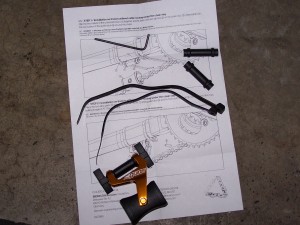 OK you start off by mounting your guide mount ( In this case the universal.). Zip tie it on to the chainstay, next with the Allen wrench unscrew the Allen bolt on the guide and split it apart, next put the pivot on the chain then put the two halves of the C.GUIDE together and tighten the screw, cut the extra zip tie off and your good to go.
This was really easy.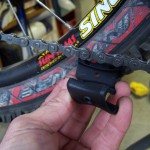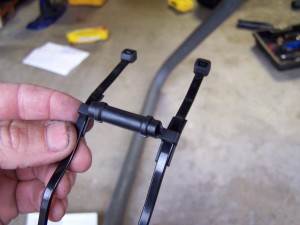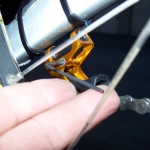 ON THE TRAIL
OK I have the C.GUIDE on and I like the way it looks on the bike, I pedaled the bike around and went through the gears and bounced up and down on the bike and I have to say "Wow," so far so good, so my next test was a local area that has a small downhill and small jumps, again no problems the chain was really quite on the bike, you didn't hear the usual chain slap and the shifting was great with no problems. My second ride was the real test for the C.GUIDE, I figured that if I want to make this thing  fail our local Rockit trail in Aliso Woods would do it. Rockit will break just about anything you throw at it, so how did it go, "EXCELLENT!" Shifting was great from the granny to the big ring and like BIONICON stated the noise level is low, heck to me it was non existent.
My next test ride came over the Easter weekend where I did some climbing and mean descending on
my Giant Trance and again no problems.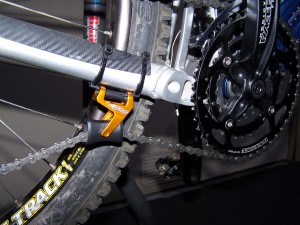 THE LAST WORD
I have to say this is one of the best products I've tested this year. Lets look at the pros, 1.) easy install, 2.) lite weight, 3.) low chain noise + no chain slap. 4.) cost about $50.00, 5.) It looks cool on my bike, and 6.) It WORKS!!!
Cons, what cons I can't think of any. I really can't.
If you want one of these really cool guides they have a few colors you can choose from. The colors are anodized gold (Test model), black, red, blue, green, and pink. The cost is a hair under $50.00.
So if you want to purchase the C.Guide V.02 go to bionicon.com to get yours today.