Continental has provided us here at MtnBikeRiders.com with a set of 26″ tires for evaluation and testing. They sent us the Race King (2.2) and the X-King (2.4) which according to their website is pronounced Cross-King. These tires are a large volume low tread type of tire which I think is great for cross-country riding for us here locally in Southern, CA.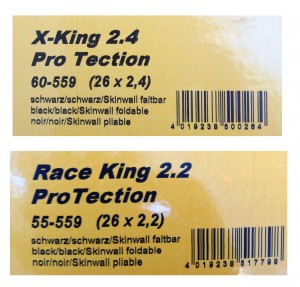 I only have one 26″ bike currently, and it isn't a great fit for XC tires being a 6″ all-mountain bike, but I gave them a shot. Simply switching out the tires from the ones I was currently running (not that heavy either) I lost about 3/4 lb. off the bike. These tires are light. This was felt immediately on the trail. On the climbs, the Race King was like having an extra gear on the climbs. It felt as if I was always a least one gear higher. This tire would be excellent on a XC bike. It had great rolling resistance and acceleration, and did well in cornering for the limited tread. It transitioned well and consistently as there are no larger side knobs. It did not do well descending on the bike bike due to weak braking. I do not think this would not be an issue on an XC bike as you just cannot carry the same speeds going down that you can on the bigger bike. The Race King would be a good replacement option for someone running a Kenda Small-Block8 or a Specialized Renegade or even a Fastrack. This tire at 2.2 seemed to have more volume than it's small size would indicate.
As you can see from the picture below, the X-King is still a small tread tire even at it's large 2.4 size. On the front the X-King was a great XC tire with tons of predictable traction. Even with the low tread, I didn't have any issues with washing out or not being able to steer. I ran it for several rides on the front with the Race King in the rear, but I quickly exceeded the limits of the X-King on larger drops, and moved the X-King to the rear.
I still have the X-King running on the rear of my all-mountain bike after over 6 weeks. It has done well. The X-King does not suffer from the weak braking that the Race-King did. I was not sure if the two specific models of tires that Continental sent were considered tubeless tires or not, but I ran them both tubeless and tubed throughout the testing. From what I gathered, the UST is really want they want to you use though. I had some tubeless failures in rough terrain, but as I don't think these were intended to be run that way, it is a risk you take. Both of these tires have good sidewall protection and they have held up well ripping through local rock gardens.
This style of low tread high volume is really my preference when it comes to XC type tires and I really like these tires, especially the X-King. I will probably replace my 29er HT tires with the UST version and see how they hold up on the larger wheel format. These tires are light enough that you could run them on your race bike, and are strong enough and have enough grip to use on your everyday XC bike as well. I definitely give them two thumbs up. And just for fun, here's a short video of my catching a little air while running these tires.