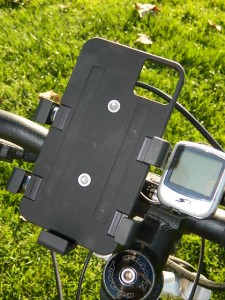 TALKING WITH TRAILRAIL
We at MtnBikeRiders.com have been doing some extensive testing on and a couple of goodies from a company know as
TrailRail Inc. from Easthampton, MA. How I came upon Trailrail was at Interbike just this last year and what impressed me was the quality in which their products are made.
What they manufacture are high quality machined mounts for most cell phone/GPS, flashlights ( or a flashlight system they have), bags system, or a system for your pump. In all they provide different ways for you to mount whatever your requirements will be.
I introduced myself to Jennifer Basile who is the Vice President for Trailrail, she gave me the quick run down on their product and I let her know we would love too test a couple of mounts, so Jennifer was kind enough to send us the Cell/ GPS Platform mount as well as the GoPro mount which RL Policar tested a few months ago (See TrailRail Mounting Systems). I also used it in my test of the Cell / GPS mount which you will see.
Trailrail has all it's products made here in the USA and they are made by mountain bike/off road enthusiasts who design and manufacture the mounting systems for most of the popular electronic accessories out there. They call the system Integration Platform Designed to set and standardize the mounting of accessories.
Another great thing is all products are machined from solid 6061-T6 Aluminum billet, which they quote "translates into a product that is nearly indestructible." I for one tend to believe it when you look at the quality of their product. The stuff it looks great.
THE CELL/GPS PLATFORM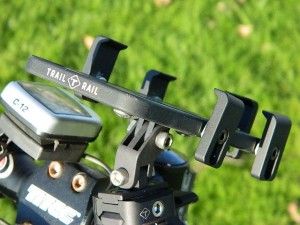 I really like the different mounting systems that are out there and more than not we are carrying more devices like GPS, POV cameras, and smart phones with us on trail rides. We put them in our packs, seat bags, or in our pockets if we have them. Finding a system that would take a beating and have a secure mount for your device is a great piece of mind, another thing you don't have to worry about is whether or not you'll lose your device because you thought you zipped up the pocket on your pack and away you went only to find out five miles later you lost your phone. Yeah I came close.
Here are the basic specs on the mount.
As mentioned earlier the mount is machined from solid 6061-T6 Aluminum billet
Adjustable Cell/GPS Cradle: Adjustable Width from 2.110″ up to 2.605″ x 5″ Length using .060″, .100″, and/or .150″ thick spacers for nearly .040″ of precision incremental resolution
DIAMETER SIZES:
HB RING RAIL ALSO AVAILABLE IN THE FOLLOWING SIZES:
-19mm (.750″)
-25.4mm (1.00″)
-31.8mm (1.252″)
-32.4mm (1.275″)-
If you would like one of the above sizes, rather then the 31.8 size please let TRAILRAIL know when you purchase the Cell/GPS mount.
NEOPRENE ID's: Above lined with neoprene for vibration dampening and an enhanced no scratch fit.
RAIL SPECIFICATIONS: Standardized .600" RAIL
FINISH:MIL-STD-8625 Class II, Black & Sealed
COST: $219.50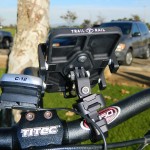 THE FIRST TEST 
The first test I did was on my road bike,  yes not a very challenging test I know, but I wanted to see how it would work with my phone. Now my wife has an IPhone and It mounts nicely on the platform, but me on the other hand I have an Android Razor and since I have a great tendency to throw, I mean drop my phone a great deal I have the Otter Box around it to give me, I mean the wife peace of mind.
The phone with the Otter Box I could not put it on the platform the clamping arms would not go out far enough with the provided plate spacers and screws, so I took the Otter Box off and then I was able to mount it on the platform.
Do be careful not to over tighten the screws on the platform or you could damage your phone. Give it a good snug secure tighten and check it before you ride.
With everything set I turned on MapMyRide and was on my merry way. I do gotta say this was great to access my phone while on a ride on the road bike. What will it be like on a rough trail, well I got home from the first test and checked out the Cell/GPS mount and only found one small problem, I lost one of the handlebar mount screws, now this could have been a mounting error and not the product (reason for my roar test) error which I believe. It would be a good idea to have a blue LocTite on the screw tips I think.
TEST TWO: IN THE ROUGH
For my second test it was time for the rough trails of ALISO, but I was determined to mount my Razor with my Otter Box on the Cell/GPS mount and to do this I would need more spacers ( Sorry Jennifer I know I could have called you), so I Jimmy rigged it to work. I went down to the local Home Depot and purchased longer screws and small flat washers and spaced out the locking arms wider.
This worked perfectly, but I would have rather had the nice machined spacers which I'm sure is no problem to get from Trailrail.
Please consult Trailrail and let them know what type of device you wish to mount so you can order the correct one.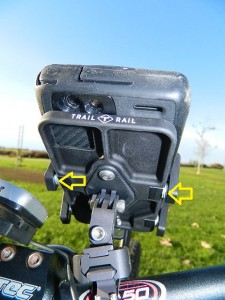 This time I made sure everything was tight before the ride seeing that I was going to be hitting
the rough stuff. Before the ride I set up the GoPro mount on the seat post facing the Cell/GPS mount, I had my phone camera facing me filming while climbing and descending so you can see
the stability of the mount. I have to say that the Cell/GPS mount preformed "OUTSTANDING", I was so surprised at how well it shot the 1080HD from my phone of me it was like looking at my GoPro footage and when I looked at the GoPro footage of the Cell/GPS mount it was the same just great. Now keep in mind the shaking you may see is not form the mounts, but from the bike it self when you view the product film I will have later.
One other thing I liked was the fact that I had great access to my phone well riding. I was even able to answer a call while riding something I don't like to do, but for the sake of the test I wanted to. Getting to your apps or touching your screen won't be easy with gloves on, so you will have to stop and take off a glove to do this.
On the descent I stopped a couple of times to see if anything worked loose and found the mount to be solid each time.
WHAT'S THE BAD
Well the bad is not much at all, like I said in the first test ride I lost a screw and I think having the tips of the screws with LocTite would help.
The only other thing that would be nice is to be able to remove your device without having to pull out an allan wrench to do this when you want to say stop for a bite to eat or when removing  your phone after a ride. These are the only two things I could come up with that bugged me, but really it wasn't that big a deal
MY FINAL NOTE
The Trailrail Cell/GPS Mount I find is one of the most solid mounts I have yet to come across. It offers solid mounting that will not move once mounted with full access to you device while on a ride. Its made with the finest of materials to a military grade spec. It should last by far longer than any plastic mount out there and with the cost of our bikes, lighting systems, and POV cams its worth it to spend on something that will last for a long time. At a price of $219.50 the Cell/GPS mount comes in four colors and two finish types ( Mil-spec & bright anodize). It's built tough, very adjustable, and well worth having for a 24hr event, epic ride, or to have for your everyday rides.
To contact TRAILRAIL go to trail-rail.com