Let me get this out before you all start criticizing me. Cold for Southern California (SoCal) standards typically hovers around 40-50 degrees. So that means many mountain bikers in will be wearing jackets, arm/knee warmers and even ear coverings when temps drop. I've had various cold weather clothing but none of them come close to the versatility of a basic flannel shirt. Here's a few points on why I prefer flannel shirts for cold weather riding.

1. They're super affordable. On average, I've paid about $15 for my shirts. That's a tremendous savings over cycling specific winter gear.
2. Pockets in the front! If I'm listening to my music, I usually keep my phone in the front pocket and I route the ear buds in between the buttons so they won't dangle or get in the way.
3. Easy to layer. So what I do is use the flannel as my outer shell. I will wear a long sleeve jersey underneath when temps are between 50-60 degrees. This set up allows my body to stay cool and dry but not cold. So when I sweat, my long sleeve jersey wicks the moisture and the flannel allows just the right amount of air flow to keep my body temps comfortable.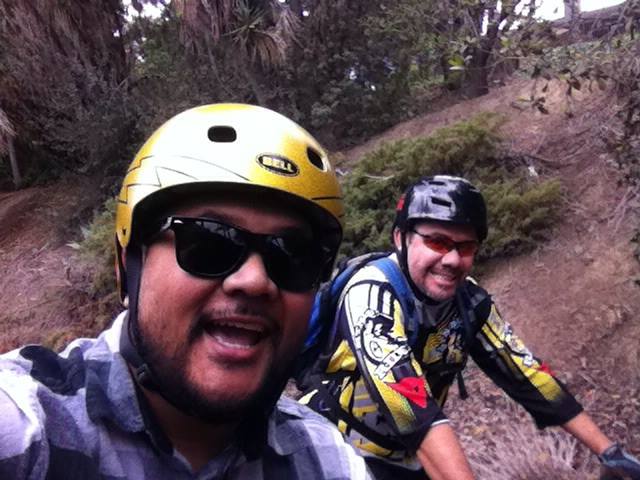 4. Durable. Have you ever taken a spill while wearing a regular jersey? Often times jerseys don't survive, they usually end up torn or shredded. In my experience, flannel is way more durable than a polyester jersey.
5. No special laundry rules. With jerseys, I usually will hang dry them to prevent shrinkage. With my flannels, I wash them like regular clothing.
6. Looks great! I know that wearing flannel isn't for everyone. But for the most part wearing a jersey when you ride looks great! I've never been a fan of goofy loud jerseys. I like my riding gear to look like normal clothing. For me, I think flannels look great, they come in a variety of colors and because they're so affordable, you can by 5 of them for the price of one cycling winter jacket. One more thing to add, you can wear them on and off the trails.
What's great about flannel is that you look presentable enough to wear them on the trail and then wash them so you can wear them when you're hanging out with your buddies for beers later that evening. Plus they go with any pair of jeans or shorts. I'm telling ya, flannels are a win-win kind of shirt!