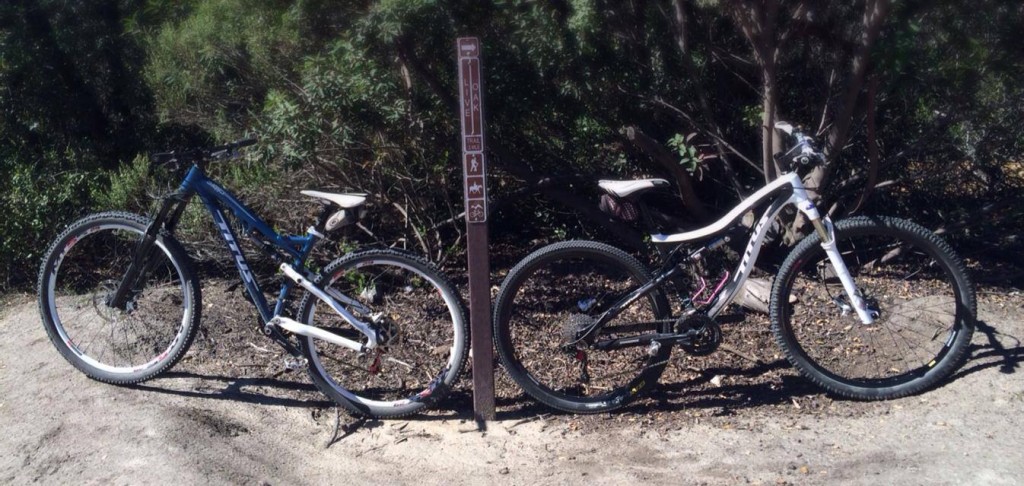 Well it's been well over a year since I received the Titus Rockstar 29er Alloy and about the same for LadyP's Carbon Titus Rockstar 29er. Both bikes have performed flawlessly. No issues with the frames at all. The only thing that's really gone wrong with these bikes is that we're starting to wear them out.
What I mean is my drive train is now skipping, LadyP needs new brake pads and possibly new grips. So other than those normal wear and tear things, the frames have held up. If you recall I built up both of these frames. I absolutely enjoy riding the alloy (blue) because it's pretty responsive, nimble and it does great on the steeps. LadyP loves the fact that her bike is full carbon. There's actually a story to that…
Right around the time I got it for her, she mentioned to a friend that she might be getting a "carbon" bike. This friend scoffed at the idea that she'd even get one and even challenged her by stating, "It has to be ALL carbon, not just parts on it." Well to his surprise she rolled up on the Titus with big smiles on her face.
Long story short, LadyP and I are very satisfied with the Titus Rockstars. We've had many miles of adventures with it and you know what, I've yet to get a flat on this bike in a full year! Dangit, I think I just jinxed myself!