Never heard of a Gilet…..?  I'm sure you know what a vest is and a Gilet is a vest but with a fancy name; technically it's a sleeveless jacket.  I received this Rapha — www.Rapha.cc — Gilet some time ago and let me just cut to the chase and tell you…I love it!  Everything about this thing is top notch and well thought out.  Maybe we should start with, who is and what is a Rapha ???
Rapha is an English cycling and lifestyle company that produces high end road cycling accessories and apparel.
Here is a quote from their website to help you understand their passion and purpose:
Rapha creates the finest cycling clothing and accessories in the world. Designed without compromise for the most discerning rider, Rapha products blend style with optimum performance. A passion for road racing means Rapha is more than just a product company. It is an online emporium of performance roadwear, accessories, publications and events, all celebrating the glory and suffering of road riding.

Everything Rapha does is informed by its passion for the glory and suffering that lie at the heart of the sport. From rides to events, from exhibitions to products, Rapha brings riders together to share this passion.

Drawstrings for a custom fit...
As you can tell from the quotes above, Rapha is a Passionate group of cyclists inspiring the inner cyclist in each of us.  What they have set out to do is change the way a product communicates to its owner – the product  becomes the channel for which the passion and culture of the organization is communicated to the rider.
The Gilet is designed for those days where "milder" weather is on order; presumably the English country side.  I wore the Gilet on several occasions and the first thing I noticed was just how warm it really was.  It is "windproof, water resistant and perfect for cool mornings"; for us here in SoCal, those "cool" mornings should be 60 degrees or less to really utilize the Gilet, it was that warm!
The Gilet is made of a highly breathable fabric and is not bulky at all.  It can easily be compacted down to just a few inches and stowed in the rear of a jersey pocket.  We rode SART during the past winter and the trail head was about 45 degrees and raining! – perfect conditions for the Gilet!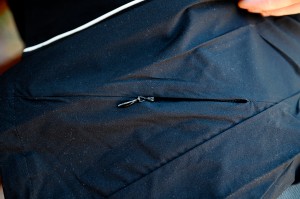 Let's talk about some of the features.  Rather than type it all out and bore you (and wear out my fingers), I'll just list my favorite features:
Offset Zipper
Reflective Piping – for the ride out of the mountains and back to home or coffee shop
Fleece lined collar or "chin" – so your pretty face doesn't get scuffed up
Small front pocket easily accessible for keys, cash, phone and Chapstick in case you need to kiss while you ride
Two rear pockets – but their deep so your goodies don't fly out
Waist cord so youzz can snug it up
Dropped Tail with ventilated mesh stripe
Understated style
Verbiage on the inside – Rapha always throws some inspiration by way of words in their products.  This one speaks of the battle between Eddy Merckx & Luis Ocana after they crest the Col de Mente and the respect Eddy showed to his formidable foe afterwards; stuff of legends and lost in society today.
So what are some things I would like to see change ?  Well for starters, this thing ain't cheap. At $165 in this recession, it's not for the faint of heart.  The zipper could be a little more user friendly.  I'm the sort of chap that will adjust my personal comfort level on the fly, no time to pull over and fuss with stuff, I want to do it on the bike.   Sizing seems to run a little small.  I'm a large in life but I had to go for the XL with the Gilet.
Conclusion: get the Rapha Gilet
The Gilet can be found here:
Merci, Au revior,
Ciseaux