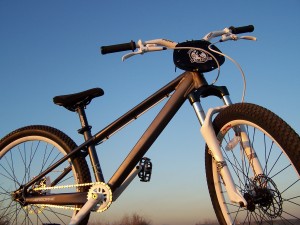 " WELCOME 2012 !!!!!"
Well the year is over and we got to test one of our last bikes of the year the AIRBORNE WINGMAN, so kick back grab your favorite drink and snack, and read on.
NEVER FLY WITHOUT YOUR WINGMAN
Well AIRBORNE has done yet again by bringing out another super bike for the masses at a great cost and spec. We at MtnBikeRiders.com were fortunate enough to see this and two other new releases early this year, we were also able to do a little riding on the WINGMAN at this years Sea Otter on the pump track, and we were quit impressed with it.
GETTING THE CALL
One fine afternoon I got the call from RL that AIRBORNE wanted to send us a new WINGMAN to test, "OK but RL I'm not much of a Dirt Jumper." "It's OK Art you'll do fine." At this point I'm like OK what am I going to do to make this really cool bike look good under my care. I asked Corey Pond one of our team members if he would do some of the test jumping for me, but as luck would have it Corey had broken his foot at about the same time we received the bike for test. Great my number one test guy is out.
Well off to do some cool sexy bike pics and I'll get to the test ride later.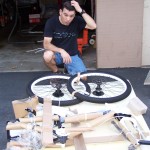 PUTTING HER TOGETHER
As with all AIRBORNE's the WINGMAN came to us well packed in it's bike box as it would come to you. Now there is no real directions to do this, so make sure you have a friend or shop that knows what there doing if your not sure what to do.
The build is not to bad to do even though it looks like a lot to do. You will have to put together the basics you do to most bikes like the handle bar/stem, wheels, seat with seat post, and pedals. The one thing you don't have to worry about is any cable routing for shifters or derailleurs. The WINGMAN is a single Speed freewheel.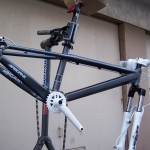 A WINGMAN TO HAVE BY YOUR SIDE
After putting the WINGMAN together you will see many thing that make this a really cool Dirt jump/Street oriented bike. The frame is the first thing I liked when I seen it.  I really like what a lot of companies are doing with tubing on bike frames.
The WINGMAN is a 6061 aluminum Hydro-formed tubing. The top tube has this nice aircraft kind of look to it with nice welded gussets on it. The rear triangle's are just as nice with a set of lower chainstays that have a oval look to them that would cut the wind on your landing approach to the jump, the rear wheel drop outs are also artfully designed.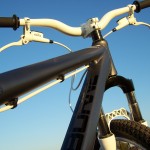 SPEC TIME
OK here's where I see AIRBORNE Bicycle's shine for all of us that only have a limited budget to work with. These guys will give you so much bang for you buck you must be just plain insane not to buy one.
The WINGMAN is spec out with a Marzocchi Bomber DJ-3 100mm fork that does a great job of handling the landing, you have Alex DP-17 double wall wheelset with Kenda Krad tires, Tectro Auriga comp hydraulic brake set with 160 mm rotor's. Cranks are BFC-II cromoly tubular 175mm length.
Now as far as bottom bracket, hubs, and headset go these are of a basic kind. They work great for the job of dirt jumping (Besides who says you have to have the best.).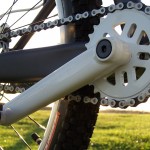 FUNN TIME
Now this is something to mention on the specs of the WINGMAN, this baby comes equipped with Funn components galore, Fatboy bars, Crossfire stem, Throne seat, Crossfire seat post, and Combat lock-on grips. Very cool.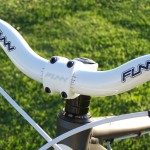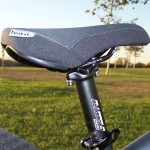 TIME FOR THE RIDE
My first ride on the WINGMAN was at Sea Otter on there pump track. This was the first time on a pump track, RL also joined me and we had a great time. The WINGMAN 's short wheel base made it a very easy handling bike to ride around the pump track. I thought the layout put you right where you need to be on the bike while riding it.
My next stop for the ride test was the famous Sheep Hill in Costa Mesa. This is the perfect place to test a bike like this and with my one test rider Corey Pond out I enlisted the help of my buddy and coworker Gio Fogal from Italy, he had never rode the WINGMAN till that day and took right to it with little effort. "I like this bike, it feels light and has great handling." stated Gio. OK he's sold.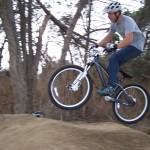 AS THE SUN SET'S
Well the new year is starting and its time to put this one to bed and so far when I've  tested an  AIRBORNE bike I always come back impressed, I like a company that can put the customer first when it comes to the pocket book and the package, and they did it again.
Now I can't say everything was perfect on the WINGMAN, but what I did find wrong with it was so little it wasn't that big a deal.
The first thing I noticed was how close the chain was to the chain stay. If your chain is loose just a little you will get chain slap and this bugs me to no end. OK what would be the fix, well how about a chain tensioner, OK,OK like I said this is a little thing. We did notice their is a small threaded hole on the right chain stay drop out. We weren't sure if this was what it was meant for, but if it is cool.
OK that's all I found wrong with the bike, I think that's great if you ask me.
Two other things I like about the WINGMAN is, one the looks; The frame is just plane clean looking and eye catching. The grey aircraft type paint set up with the bright white parts makes it stand out. Two is well the price $669.95.  AIRBORNE did a price drop on the WINGMAN , the original price was $799.95. WOW! you can't beat that, while everyone else is raising prices AIRBORNE did the opposite. "Thank you AIRBORNE!" Job well done I can't wait to see what you guys do next.