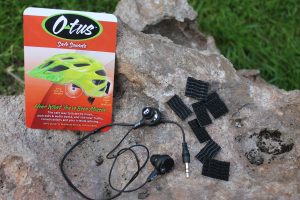 "TRAIL JAMMIN"
So, you like to rock out on the trail while you ride your bike with your ear buds in. You like the solitude of not listening to your friend telling you about every piece of flora and fauna as he's riding along, or maybe telling you about his extraordinary bowel movement he had that looked like Johnny Cash flipping the bird.
Better yet what if he's yelling at you to tell you that the trail ahead washed out and there is a huge 15-foot gap you can fall into.
Well fear not because O-Tus helmet speakers or what they call "Near Ear Speakers" are a great way to hear your trail jams without fully compromising your ability to hear outside noise and let's not forget the fact that in most states having earbuds while riding a bike on the street is illegal and at some point, you will be riding on the street someplace.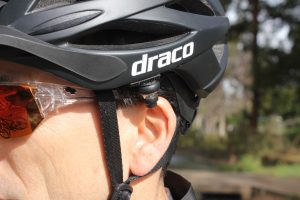 NEAR EAR SPEAKERS
Now what is a "Near Ear Speaker" one will ask, well it's quite simple. Instead of having the speakers in your ears the placement is near the ear. This allows you to be able to hear the surrounding noises that one would hear when riding without something in the ear to cut off important noise one may need to be aware of.
This being your friend yelling a warning, hearing a noise on your bike that may not be right, a car coming up behind you, or most important hearing an emergency vehicle.
Now I have never been one to want to have something in my ears to hinder hearing, let alone have music playing while riding, though this is nice at times and I have to say now that I have used these, I take my tunes with me all the time while riding. I love the fact that I am able to hear everything around me, even with the volume cranked up.
WHAT ARE THE FEATURES
The number one key feature to the O-Tus helmet speakers would be they do not sit in your ears like most ear type speakers for MP3, iPods, and Smart phones do.
They put out 15 watts of clear stereo surround sound near your ears. O-Tus also offers a Bluetooth controller that you can sync to your smart phone allowing you to be wireless with your phone too.
Other things to know about the speakers are the;
• Frequency Response: 20Hz-20KHz
• Sensitivity: 108Db
• Impedance: 16ohms
INSTALLATION
This is made very easy, O-Tus provides pre-cut heavy duty Velcro pieces that you apply to the helmet in the proper positions suggested. Now depending on your helmet, you may have to shave a flat spot to have a good flat surface to mount the Velcro for the speakers.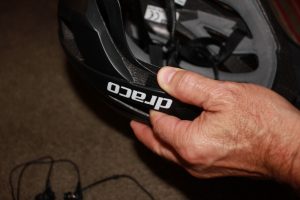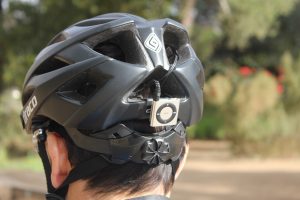 There are some bigger pieces of Velcro in order to mount your MP3, iPod, or the O-Tus Bluetooth system on the back of your helmet. This is your choice.
I was using the small square iPod shuffle on a Giant Rail helmet I was reviewing, along with the Bell Super 2, and my XC helmet.
I mounted Velcro on the back of the helmet's shell for the iPod and it was perfect in this area.
After routing the speaker wires to the back and into the iPod I was set.
Moving from helmet to helmet was a snap and never an issue.
ROCKING OUT ON THE TRAIL
As mentioned I have or was using these for a while with my XC helmet, then I installed them to a GIANT RAIL Enduro trail helmet till this latest review helmet was stolen last year at Sea Otter, along with the Bell Super 2R I just received for review.
"Hope you are enjoying my helmets and iPod you butthead!!"
The O-Tus speakers are, well AWESOME! I can hear the music at any level, moving the speakers from helmet to helmet is a snap.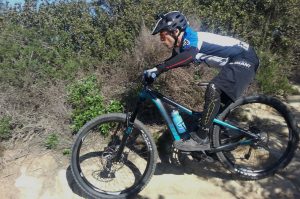 If you need help you can go to the website, o-tus.com, where you will find full instructions on how to boost the sound to your Apple products, work the Bluetooth
I myself found the sound was perfect for me and at times had to turn it down just to hear who I was riding with.
I found the sound quality to be great where I placed the speakers on the two helmets I used them on.
The way I positioned my Shuffle on the back with the Velcro allowed me to higher or lower the volume or change the song with no problems.
The Velcro held the speakers and my iPod in place super, with no fails. Even on the roughest of rock section I never once lost my iPod or the speakers.
This is top notch in my book when it comes to a product during harsh trail use.
The thing I like the best about the O-Tus speakers is no long ear phone speaker wires hanging down to catch your bars. If you run the Bluetooth system, no having to route the wire in your shirt and out the top of your neck to your ears from your device.
Maybe you have your device in your shorts pocket, having the wires route from the pocket to your ears, from your hydration pack and when you remove your pack the ear phones get ripping out of your ears.
This is just a plain smart way to go and since using them (well sad now because I have noooo music  now) and I am lost without my tunes.
This is a super way to be safe hearing you surrounding and still hear your mojo motivation music to get you going down or up any trail. Even if you commute by bicycle this is great way to rock out on the road.
O-TUS OFFERINGS
The system comes in two colors, black or white. You can get just the speakers only or in a speakers Bluetooth combo, and the Bluetooth remote only
I have to mention that at the time of getting the speakers we only reviewed the speakers.
I do want to mention the features that come with the Bluetooth remote.
The Bluetooth is durable unit with;
• 3.5mm audio jack for Customized Otus Helmet Speakers!
• Remote control feature with Adjustable volume
• Talk on the phone or listen to music hands free.
• clothing clip.
• Working range is up to 10 meters.
• Compatible with all Bluetooth-enabled phones
• Rechargeable life: play time is up to 6 hours & standby time is up to 130 hours
• Dimensions of product: main body is 53.3 x 33.6 x 9.9 mm
• Well designed and easy to use
If you choose the combo it will include with it;
• 1 x Bluetooth Headset
• 1 x USB Cable for charging
• 1 x Clothing Clip
• 1 x User`s Manual
• 1 x Set of Otus Helmet Speakers
COST FOR YOU TRAIL PLEASURE
Speaker – $42.00
Stereo Bluetooth w/ Speaker Combo – $75.00
Bluetooth – $55.00
AT THE END OF THE TRAIL
Is this worth it all, YES!! I was never one to use any device to hear music on my trail rides or when on a road ride (yes, I ride road to train as well was CX).
Especially on the street, I want to hear all thing around me, plus here in California if caught on the street while riding you will be cited, so why chance that.
Since using the O-Tus ear phones I love having music on my rides, I feel safe, and for the price it's worth it seeing that some earbuds can cost upwards of $100 bucks and that's just for the earbuds.
That's seems just plain stupid to buy just a set of earbuds up to or over $100 bucks.
Check out the O-Tus ear phones and Bluetooth systems, I think you will love them.
And when we are able to review the Bluetooth we will let you know about it.
Thanks to O-Tus for a great product to review.