For athletes that take up mountain biking, the obvious first things that are needed are a bike, and the can-do attitude that's required for such an adrenaline fuelled activity. However, once you have got the hang of it, there are relevant apps that can be downloaded on your mobile device to ensure you reach your full potential.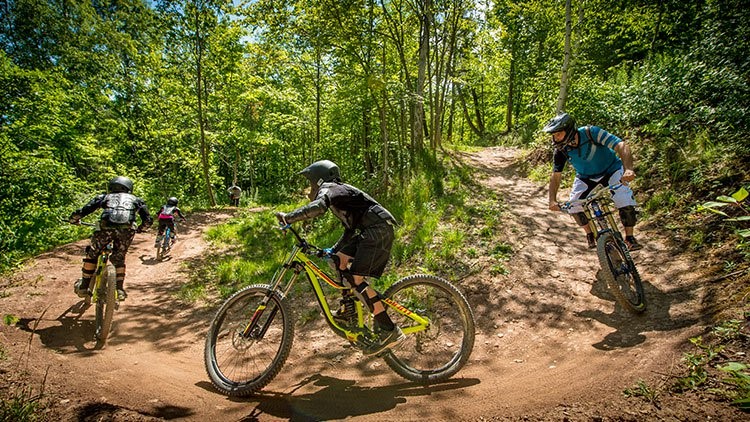 Trailforks
This particular app is dedicated to helping riders find the best possible route, while also taking into consideration the climbs, and allowing for interactivity. You can search maps from over 95 countries; with fellow bikers leaving reviews on the routes that they have done, ensuring that you don't waste a day with a direction that is too easy.
You can also get GPS tracking, trail conditions and a compass. It is full proof and has every base covered; it is essential for mountain bikers. It is also equally as good for beginners as it's for experienced riders; as the app offers navigation trail networks to ensure that you don't get lost.
On the app, they already claim to have 160,379 trails to explore across 95 countries, and also provide over 300,000 pictures to get you in the mood for the route you're about to do.
GoPro
Social media is a popular commodity nowadays, and most riders like to catch their ride by video so they can play it back and watch it and share it on Facebook, Instagram or Twitter. GoPro allows riders to record the entirety of their journey by using a small video camera that is connected to your phone and place on your helmet. It is the perfect way to relive the adventure that you have made.
It could also make for a new hobby, as you can spend time editing and adding sound and music clips to your videos to produce a short film.
Strava
This app is perfect for all athletes, as it can track your heartbeat, how far you have ridden, and how much power you have exceeded. Strava is the ideal application for monitoring your performance, and it is simple. It can be connected to your phone or GPS watch, and then it can begin to keep records of your performance metrics.
Not only that but the app works perfectly as another social media channel as you can connect with friends to show them how you're performing and the routes you're taking. You can post status updates, pictures and videos on your channel. There are also security advantages as family members can see where you are when you're exercising should you allow them access to your location. This app is now used by thousands of clubs and organisations around the world as a way to track performance levels.
AccuWeather
Let's face it; weather plays a significant role in whether you can ride and how far you can go. This is one of the most reliable apps, with up-to-the-minute updates. It is also perfect for telling you the correct temperature as well as the temperature that it actually feels like. This means that you will be able to dress either warmer or cooler depending on the weather.