A FAST COURSE LIGHT WIND AND A WARM NIGHT

Well it was the last Predator Night race presented by MARZOCCHI and SRC and what a great race it turned out to be. The weather was nice warm night with a light wind, the course set up had some great speed stopping turns at the top that kept you on your toes with a mid section off camber into some nasty G-outs bringing you onto the fire road 5th, 6th, 7th gear cracking it out down around the corner dead end wall to the lower rock section, and the finish. No carnage alley on this race which claimed many an amateur racer last race, heck it even got me that time around. Oh did I mention that even though SRC setup lights they did allow lights this time around, which was cool and believe me even though the powerful 1000 watt stadium could light up most of the areas the off camber G-outs were "SCARY" dark coming in at speed.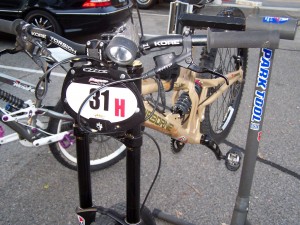 Hats off too Donny Jackson and his SRC crew for putting on another great race for us all to enjoy, also thanks to MARZOICCHI for the support.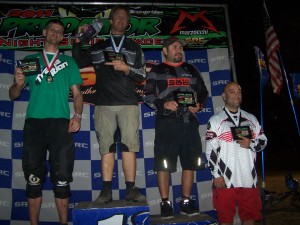 AIRBORNE RANGER'S CHARGE THE HILLS
Only three of us took up this mission this time while the others were on secret missions or on the injury list, so it was up to The MOE, Mr. G-Q Wes, and myself YODA (Well too bad The A-Team name is taken.) to take on the PREDATOR one last time.
With the wind light it still made for some dusty areas during practice, but come race time it was all clear for" ASSAULT TIME" baby. OK as many of you know we don't usually give pro coverage so I will this time "THEY WERE FAST!!!", OK there you go. Well the experts were pushing fast, I would have liked to give you the fastest times, but they still aren't up.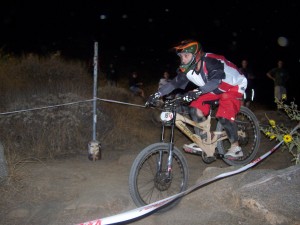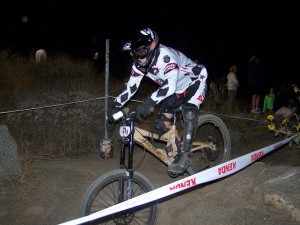 My race run was uneventful this time (No crashes, YEAH!!). I thought I was super slow on the top, but after talking to my friend Joe Picchiottino (SUPER FAST VET PRO) he had said he felt slow on the top area too, this put my mind at ease before my race. The rest of the course was just plain fun at speed, hitting the mid section was a blast especially when it was some what dark. Hitting the fire road you go into a full bore thumb slamming shift through the gears sprinting. Around the corner to the lower rock section that was well lit to push your assault to the end. Now the time it took me to explain this was about almost how fast the pros came down, yeah that fast.
This was a short course with none of that gut wrenching, leg burning, make me want to throw up WALL in it. "LOVE IT!!"
The MOE and GQ, well I can't speak for their whole race, but in talking to them and seeing them come through they both looked clean, fast, and were having a good time.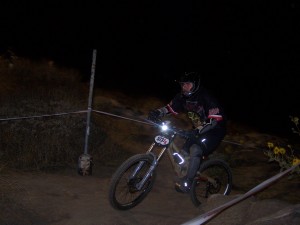 FOR THE FARTHEST TRAVELED AMATEUR RACER AWARDS
This award goes to my friend and coworker Giovanni Fogal and his friend Andrea Colin who are from Italy, now they both traveled here just to come ride and race the great SRC courses (SRC is truly international.) Now this was to be their very first race ever, so what better way to break them in then a night race where you can't see the race course very well.
They were not sure what class to race (expert or sport), so to be on the safe side I suggested sport. Both are very accomplished trail riders and I know Fogal can jump, but racing is a whole other beast.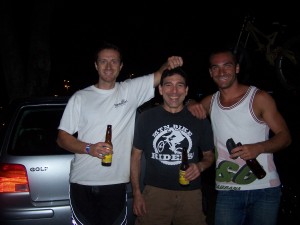 Now they had no lights, but both had a good practice. I showed them some of the fast lines to take and off they went.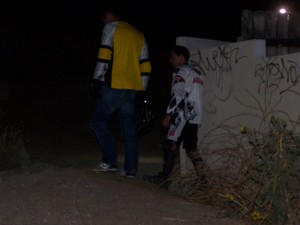 ITALIAN STYLE
Was there a style well no just plain fun for them. Both had great race runs, well maybe not Gio he did go down, but didn't loose much time. Both Gio and Andrea had really good runs for being their first time racing. They could have both raced the expert category, but the expert age group has some stiff competition in it. I do look forward to seeing Gio race in November to see how he does.
All in all both saw the podium that night. Andrea grabbed 2nd and Gio 3rd with a fall. "Nice Job guys. E`fantastico!!