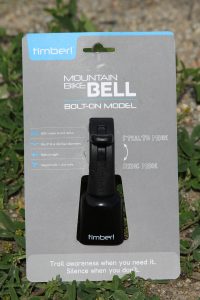 TRAIL AWARENESS
Have you ever been on your local trails and you're coming around a blind turn and suddenly you have hikers or horseback riders.
Both hikers, horseback rider, and you have your eyes bugging out of your heads like Large Marge from "Pee Wee's Big Adventure".
Hopefully yelling doesn't start from the hikers, horse riders. You're fast on your feet with the apologies for the surprise you may have caused.
Being heard on the trail can be a hard thing when on a multi-purpose trail. You have to take into consideration that others are so into nature, enjoying the outdoors like yourself they could not be paying attention. We all share a responsibility while being on the trial.
So, don't believe that because you're on your bike and you can hear the noise you produce that it could be heard down trial as well.
With so many enjoying the local outdoors these days, the trails are getting a little more crowded.
Being heard before being seen is important and what mountain bike riders have done in the past was to get mini cow bells or small fishing bells from your local Big 5, then attaching them to their hydration packs or bikes. You may find that one rider that wants to be heard so much that they sound like Santa Claus and his sleigh.
Whistles are another good way to be heard, but trying to put one in your mouth as your riding is not an option when bouncing all over, I once saw a company that made water bottle air horns. Now these were cool, but talk about loud and scaring the crap out of someone, got to say they were pretty cool, but wouldn't last long.
So, you have some quick choices out there, from the little fishing line bells you get from the local tackle store, to the small to medium Velcro mini cow bells you can order online, however there is a better choice.
THE BELL
In comes TIMBER Mountain bike bells and they have taken mountain bike bells a step above the rest.
I met Chris an Liz Lacy at Interbike one year just prior to releasing the BOLT ON bell. I saw this thing and right away had to talk to Chris from TIMBER about it.
So, I wondered how a bell could be better, it's a bell! Big deal! WRONG!!
This is a big deal, why? TIMBER Mountain Bike Bells mount to your handle bars in one of two ways.
MtnBikeRider.com tested both bells with countless hours of riding in all conditions and areas to see trail users' response and the response in a high public use area. The results were unbelievably great.
The first is the TIMBER Quick Release bell that comes with two rubber straps that allow you to mount to the narrow part of your bars or the wide part of your bars.
The second is the newest addition Bolt-On model that allows you to bolt-on to bars 31.8 to 22.2.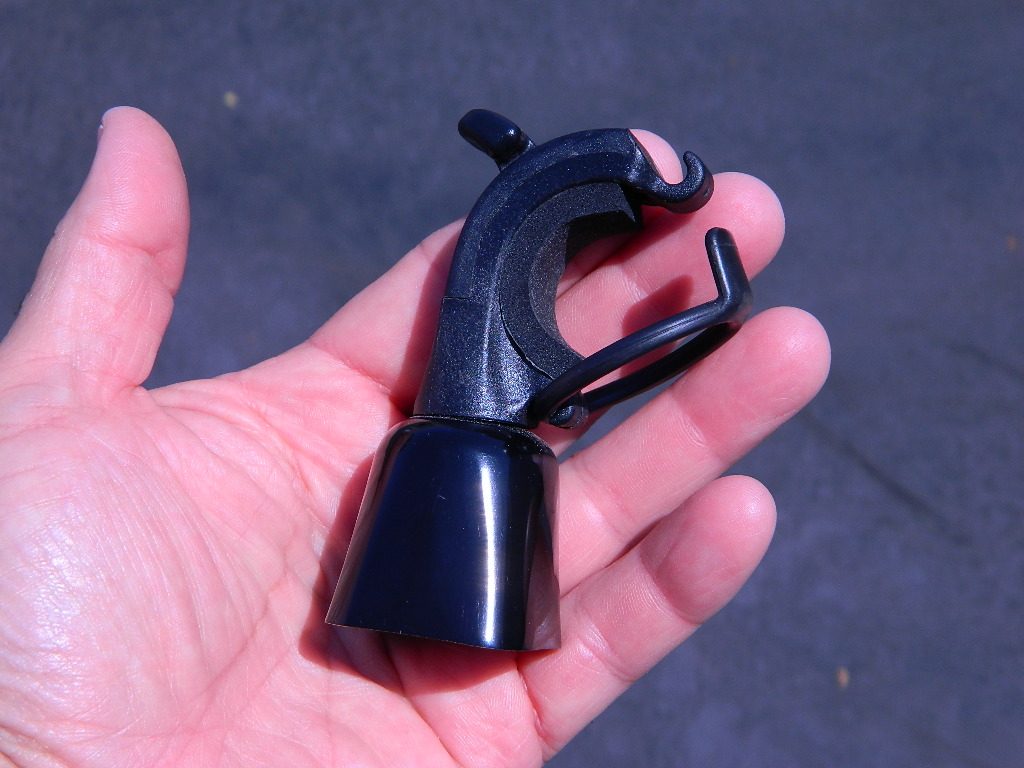 Rubber shims included.
The Quick Release model has a partial nylon body and comes with two sized rubber rings for mounting.
Each ring has a tab to help you pull it onto the body's hook. When you find the right spot the Quick Release bell holds great. Mounting is really super simple and what is great about this particular bell is it allows you to remove it and mount it on any of your bikes.
Let's face it we never know which bike we want to take out for a ride in our quiver and being able to put this bell in your Hydro bag and pull it out at the ready is awesome.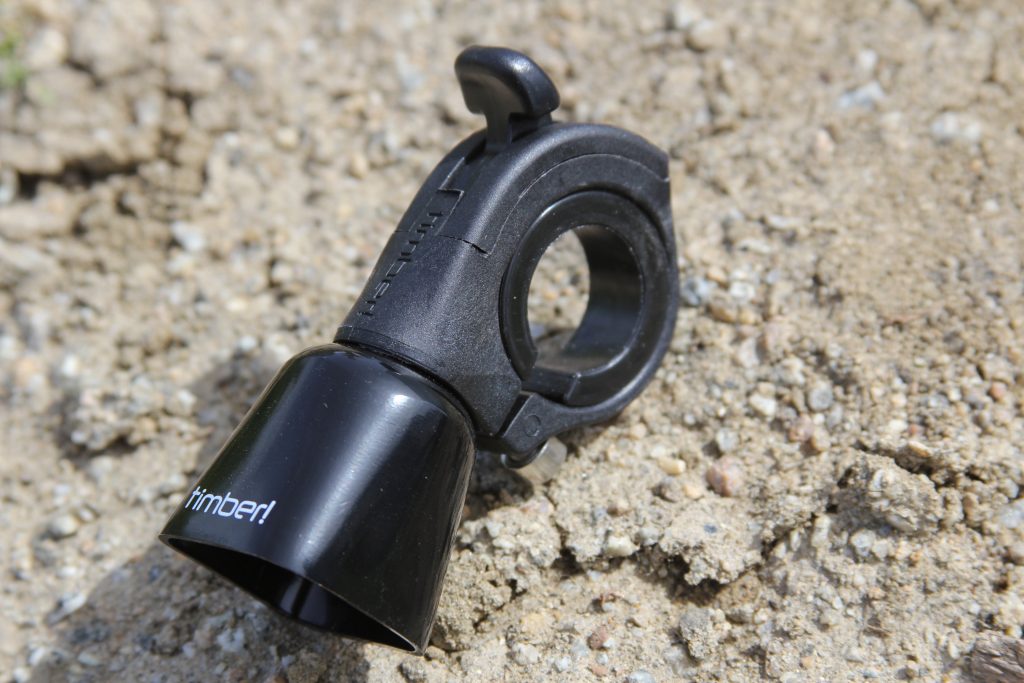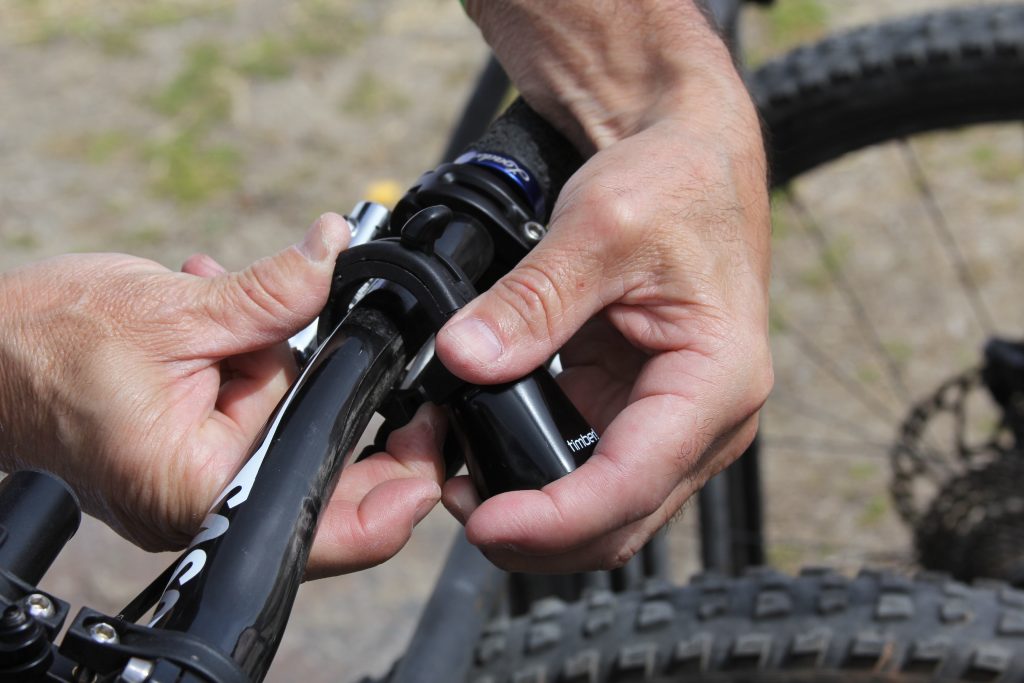 The Bolt-On TIMBER Bell has a full body made with tough flexible nylon that tightens with a 5mm bolt. Use the proper shim, tighten it up on the handle bar and forget about it. You also don't have to worry about the TIMBER Bell moving. Once it's on, it's on.
Now I do like this setup a tad better because I know it won't be liberated by someone who thinks he deserves it more than me. It sucks while you're in line ordering your Big Bear Yogi burger with Boo Boo fries after some hard riding only to come out and get your ride on and you see someone swiped something off your bike. Just not cool.
HOW IT WORKS
Now what has this beat over other bells, horns, and baby rattles is the fact that you can turn it on and off. Yes, this is the only mountain bike trail bell that allows you to use it when you want.
You don't have to take you thumb off the handle bar to ring it or push a button to make it ring.
Sure using your thumb to flick a ringer or push a button may not sound like a big deal, but think of it this way. You flick the lever downward and the bell starts to ring.
This is what's so ingeniously simple about the TIMBER Bell. You push the lever down and it will lower what TIMBER call the "internal Clapper Cable", the ball will ring as you are moving.
After you pass those you wish to alert on the trail, simply use your thumb to move it to the up position and the bell is then turned off. EZZY PEEZZY!!
NOISE TIME!!!!
This is the other great thing about the TIMBER Bell. The noise it emits is very pleasing to the ear.
If you have ever used say one of the mini cow bells on your bike or on your hydro pack, you know this constant ringing is load and you will be heard a mile away, yes good and all, and I know this is what you want. At some point, I know you hate hearing this bell during your whole ride. It just kills your ride to the point of taking it off and tossing it in the pack to never be heard again, plus the noise has pretty much scared of all wild life within a 10 mile radius, and pissed off anyone around you.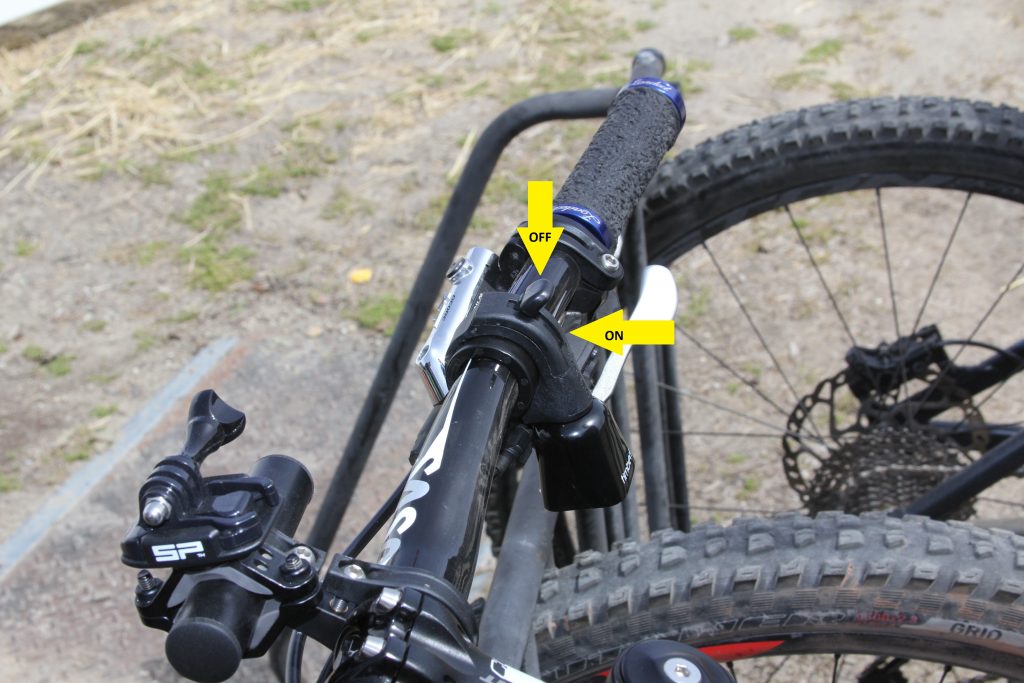 TIMBER's Bell sends out a nice (in their words) passive sound. It can be heard in a
200 + meter radius, which is great for all on the trail without waking the dead.
RIDE TEST
Using both the Quick Release and BLOT ON TIMBER Bells proved to never be any kind of issue when you needed to turn it on or off.
Of course, the Quick Release is easier to take on and off, this could be a plus to those with multiple rides.
Left or right side it worked well. I never experienced any movement when I used it. It didn't slip when I pushed the lever up or down, thumb up there.
The Bolt On TIMBER Bell I like as you know due to not having to ever worry about it ever disappearing.
After you find the place where you want it on your bar (like the Quick Release close within thumb reach is best if you could) it was always a snap to operate.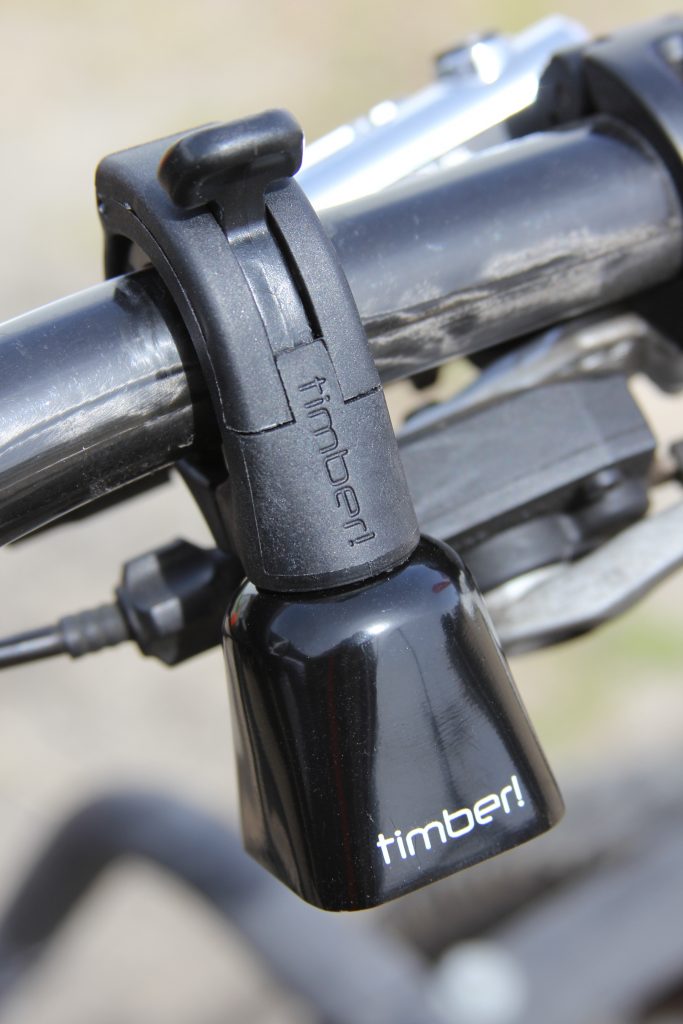 I found that any time I would turn it on when I saw someone down trail, they had no problem hearing me coming. I even had one hiker thank me for not having an obnoxious sounding bell.
I don't mind using it when I'm riding. I feel good about using it because it isn't loud.
I wanted to see what kind of response I would have when riding the crowded boardwalk path at my local beach. Any time I turned it on, people would not be startled and move with no problem.
Just another plus using the TIMBER MOUNTAIN BIKE Bells. You can say this isn't just for the trail.
No movement, super easy to install, fast to use on the trail without loss of control, and great construction.
Oh and one more thing, the Bolt On models threaded insert is made in the USA with a lifetime quality solid brass that won't strip or wear out. Sounds good to me.
I have to tell you what the best part about the TIMBER Bell is, that's the price.
These little babies will only set you back a whole whopping $20.00 bucks, yeah just $20.00 smack-A-Roos!!!
This is a super value if you ask me and I will be getting a few more for my other bikes as well.
Our hats off to TIMBER MOUNTAIN BIKE BELLS. Thank you for letting us review your products.
You can get one of these nifty bells by going to their website at mtbbell.com.